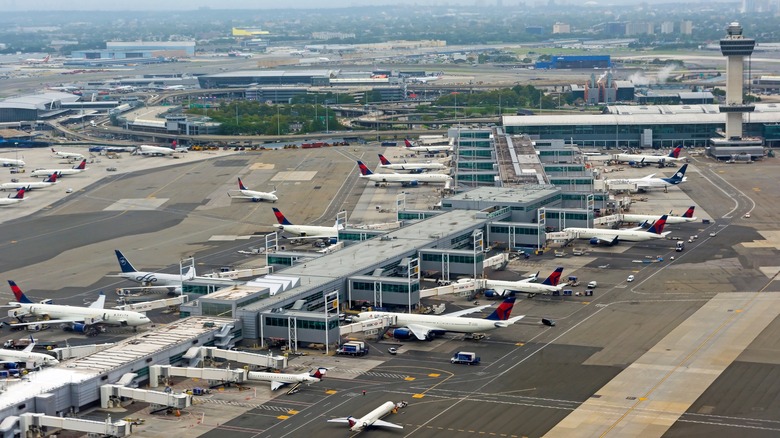 The Big Apple is a teeming metropolis (it has double the number of inhabitants of Los Angeles, the nation's second-most-populous city), where the sidewalks are crammed with people, just like in the movies. It's no surprise then that it needs three international airports to serve it — John F. Kennedy (JFK), LaGuardia, and Newark Liberty, all recently renovated or planning large-scale reconstructions, according to the Port Authority of New York and New Jersey. The three hubs are arranged like distant corners of a grand triangle.
These airports are bustling centers day and night, handling thousands of flights per day. Even seasoned travelers can be overwhelmed when deducing how to get around. And depending on which part of the city you are in, or traveling to, choosing the right hub can make all the difference between a simple transfer and a stressful endeavor. To help the airport experience feel a little less daunting, read on.
Taxis are plentiful to and from the airport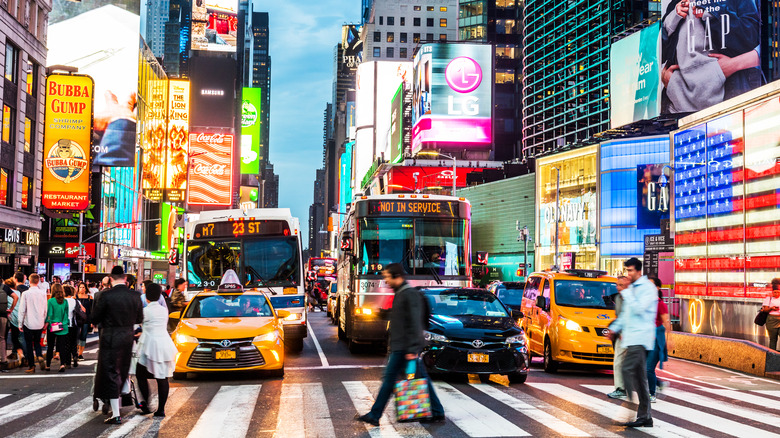 An iconic image of New York's streets, the yellow cab has long served as the de facto choice for rides around the city. They continue to be dependable, easily hailed by prospective riders from the sidewalk, or lined up at airport arrivals. From JFK, for instance, the fare to Manhattan is a fixed $52; prices depend on meter charges for other destinations within the city.
But these taxis aren't the only private transport between the city and airports. Each terminal has dedicated spots where rideshare drivers can pick up their passengers; for Uber, drivers collect customers at the rideshare pickup sign outside arrivals at JFK, or at the ground transportation area of Newark Liberty.
For residents of New York, car services, or livery cars, are tried-and-tested means for airport transfers, charging a set rate for a trip. They were a fixture on the city streets long before apps like Uber and Lyft arrived. Among the better-known car services here are Carmel, Arecibo, and Dial 7 (via Complex).
Avoid men at the airport holding up signs that say "Uber," as described in a story on Johnny Jet, or that linger outside arrival terminals asking passengers if they need a taxi. They may charge less than a regular yellow cab or rideshare (they can also overcharge), but they might not be insured to carry passengers, offering riders little recourse in case of any mishap. A case of caveat emptor — buyer beware — for sure.
Public transport is mostly efficient, but can be slow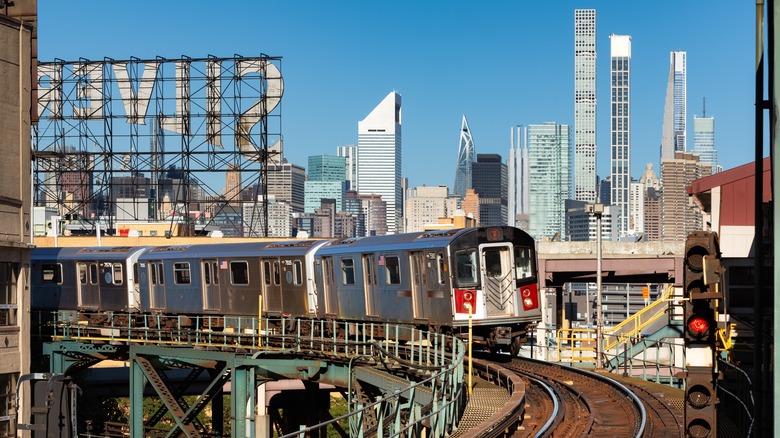 For environmentally-conscious travelers, or those on a tighter budget, New York has many mass transit options to access the airports, utilizing the city's subways, trains, and buses (including privately run shuttle buses). Alas, the routes can be confusing to travelers not used to the transit system, often requiring changes between modes of transport. They are also rarely direct, making them take much longer than a trip using private transportation. Bottom line: Don't choose public transport if you are in a rush.
If time and money are both pressing concerns, consider making your airport transfer on a shuttle bus. Like a cross between public transport and a private taxi, these ferry passengers between the city and airports, and cost about half the price of a cab. Two main shuttle companies operate here, ETS Airport Shuttle and Go Airlink NYC, with collection points from hotels, train and subway stations, landmarks, and even private addresses.
However, you can't beat mass transit's bang for the buck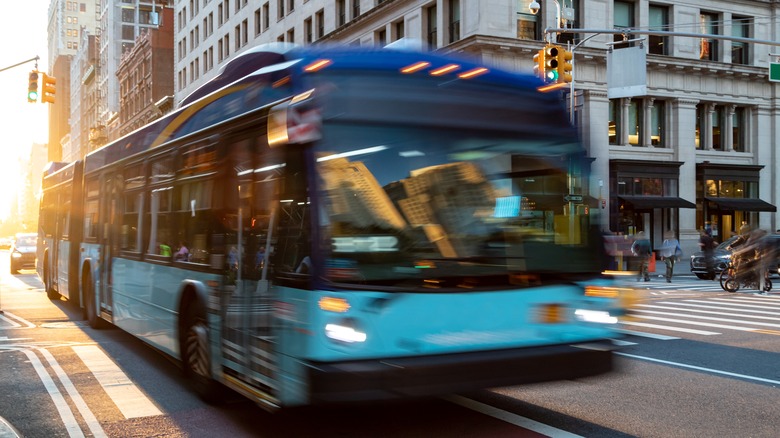 The Metropolitan Transit Authority (MTA) runs public transport in the New York area, and has information on routes between the city and the airports. From Manhattan or Brooklyn, for instance, passengers can take the subway or the Long Island Rail Road to JFK's AirTrain, with prices from $10.75 per person. Other routes, using a subway and a free bus transfer, can be as reasonable as the cost of a single ride, $2.75. Riders must add credit to a MetroCard (available at subway stations, not on buses) or download the OMNY app to pay for the subway or bus.
LaGuardia, in northern Queens (one of the five boroughs of New York City), is easily accessed from northern Manhattan. Public transport to this airport always requires taking a bus, and costs start from $2.75. To see all of the bus options for LaGuardia and JFK (which is in southern Queens, close to south Brooklyn), locate the airports on the MTA subway map — look for a black plane symbol in a yellow circle — and trace the dotted lines that go there, marked with a letter and numbers for the bus route (B15, M60, Q10, etc.). This way you can find the most convenient route.
Newark Liberty is in New Jersey, closer to Downtown Manhattan, and just unveiled its new Terminal A. Getting here from New York involves a mix of subway, train, bus, and AirTrain, according to the MTA, with fares as low as $4.35 (versus a $50-plus taxi ride).
You could walk to the terminal if you have catch a flight during rush hour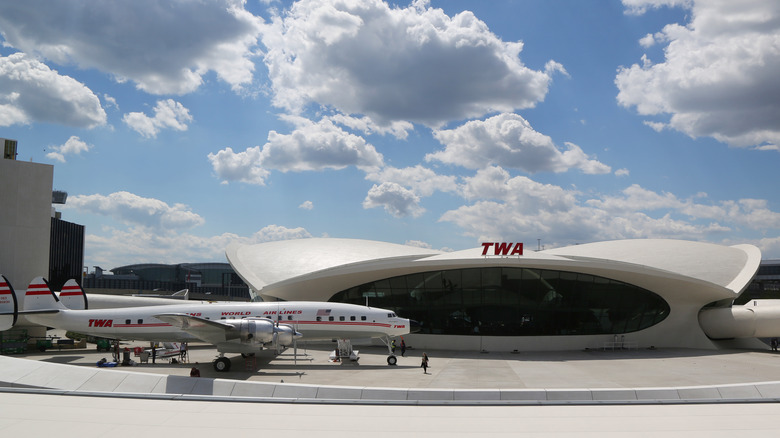 Traffic in New York is the worst in the United States, according to a study by TomTom, so getting to the airport during rush hour can feel like a hair-raising, nerve-shredding, heart-thumping rollercoaster ride. A more Zen journey during peak traffic is to walk to the terminal.
Newark Liberty and LaGuardia have hotels nearby that require a shuttle-bus transfer to get to the terminals, but at JFK an onsite airport property enables guests to walk right to their check-in desk. Located next to Terminal 5, TWA Hotel is a gorgeous reimagining of the original TWA terminal designed by Finnish architect Eero Saarinen (movie buffs might recognize its sensuous lines from "Catch Me If You Can"). The 512-room hotel, which opened in 2019, has become a destination in its own right, with a rooftop pool and observation deck that looks onto runways, and a 1958 Lockheed Constellation plane that now doubles as a full-service cocktail bar.
For transit travelers in urgent need of some downtime, Minute Suites offers basic rooms with a fold-out bed and desk that are bookable by the hour at JFK and LaGuardia.
Moving within the airports is a breeze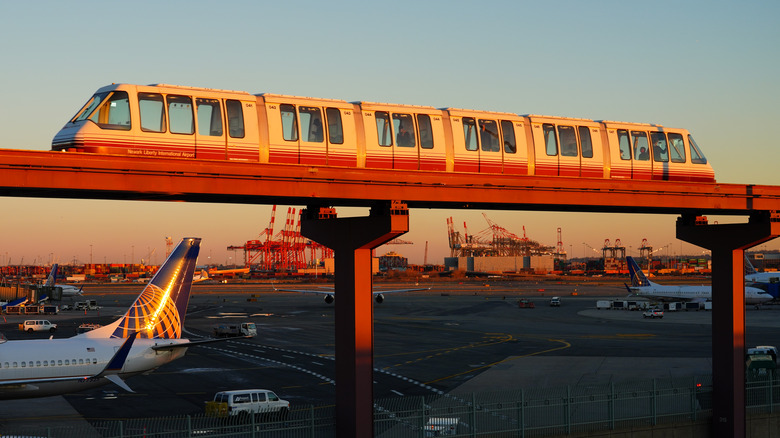 Flying is rarely seamless and catching a connecting flight sometimes calls for switching terminals. Other times, your taxi or public transport might end up at an inconvenient place, meaning you need to unexpectedly migrate to a different part of the airport. Thankfully, each of the airports in New York has free transport options to ferry passengers from one location to another — there's no need to get a taxi between terminals, despite what anyone might advise.
At Newark Liberty, passengers can use the AirTrain to get between the three terminals. Another option is the United Shuttle bus, but it has limited operating hours and doesn't connect all of the terminals.
At JFK, there are six terminals, and two methods for traveling between them. The AirTrain links all terminals as it loops around the airport, while Delta's JFK Jitney offers a limited service between Terminals 2 and 4, the two terminals that the airline operates from.
LaGuardia, where most flights are domestic, has three terminals arranged along a curve, including the new Terminal C that opened in summer of 2022 after a $8 billion makeover. Shuttle buses that run every 10 minutes link them to each other.
It's easy to stay connected on the road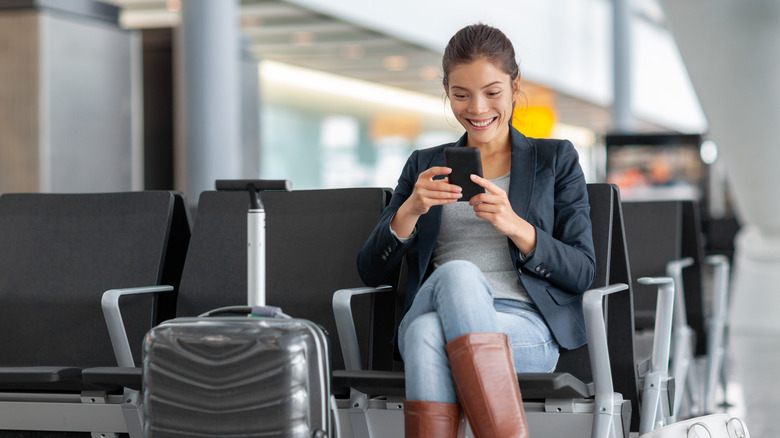 Free Wi-Fi, the service that we've all come to expect at airports across the world, wasn't always a given at New York's airports. Until recently, access to complimentary airport Wi-Fi was limited to spaces like JetBlue's terminal at JFK, or through internet provider Boingo, with a cap of 30 free minutes, after which a fee was levied (via Custom Computer Specialists).
In October 2018, the Port Authority of New York and New Jersey announced the rollout of free high-speed internet at JFK, LaGuardia, and Newark Liberty. While the speed might not feel fast to passengers who surf on fiber-optic networks, it reaches a healthy 20-50 Mbps (zippy enough to continue that streaming binge or video chat with envious friends and family). And now, the connection is free for four hours. To join the official free airport Wi-Fi, travelers should choose networks that use the format "FreeAirportAcronymwifi.com" (so FreeJFKwifi.com, for example).
There are ways to minimize screening time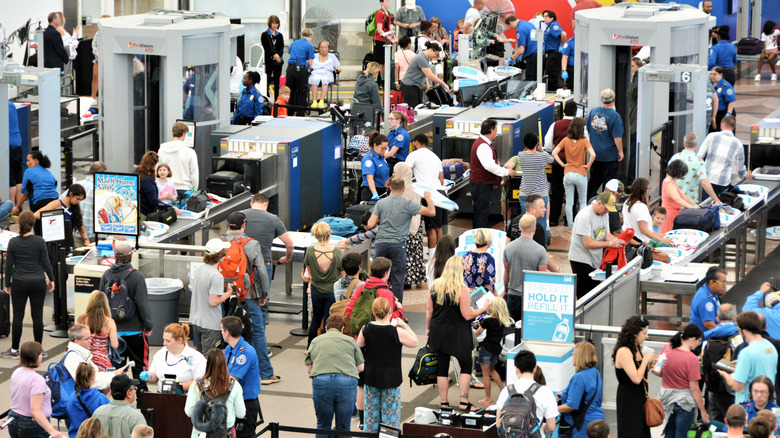 Many travelers don't have Global Entry or TSA Precheck, known-traveler programs that fliers apply for and that let them use speedier security lines. That, however, doesn't stop passengers from reducing their wait time at security lines, one of the most unmemorable parts of the flying experience.
New York airports offer passes for quicker screening, like the fast pass at an amusement park, letting travelers zoom to the front of the line with the wave of a barcode. At LaGuardia's Terminal B, B-Fast passes cost between $10-$15, are valid for 90 days, and work by simply scanning a QR code on a reader, after which the passenger can walk to the front of the screening line.
The system in Newark is a little different. Called VirtuaLine, it has no fees and lets fliers select their screening time up to 72 hours before the flight, though only for select departures from terminals A or B. At the pre-booked time, passengers head to the separate VirtuaLine section, scan the QR code received at the time of the booking and enter for screening. Apart from being free, another bonus of this arrangement is that travelers in groups of 10 or fewer can enter the VirtuaLine under one booking.
A similar system lets passengers choose quicker screening at JFK's Terminal 4. Named Reserve, it is also available to passengers up to 72 hours before their flight, though in this case only for flights that depart from 5 a.m.-10 a.m.
Test prep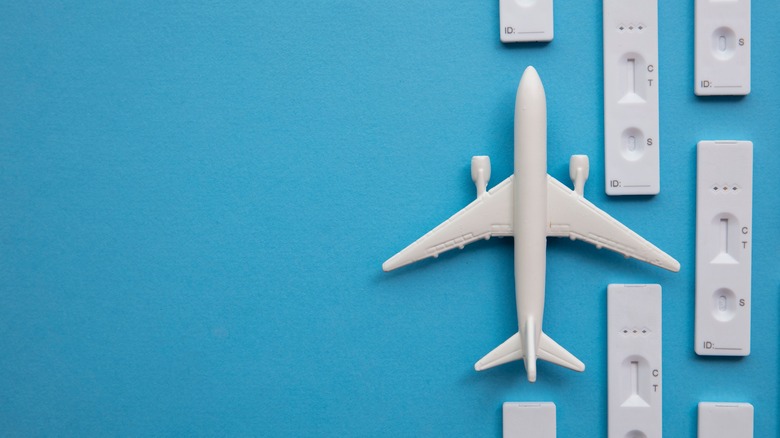 Long gone are the days when flying everywhere meant taking a COVID test, a requirement that sent travelers into a state of panic, wracked with fear that they wouldn't receive their results in time (or worse, that the test would come back positive). While domestic travel rules varied from state to state, international travel almost always required a negative COVID test, a precondition that remains in place for a handful of destinations today, as this list compiled by Kayak shows. When traveling from the United States to countries that demand a negative test, most fliers continue to take a test before they get to the airport. But if you find yourself requiring one at the last minute, New York's airports have testing sites that provide both standard and rapid PCR tests.
Testing is available at four locations in JFK, run by a few different healthcare providers, with results usually ready in one-to-three hours. One of those providers, NYC Health + Hospitals, also conducts free COVID tests daily from 8 a.m.-7 p.m. at its LaGuardia site, located at the parking garage for Terminal B. Passengers flying through Newark Liberty can schedule their test at Terminal B through XpresCheck, a company that has COVID-testing sites at several international airports around the United States, with time slots available every 15 minutes.
You can eat a piece of local legend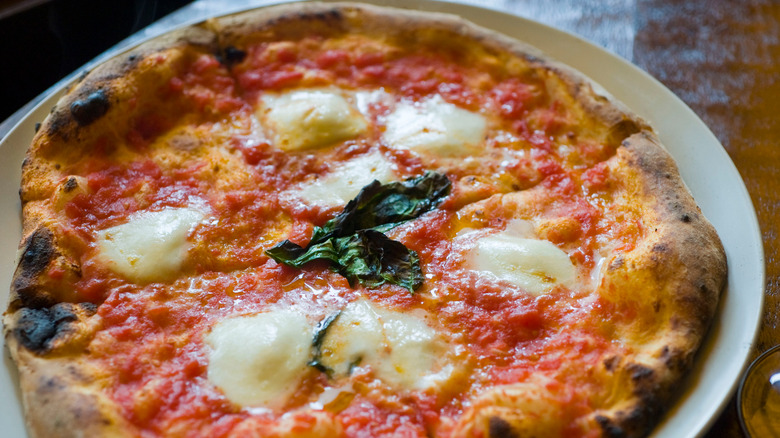 According to a ranking of best US airports for food by travel site Wanderu, dining at New York's airports isn't likely to leave passengers cooing in ecstasy: The top-rated of the city's airports, Newark Liberty, came in at number 32 out of 50, while LaGuardia was ranked in the bottom five. That said, these airports do have one thing going for them — they allow travelers to try a quintessential New York-area food experience.
Local dining options at LaGuardia include H&H Bagels and Shake Shack (more on them in the next slide) and Bar Veloce, which has four locations around Manhattan and a menu of cocktails, wines, Italian liquors, and small bites. The offerings at Newark Liberty include pizza joint Tagliare and a couple of popular New Jersey brands — Poppy's Bagels and the sandwich chain Jersey Mike's Subs.
The NYC food choices at JFK are better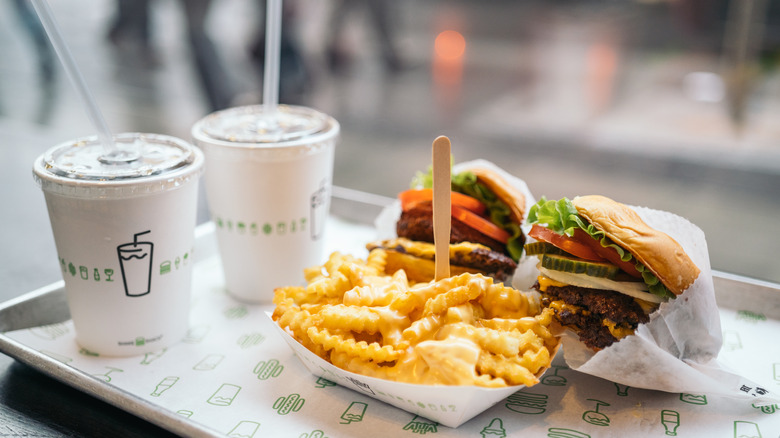 The largest selection of local delights is undoubtedly at JFK. At Terminal 2, Tagliare is run by Dom DeMarco Jr (interviewed here on YouTube), whose late father, Domenico DeMarco, was the magical force behind the ravishing pies at Brooklyn institution Di Fara Pizza for more than half a century (via NPR).
A couple of places lure diners to Terminal 4. Blue Point Brewery traces its beginnings to 1998, founded in a boatyard in Long Island, east of New York City. Today its beers include Blueberry Ale and Rainbow Cookie Porter alongside more traditional lagers. Shake Shack's addictive burgers, fries, and shakes are a global mega-hit, found in cities and airports across the globe, but the chain began its life as a food cart in Manhattan's Madison Square Park two decades ago (via Pentagram).
Started in 1972 in New York City, H&H Bagels has three locations in Manhattan, but a larger-than-life persona thanks to appearances on television shows and movies. It also has an outlet at Terminal 5, where passengers can sink their teeth into the moist, chewy bagels. Terminal 5 is also home to Artichoke Basille's Pizza, first opened in Manhattan's East Village in 2008 and famed for its huge, dense artichoke and vodka slices, and Baked by Melissa, a cupcake bakery also founded in the city in 2008 and beloved by New Yorkers.
Even the retail has a sense of place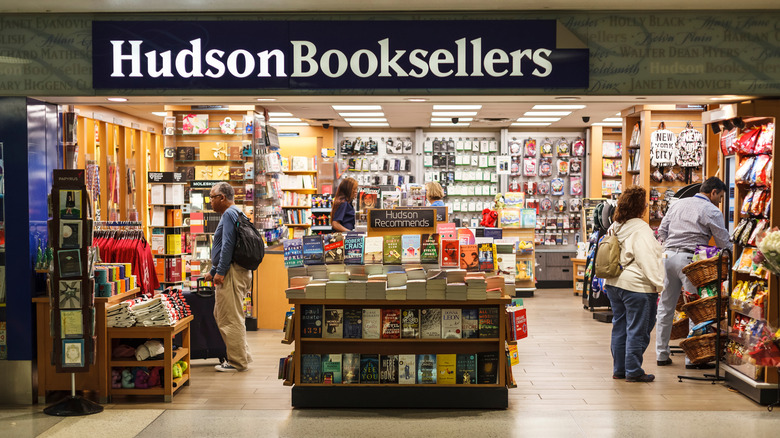 It's not just the food that leans local at the airports. A number of retail stores honor the bounty of New York, letting travelers snag a gift with a New York tilt for friends and family. Hudson Group is headquartered in East Rutherford, New Jersey, just west of New York City, and specializes in travel retail. It opened its first store in LaGuardia 30 years ago — and continues to have a presence across New York through bookstores, news shops, and airport duty-free outlets. Today, there are Hudson stores throughout terminals A and B. Terminal B also features McNally Jackson, an independent bookstore with four shops in New York, and FAO Schwarz, an outlet of the Manhattan toy store immortalized in the scene from "Big" where Tom Hanks dances on a giant piano (via YouTube).
Hudson has a huge number of stores in Newark Liberty and JFK, spread across many terminals, though at JFK, passengers can also shop at fashion brand Kate Spade, founded in New York in 1993, and NY Originals, a great destination for items made right here in New York City.
Hanging out in the airport lounge is easier than you think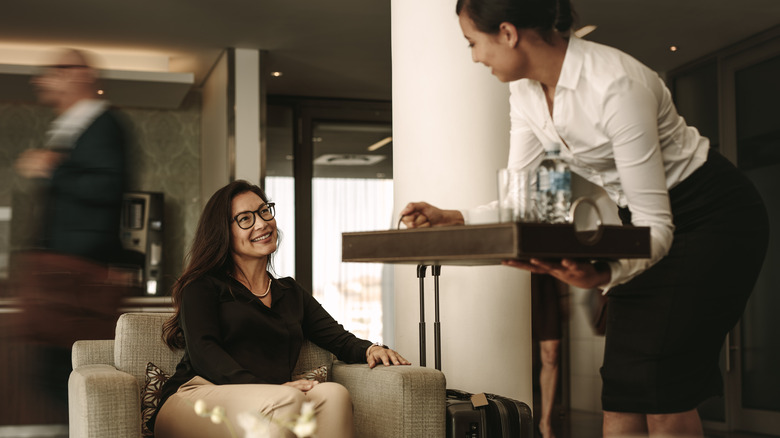 Business-class and elite-status travelers have long enjoyed the perks — and peace — of the airport lounge, including those at New York's hubs. But passengers don't have to spend a small fortune on a premium fare or rack up thousands of miles each year to access these hallowed sanctuaries: Day passes are usually available, offering travelers the same access to the food, drinks, conference services and showers as elite fliers.
There are a variety of ways individuals can get into these serene refuges, from purchasing an annual membership at Priority Pass for entry, to proffering an elite credit card, to simply purchasing a day pass for use before the flight. This guide on the site Upgraded Points features a comprehensive rundown of the different options for the lounges at JFK, showing, for example, that $59 will give fliers access to the American Airlines Admiral Club or Primeclass Lounge. The Points Guy details the choices open to travelers departing from LaGuardia, where that $59 will buy access to the United Club Lounge. For passengers at Newark Liberty wanting to get into one of the 13 lounges, there are certainly options open to anyone flying in the "cheap seats" (via Upgraded Points).
Kid-friendly spots, or not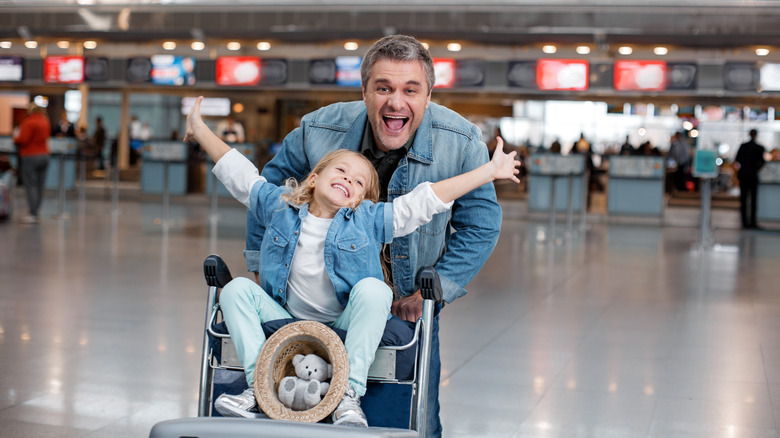 Sadly, New York's airports have a dearth of places where younger children can let off steam, and none make it onto the USA Today top-10 kid-friendly US airports list. That means a lack of slides, playhouses, or koi ponds that will keep children entertained, so parents traveling with youngsters should plan on other methods to engage their kids. Bottom line: Charge that phone or tablet and bring a power bank and charging cables for when either inevitably dies!
The one exception is the JetBlue play area at JFK's Terminal 5. The space consists of Amazon's Tumble Leaf Playground, where restless kids can wander and climb around a pirate-themed area, and the Junior Play Space, a booth with interactive screens that test children's knowledge on air travel and lets them try their hand at being a pilot. For some fresh air, parents and kids can explore the terminal's rooftop, which has places to sit, patches of greenery, views of airport buildings, and a small dog run that's sure to delight the kid in us all (via Live and Let's Fly).
Unwind before the flight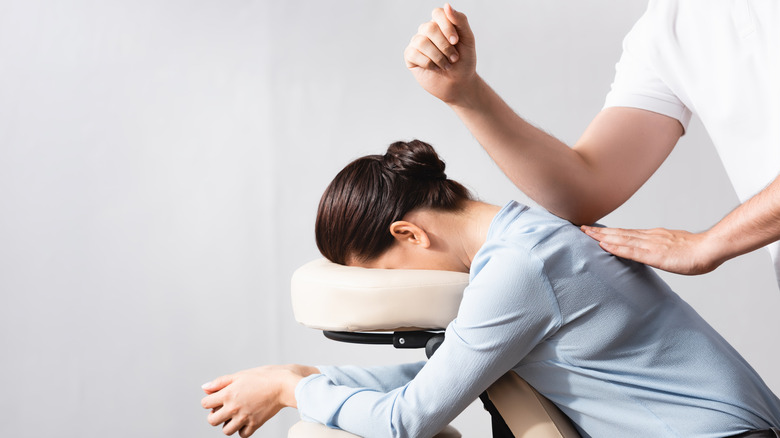 Standard check-in requirements result in passengers having huge chunks of time to kill before being able to board their flight. And once onboard, they often have limited opportunities for anything that resembles normal movement. Use that pre-boarding time to ease out shoulder knots or lower-back tension with a therapeutic massage session — relaxation that will help to make the flight a whole lot more tolerable.
At JFK, Be Relax is a full-service spa located in Terminal 5 that provides table massages (including a hot-stone massage), chair massages, oxygen therapy, and a full range of beauty treatments, from manicures and pedicures to facials and hairstyling. It's a great way to unwind before the stress-inducing flight. Open at a couple of locations in Terminal 4, XpresSpa is not as comprehensive a facility as Be Relax, but it does offer chair massages and nail treatments. The First-Class Manicure includes cleansing, exfoliation, and nail work, a total treat before take-off.