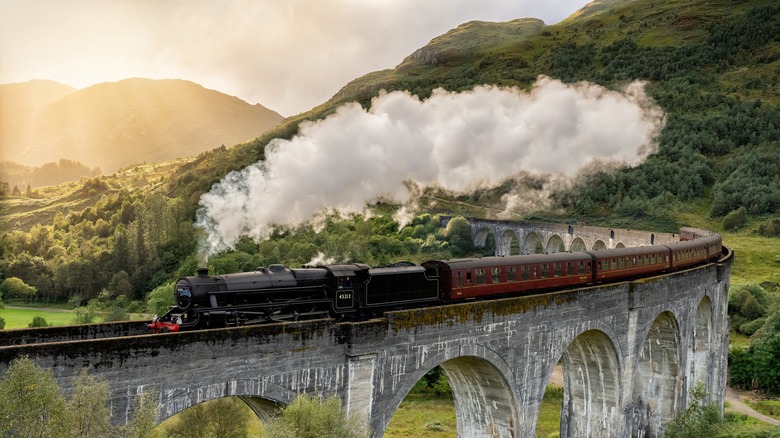 There are two similar certainties you can count on when visiting the bonnie country of Scotland: Diverse weather and diverse landscapes. Quite literally, you can experience four seasons in one day throughout Scotland, particularly in the magical Highlands and Islands. Scotland's incredible and breathtaking landscape throughout the country is so diverse that in one moment you can be traveling through major cities with both ancient and modern architecture, like Edinburgh and Glasgow, the next, you're traveling through stunning glens, vast moors, dramatic mountains, and around some of its 30,000+ captivating lochs, as confirmed by NatureScot.
When vacationing in the country known for its whisky, bagpipes, tartans, and kilts, there is no better way to travel through some of Scotland's diverse cities and romantic countryside, than by train. And, one train ride in this amazing country affords some of the most spectacular, diverse views of Western Scotland's scenery that checks off every box on the list.
A scenic rail journey like no other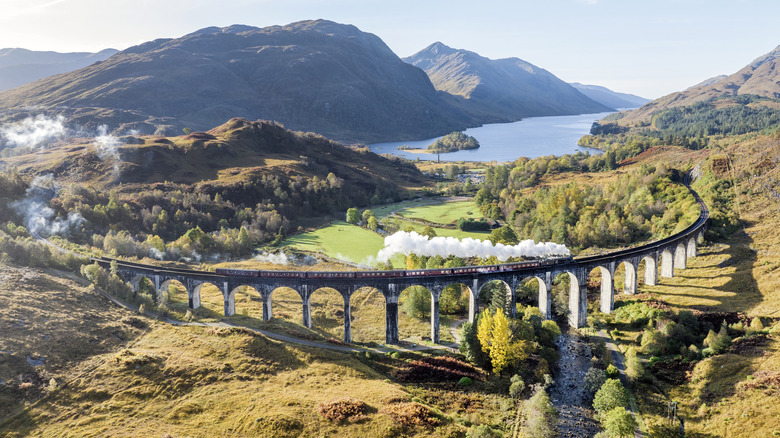 The West Highland Line journey is a scenic, magical, 5-hour and 30-minute route that begins in the famous city of Glasgow, ending its leg in the port of Mallaig; traversing through the wild west coast, and Western Highlands of Scotland where famous Highlanders like Rob Roy, and the young, British lad, Bonnie Prince Charlie traveled.
With captivating views as far as the eye can see, visitors will be impressed with the picturesque, mountainous landscapes in one area, and the remote wilderness and flat moors of other areas. Don't be surprised to see wildlife along your journey either. Scotland is home to thousands of wild deer, red squirrels, badgers, and a host of other animals that make their way through, and around the densely wooded forests and sparkling lochs throughout this small country. And, for Harry Potter fans, this magical train ride also spans the length of the Glenfinnan Viaduct, used as a filming location for the film series' second movie, "Harry Potter And The Chamber Of Secrets."
Your options taking the West Highland Line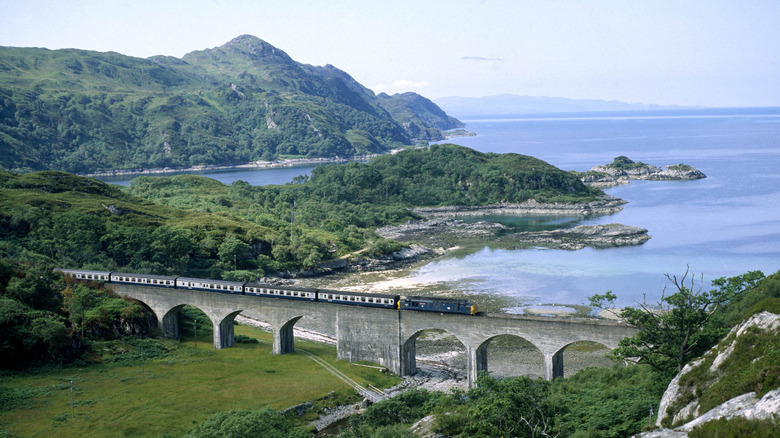 If you're someone who prefers to see everything in one day without any stops or tours to some of Scotland's most famous and historical sites, or if you're on a tight vacation schedule, a simple train ticket can be purchased through ScotRail, allowing you to enjoy this magical train journey in just over five hours. Be sure to have your camera ready so you can capture this incredible adventure as you go, preserving its memory forever.
But if you have some extra time while you're visiting Scotland, and prefer to take your time traveling the West Highland Line, stopping and taking in several sites along the way, and adding on overnight stays, then the four-day West Highland Line Itinerary suggested by Visit Scotland is your best bet, affording you a leisurely train ride through Scotland's vast, inspiring countryside, while taking in its culture, and enjoying the hearty food and fabulous whisky it's known for along the way. Whatever your choice might be, you can't go wrong either way: Scotland is absolutely breathtaking, its beauty unprecedented, and for anyone who visits, it's the trip of a lifetime.