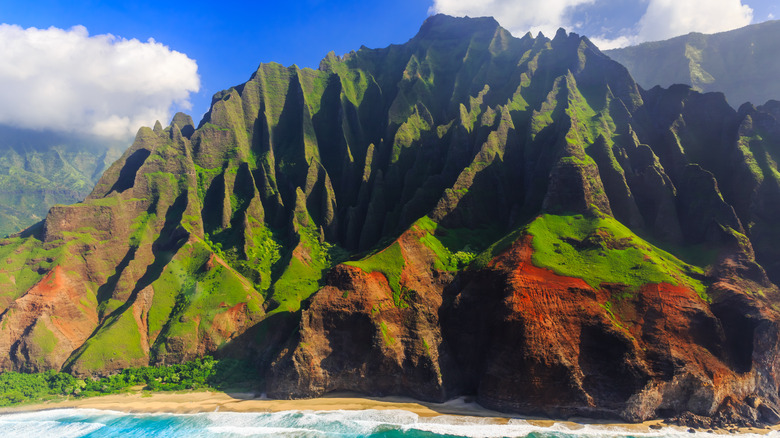 Hawaii is one of America's favorite tourist destinations, and for good reasons — it has warm beaches, luxury hotels, swimming, hiking, diving, and sailing, just to name a few. If you can't find something to love about Hawaii, you might want to start seriously questioning your sense of fun.
Almost everyone who visits Hawaii says they love it, though it's worth noting that not every tourist wants to go back, mostly because of the price tag (via Hawaii Tourism Authority). But you know, just don't look at your credit card bill until you've been home for a few days and call it good. It's the American way.
You can't really go wrong with any of the six major Hawaiian islands, but your traveling style and the activities you enjoy are definitely important if you want to maximize your first trip to the 50th state. And if you don't really know where to begin, start here — this list includes some of the most popular Hawaiian activities, the best island for each one of them, and tips for luxury, family, and budget travelers. To compile this list, we consulted popular travel sites, traveler reviews, and recommendations from locals. Everyone's traveling style is a little different, though, so use this list as a jumping-off point while remembering that ultimately, you should choose the destination and itinerary that's a perfect mix of all the things you like to do.
Best for beach bums: Oahu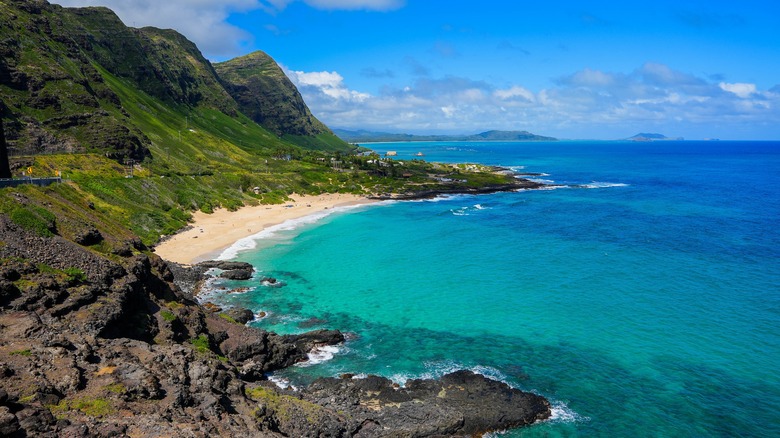 Not that we've done any official polling or anything, but it's probably a safe bet that most people who visit Hawaii are planning to go to the beach. Now, the Hawaiian Islands are, you know, islands, so you're going to find a beach wherever you go, unless you spend your entire vacation inland. But if beaches are the primary reason for your trip, pick Oahu as your first Hawaiian destination. Oahu's beaches are beautiful (though most have either golden sand or white sand — if you're looking for black sand beaches, visit the Big Island). The beaches on Oahu are also easy to access and have amenities like free parking, showers, and restrooms, the latter of which is especially important since beaches without restrooms tend to have water with a lot of human pee in it. Just sayin'.
Oahu's beaches are also mostly considered safe, although The Hawaii Vacation Guide says you should steer clear of North Shore beaches in the wintertime if you're planning to do any swimming. Even so, it's a good idea to check local condition reports before you visit any beach, especially if you're bringing kids.
Keep in mind that Oahu is one of the more popular islands, and hence has the more popular (read: crowded) beaches. One of these is Waikiki Beach, which tends to be dirty (via Hawaii News Now) and packed with humans. If you're looking for seclusion, try Makapu'u Beach Park but beware of rip currents if you're visiting outside of the summer months.
Best for hikers and nature lovers: Kauai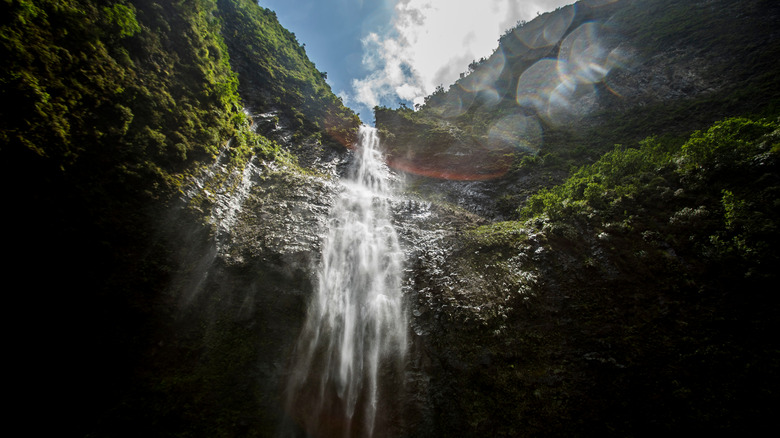 Hawaii has more to offer than just warm water and sandy beaches — it's also a scenic marvel, featuring gorgeous waterfalls, forested mountains, volcanic craters, natural pools, even the occasional snow-capped mountain (it's true, just ask NASA). You could actually spend days exploring Hawaii's hiking trails without ever encountering a beach, though that would actually be kind of a weird decision.
Still, if you're more of a wanderer than a lounger, choose Kauai as your first-time Hawaiian island destination. Trail and Summit says Kauai is the state's best hiking destination, mostly because it offers a range of trails for hikers of different skills and interests. If you want to pretend to be Indiana Jones, you could hike through the jungle (but never fear Indy, Hawaii has no native snakes). The Hanakapiai Falls Trail is eight miles and takes you through the jungle to a 300-foot waterfall. If you want something easier, hike out to Ho'oip'i Falls, which is only a two-mile hike round trip.
If you're a real mountaineer, try the Kalalau Trail — it's 24 miles out and back and will probably take you a few days to complete (it's also recommended for experienced hikers, as it can be treacherous and grueling in places).
Best for adventure: Hawai'i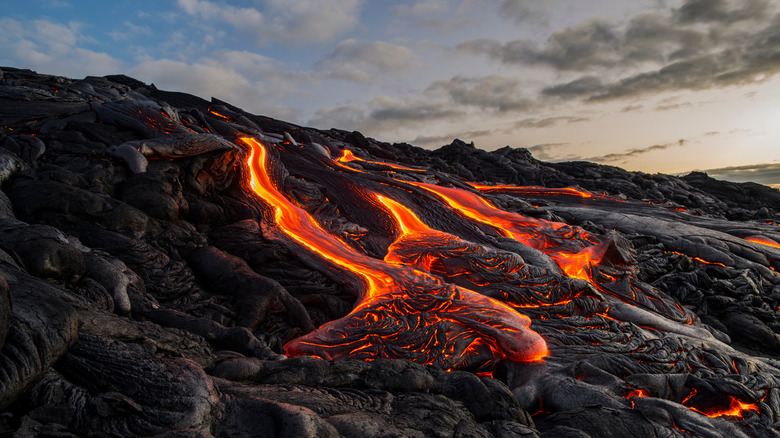 Some people visit Hawaii for the beaches, and some people just want to see the volcanoes. If that's you, there's only one island you should consider visiting: the Big Island of Hawai'i. If you want to see lava (and who doesn't), your first stop should be Hawai'i Volcanoes National Park, which is roughly the size of the entire island of Maui and contains two active volcanoes: Kilauea and Mauna Loa.
According to the Hawaiian Islands, the park also features lava tube caves, craters, lava fields, rainforests, deserts, and tundra (yes, tundra). Kilauea is one of the world's most active volcanoes and your best chance to see lava, though as of late November 2022, Mauna Loa was also showing off some of its fiery innards (via Love Big Island). Of course, there's no guarantee there will be any lava viewing by the time you get there (volcanoes are famously fickle performers), so no one's making any promises.
If you aren't lucky enough to see lava, don't worry — there's still plenty of adventure to be had on the Big Island. According to Adventure in Hawaii, you can also zipline, take a helicopter tour, go horseback riding, book a whale-watching tour, or take a sunset sail. Granted, these are some of the more expensive ways to experience the Big Island, but if you have the time and a Mastercard with a high limit, well, maybe you should live a little.
Best for diving and snorkeling: Maui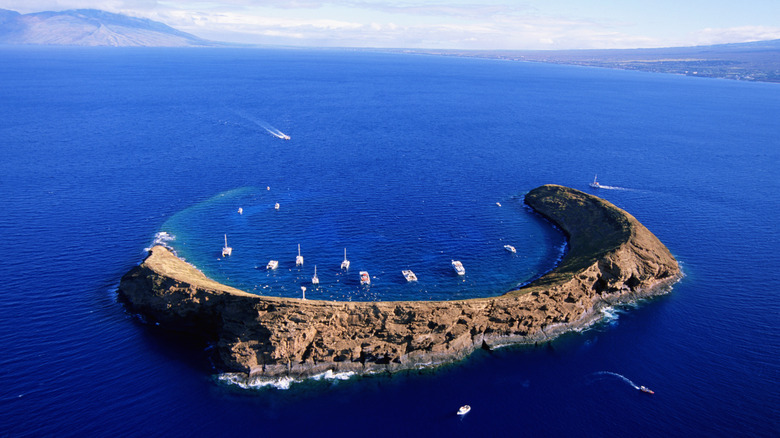 Diving and snorkeling is fun anywhere, but nothing is quite like diving and snorkeling in tropical waters. If this activity is high on your list of Hawaii must-dos, then you should make Maui your destination. It has an abundance of protected bays and marine animals that range from fish to manta rays to sea turtles. It also has beautiful reefs, clear water, and proximity to some of the smaller Hawaiian islands. Nearby Molokini Crater has some of Hawaii's best snorkeling — a partially submerged volcanic crater protects a small bay, creating the perfect tranquil environment for marine life and for first-time snorkelers (via the Travel).
If you'd rather explore Maui with a scuba tank, you won't be disappointed. Beginners can dive in the shallow waters, and more advanced scuba divers can venture out into deeper waters, where it isn't uncommon to encounter large marine species like hammerhead sharks and humpback whales (via World Adventure Divers). You can also use Maui as your home base for excursions to nearby diving sites — the Lanai Cathedrals are considered one of the best diving spots in the world, and are only a short ferry ride from the island.
Best for surfers: Oahu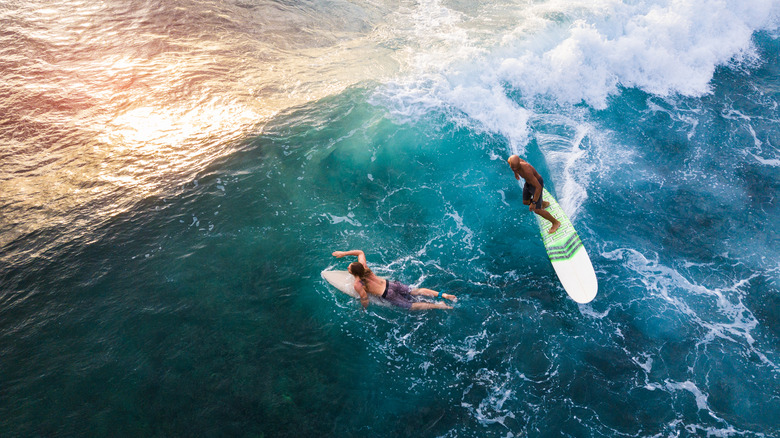 Surfing isn't for everyone, but if it's for you, you definitely need to choose your Hawaiian destination wisely. Hawaii Guide says Oahu is the place to go if you're looking to surf in Hawaii, with the North Shore cited as the best place to go, whether you're an experienced surfer or a beginner. Do keep in mind that winter waves at this location can be dangerous for the uninitiated, so if the goal of your Hawaiian vacation is learning to surf, it's best to book your trip for the summer season.
Hawaii Guide lists a few good surfing spots for various skill levels, including Puaena Point, Laniakea Beach, and Canoes. If you've never been on a surfboard before, the latter is a good place to hone your skills. If you're more experienced, try Diamond Head Cliffs, which has waves that can be a bit more challenging.
Wherever you do decide to surf, take care around the wildlife and be respectful — Flat Island is great for beginners, but it's also a state seabird sanctuary, and Laniakea (also called Turtle Beach) is a sea turtle habitat.
Best for fishing: Hawai'i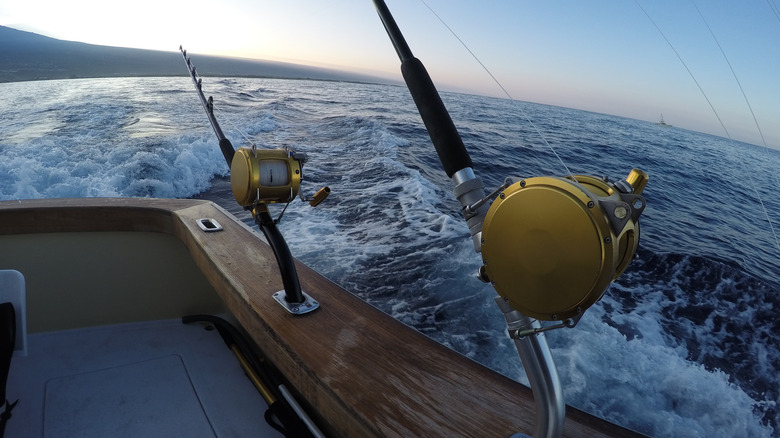 If you dream of catching "the big one," Hawaii might be the place where you actually do it ... but be sure to pick the right island. Hawaii Living calls Kona on the Big Island Hawaii's "Fishing Capital." It's where most of the charter operations are based, and it's also the home of the Hawaiian International Billfish Tournament.
The best place to find "the big one," of course, is in the deep sea. Chartering a boat gives you a chance to land some of the more challenging catches, like marlin, mahi mahi, and ahi, though you'll have the best luck if you book a longer trip. Six to eight hours is enough time to get out to the deep sea and back, where you're more likely to encounter bigger fish (if you're more of a dabbler, you'll probably be happy with a four-hour trip).
Alternatively, you could try shore fishing. Hawaii Living names Smoking Rock on the southwestern tip of the Big Island as one of the best spots for shore fishing, but you do have to trek over some rocky ground to get there. For easier access, you could also try fishing at Anaeho'omalu Bay or off the pier or rock wall at Keauhou Harbor.
Best for nightlife: Oahu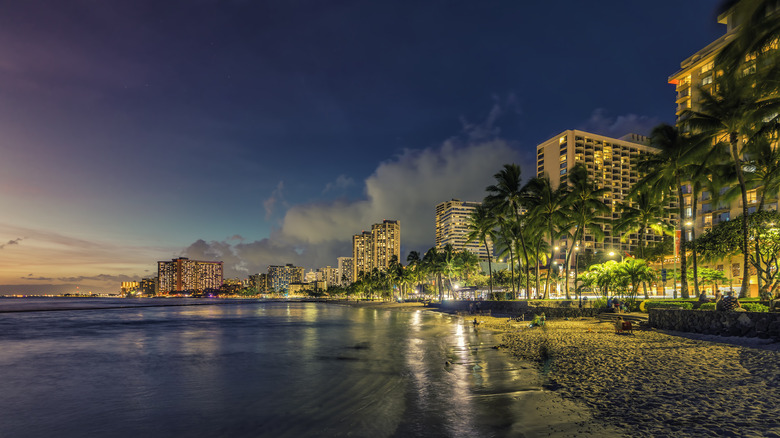 Honolulu is the capital of Hawaii and the largest city in the state (via the Hawaiian Islands), so it makes sense that this is where all the best nightlife can be found. According to Go Visit Hawaii, the island of Oahu itself boasts more nightclubs and bars than any other island in the state.
The city has a number of neighborhoods to choose from, each with its own unique nightlife character (try downtown Honolulu, Waikiki, or Chinatown). If the weather is nice, visit one of the open-air, rooftop bars like Mai Tai's Bar and the Buho Cocina Y Cantina (which also serves food, via Best of Oahu) or stick with something a little more intimate, like the Blind Ox in the Diamond Head neighborhood.
If you want to do more than just hang out in one bar, you can also book a "Party Bike Bar Tour," which is just what it sounds like — a 15-passenger bike you can pedal from bar to bar. You don't even have to get off the thing if you don't feel like it (it doubles as an actual bar, complete with a built-in table for your drinks and appetizers and a thatched roof). If you'd rather dance than ride, there are also plenty of nightclubs featuring DJs and/or live music. Sly Waikiki is a popular spot, or take in a concert at The Republik.
Best for seclusion: Molokai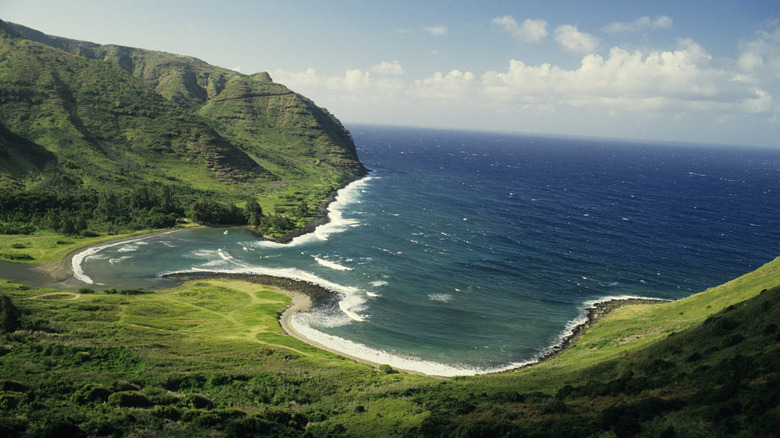 When people talk about Hawaii vacations, Molokai doesn't come up very often. In fact, it's likely you haven't even heard of Molokai — as far as Hawaiian islands go, it's kind of off-the beaten path. Molokai is the most secluded of all of Hawaii's islands, and it's the quietest, too. According to Visit Molokai, this is the island to go to if you want to experience traditional Hawaii and you don't care about things like shopping malls and fancy restaurants.
If you hate crowded beaches, Molokai's beaches will make you very happy. There are lots of good swimming and snorkeling spots and they aren't packed with tourists. Molokai has a few of the activities you'll find on the bigger islands, like charter boats, kayaks, and whale watching, but for the most part this island experience is laid-back, relaxed, and quiet ... which is what "vacations" used to be like, remember?
Best for families: Oahu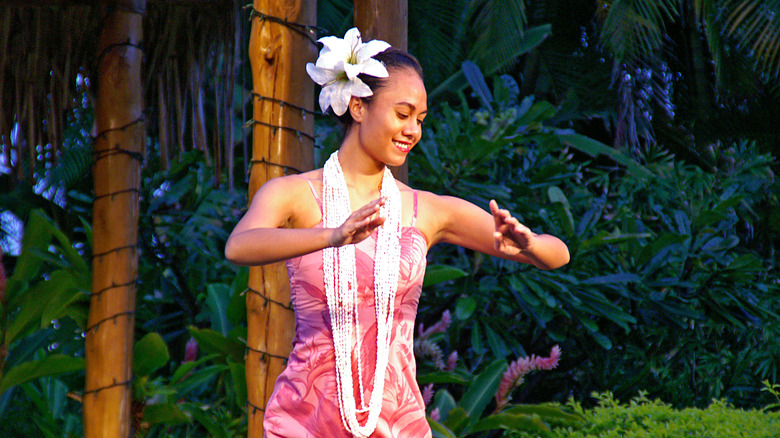 Hawaii is an eclectic place — some of it is best suited to adults, and some is great for kids and families. If you're traveling with your clan, Oahu is probably the best place for your first visit because it offers some of the most family-friendly activities.
Everyone loves a luau and it even seems a bit wrong to visit Hawaii without going to one, especially if you're traveling with children. The Ka Moana Luau at Sea Life Park is unlikely to be crashed by Lilo and Stitch (you can dream), but tickets do include entrance to Sea Life Park. This marine mammal park and aquarium has the option to swim with dolphins (or alternately, wade with the dolphins, or feed the dolphins without actually getting in the pool with them).
Other kid-friendly activities on Oahu include snorkeling tours, the Dole Pineapple Plantation (featuring the Pineapple Express Train and a Pineapple Maze), the lifeguarded Waimea Waterfall and swimming area, and Iolani Palace, where Hawaii's last king lived until he was ousted in 1893 (via Our Woven Journey).
Best for foodies: Maui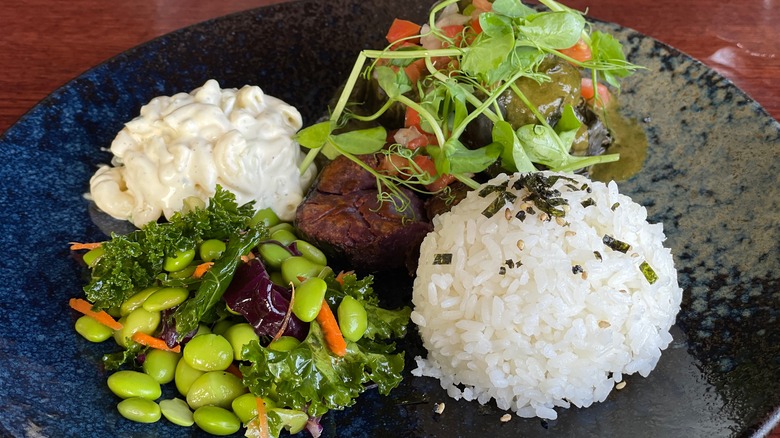 It was tough to choose a winning island for the foodie category — all the Hawaiian islands have their own, unique flavors and culinary cultures, so if you're a true foodie, you're unlikely to be disappointed wherever you decide to go. But one island is just a little bit more food-centric than the others, so if you're the sort of person who plans every night's dining venue months before your vacation, you might want to pick Maui as your first island experience.
According to Salt and Wind, Maui is famous for its farm-to-table dining. Travel to the Upcountry region (inland Maui) to buy locally grown food at the farmers market or visit organic farms, a local goat dairy, or a lavender farm.
In 1991, 12 Hawaiian chefs founded the Hawaiian Regional Cuisine movement, a local effort to preserve the specific culinary traditions of each Hawaiian island using fresh, local ingredients. Three of those original chefs own restaurants on Maui: Mala Ocean Tavern, Merriman's Kapalua, Gannon's, Honu, and Monkeypod Kitchen. If you want to eat true Hawaiian food, you can't go wrong with one of these local eateries (via Lonely Planet).
Best for luxury travelers: Lanai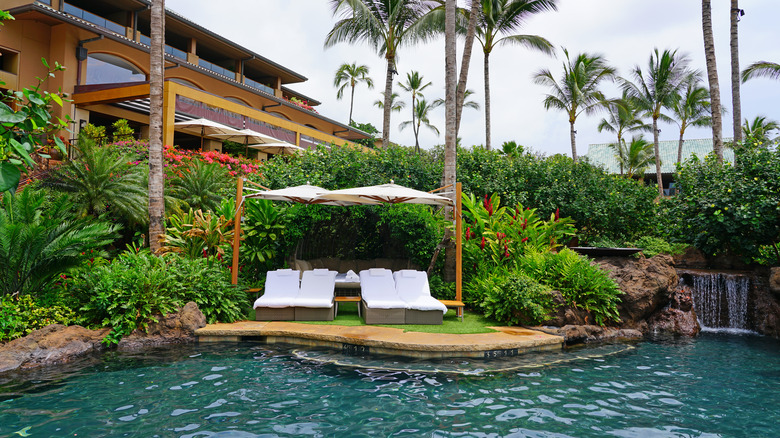 You'll find luxury all over the state of Hawaii, and even if you don't, you might feel pretty luxurious when you open up your credit card statement at the end of your trip. And luxury means different things to different people, so feel free to choose a busier resort on one of the bigger islands if Lanai isn't your style. If your idea of luxury includes privacy, though, Lanai is your best bet.
Lanai is the smallest of Hawaii's populated islands. According to Hawaii Guide, it has just 3,000 locals calling it home. You can thank Larry Ellison (the guy who founded Oracle) for the luxury — he bought most of the island in 2012 and renovated it so travelers could experience luxury and privacy all at the same time. Stay at the Four Seasons Resort or choose the Sensei Lanai Hotel. You could also try one of the island's many Airbnbs, though you may or may not get as much pampering as you would if you stayed at the Four Seasons. There's plenty of nature to explore on the island, but if you want to stick with a true luxury experience, there's also golf.
Best for budget travelers: Oahu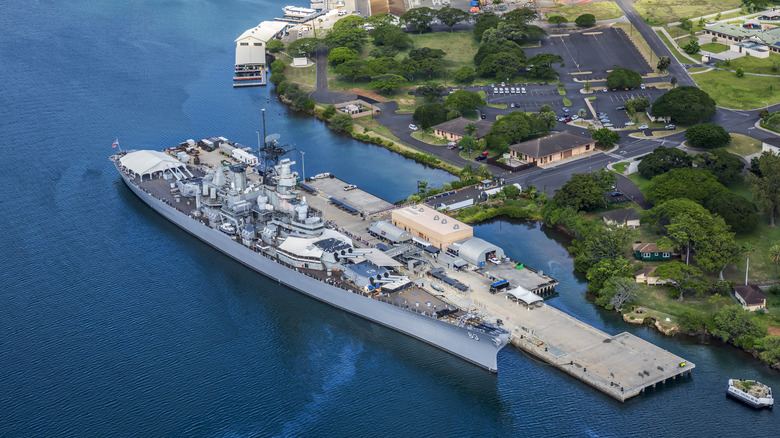 Not everyone can afford the Four Seasons. In fact, most people probably can't afford the Four Seasons, but that doesn't mean you should write off a dream vacation to Hawaii. While nothing in Hawaii is "cheap," per se, you can find accommodations and activities that are cheaper, as long as you know where to go.
For budget travel, most tourists choose Oahu. According to Tripster, Oahu has the best mix of lower-priced activities, though you'll still need to shop around for the best deals. One of the things that will save you some money is transportation — you won't need to rent a car on Oahu, since it has great public transportation infrastructure and lots of activities and accommodations within easy distance of each other. The cheaper hotels tend to be the ones that aren't beachside, and if you really want to save money, you can also book your trip for spring or fall, when the prices are lower.
It is also possible to choose budget-friendly activities on the island of Oahu. Many of the beaches and hiking trails are free, and you can also choose lower-cost activities like visiting Pearl Harbor or the Waikiki Aquarium (as of 2022, the latter is just $12 for adults and $5 for kids).
Best quick trips: Oahu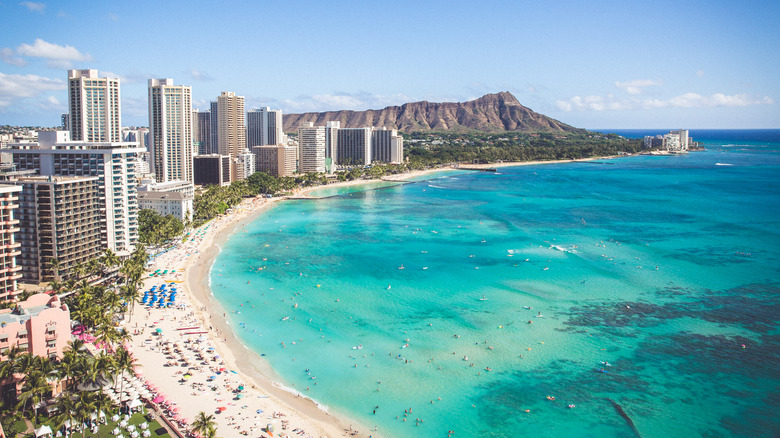 Hawaii is expensive, and your budget — or perhaps your schedule — may keep you from spending as many days there as you'd like. If you only have a few days to spend in Hawaii, your best bet is Oahu. Most flights arrive here, which means you won't waste any of your precious time just traveling to your final destination. And because the island is smaller, it's easier to pack more activities into a short period of time.
For a quick trip to Hawaii (or anywhere, really), follow the Lincoln Travel Blog's advice and have your itinerary planned out in advance, with each activity an easy distance from the last one. A trip with limited time may also require a rental car so you're not wasting time waiting around for public transportation. Hawaii Guide advises spending your first day on kick-back activities, and your last day on last-minute shopping, so plan the more time-consuming activities for those days in between. And don't try to do too much — you may find that a few days of swimming and hiking is enough to give you a good taste of Hawaii, though you'll almost certainly decide you want to go back.