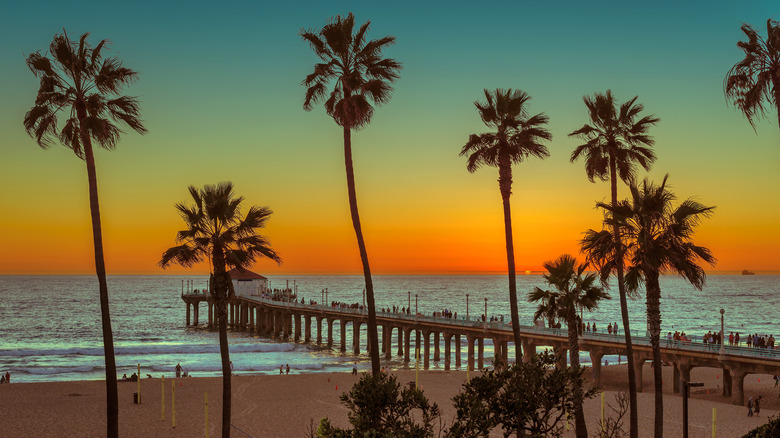 Three days in Los Angeles might not sound like much, but with a little determination and our helpful itinerary, you'll be able to hit all the essential spots in the city. Los Angeles is an eclectic city jam-packed with people from diverse cultures and backgrounds. It shines with exhilaration and anticipation as one of the world's entertainment capitals. It is a place that welcomes creativity, originality, and following your dreams. By day, its beaches are bathed in sunlight, beckoning beach-goers to its tantalizing shores. At night, it turns into a city of excitement that welcomes world-famous entertainment that celebrates the innovation that makes this city sparkle.
From world-class culinary experiences to late-night partying, LA celebrates its uniqueness in the echelon of world-famous attraction spots. It doesn't apologize for being over-the-top at times, but rather enthusiastically toasts its singular vision of introducing entertainment to the world. Los Angeles is its own kind of special. So get ready for an extended weekend of a lifetime as you explore the city's finest points amongst all the busy people. In fact, according to Discover Los Angeles, there are 4 million people in the city. So, expect a lot of traffic both on foot and on its streets. All the better for people-watching and snapping selfies! Following is your behind-the-scenes guide through the City of Angels.
Hike around Hollywood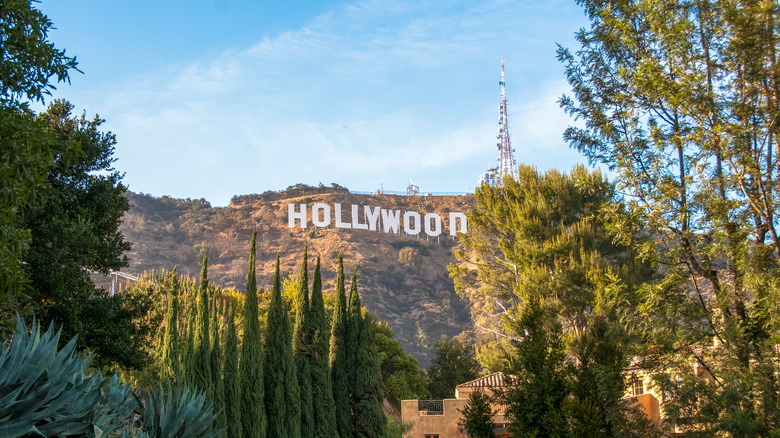 Let's begin where the red carpet often appears beneath the feet of stars — Hollywood. Start by taking a hike that offers views of the Hollywood sign in addition to unobstructed views of the city. That's right — you can hike while gazing at the infamous sign by heading over to Runyon Canyon Park. This steep canyon sits without pretense or fanfare right in a residential area of Tinseltown. It's very possible an A-lister will be hiking right next to you, but as is the norm in this part of town, you'll never know your fellow hiker is a star. After a hike and some photos, it's easy to head to the Dolby Theatre. According to Time Out, this Oscar's awards-show theater sits pretty on Hollywood Boulevard. After, just look down on the sidewalk as you take a stroll on the boulevard to see all the stars on the Hollywood Walk of Fame. Don't miss the iconic Roosevelt Hotel or Chinese Theatre on this buzzing tourist-frenzied boulevard.
If time allows and you're so inclined, the Hollywood Forever Cemetery isn't far away and is famous for, well, all the posthumous stars buried within its acres. It also boasts outdoor movies during the summer. Sound bizarre? Yes. But this is Hollywood, friends. Also notable is Paramount Studios. In fact, it is the only major studio left in existence in Hollywood. If you get up early enough you can hit every spot we suggest here in Hollywood by foot in one morning.
Hang with the hipsters of Los Feliz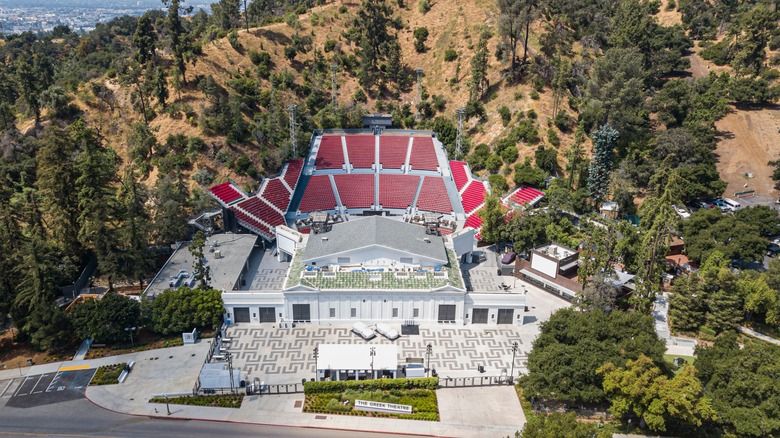 Los Feliz has a bunch of surprises. Eclectic buildings and hipster Angelenos fill its streets. But it's more than just another cool part of LA. Visit California states that you'll find the beautiful Greek Theatre and cool hiking spots within this area. But Los Feliz definitely features its own kind of hipster scene. It has really come of age in the last 15 years and demands attention for its multifaceted boutiques, entertainment-friendly establishments, and bustling dining finds.
Check out the Greek Theatre for an incredible concert venue or just go there to visit the massive landscaped grounds of Griffith Park that surround the theatre. Over 4,200 acres make up this park that's ideal for hiking, biking, and even horseback riding within its scenic Santa Monica Mountain range.
Not to be missed is The Dresden smack in the middle of the action on bustling Vermont Avenue. This old-school venue is one of LA's most established "it spots" that never loses its cool vibe. Serving martinis since the 1950s, it features a dark lounge with jazz and a lot of swagger. Indeed, Los Feliz is an area that is both established and up-and-coming at the same time.
Go star-gawking in West Hollywood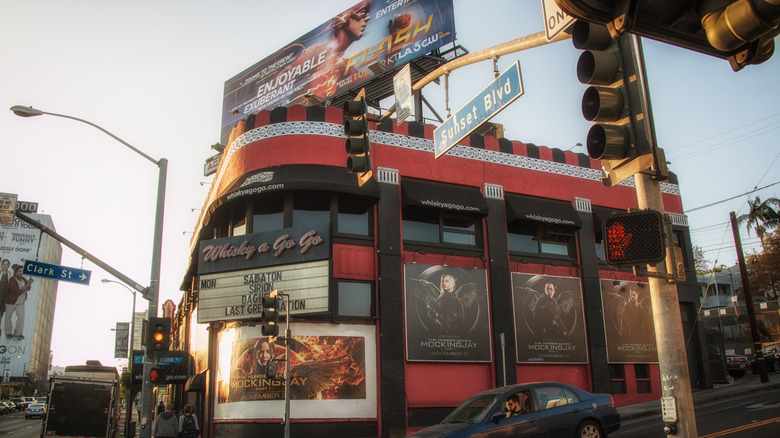 Right to the west of Hollywood awaits the small yet mighty city of West Hollywood, lovingly known as WeHo. There's a plethora of hot spots awaiting you in WeHo, including some infamous clubs with red velvet ropes on Sunset Boulevard. Here, you'll find the decades-old bars The Whisky a Go Go and the Rainbow Bar and Grill. Both are a rocker's paradise (or rocker wanna-be) where marijuana constantly blows through the air and tequila shots are consumed faster than a guitar can be strummed. Various nightclubs line the boulevard as well, but their venue names change quickly. A stroll down the boulevard will suffice for finding the latest must-be-seen-here spot.
A few blocks down from Sunset Boulevard is Santa Monica Boulevard. Here you'll find some popular spots such as Barney's Beanery. Time Out reports that many celebs pop in and out of hot spot restaurants and bars in this popular area of town, but venues change hands so frequently that you'll have to check it out while you're there. One mainstay is The Abbey — this hot spot gathers a regular crowd of party-goers intent on having the time of their life.
The modern Pacific Design Center stands in the middle of town. You can't possibly miss it as its edifice, designed entirely in red and green glass, is gigantic. Inside, it boasts an eclectic mix of showrooms for furnishings for business and residential purposes along with movie screenings, meetings, and exhibitions.
Get in on the glitz of Beverly Hills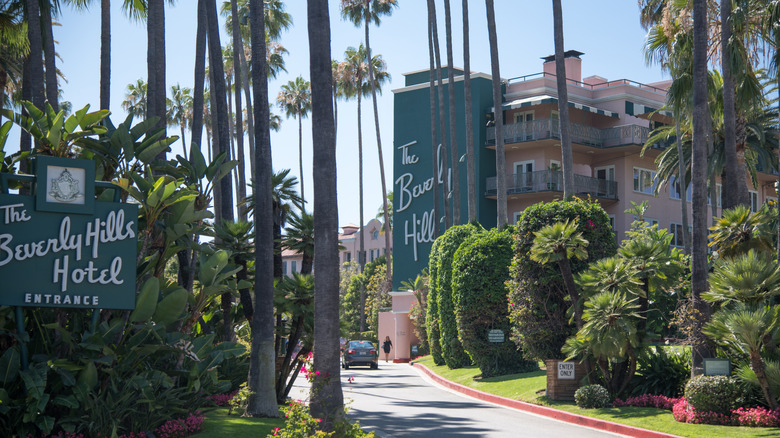 WeHo's famous neighbor is Beverly Hills. Enough said. This is the perfect time to throw on big shades and pretend you're famous. A stroll down America's most famous drive is a must. Rodeo Drive doesn't disappoint with its over-the-top designer stores and glitzy presence. Not far from Rodeo Drive is the beautiful and touristy Beverly Wilshire Hotel on Wilshire. According to Four Seasons, you can even stay in the hotel suite of the Beverly Wilshire Hotel where Julia Roberts and Richard Gere filmed portions of "Pretty Woman." How's that for celebrity treatment?
Also notable is The Beverly Hills Hotel on Santa Monica Boulevard. This iconic 'pink palace' has been an it spot for many present and past celebs and other VIPs. Another "must-see" is the Greystone Mansion. This is a mansion once owned by the Doheny's that is now owned by Beverly Hills and open to the public. It boasts sprawling gardens and is the backdrop for a dizzying number of weddings and movies including "The Muppets," "The Social Network," and "There Will Be Blood." Definitely a spot not to be missed. The mansion is nestled within a neighborhood of many other gorgeous mansions that you'd never even know existed behind their wide wrought iron gates. How very Beverly Hills! Head to The Beverly Hills Hotel for a nightcap, you've made it through the first day!
Soak up the sun in Santa Monica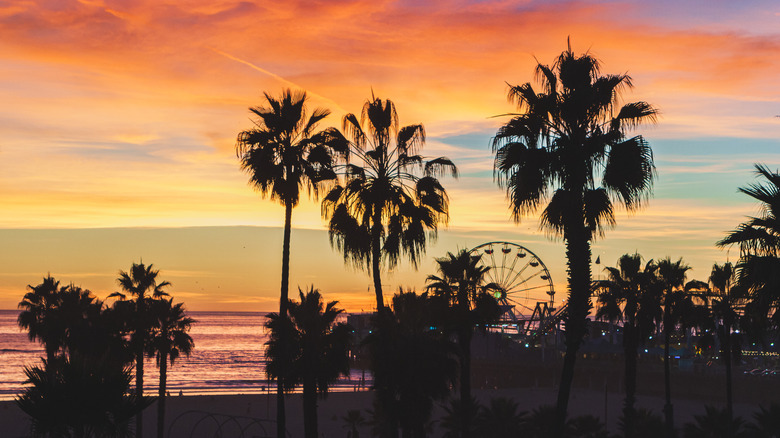 For your second day, take in the glamorous beaches of Los Angeles, including Santa Monica, Venice, and Marina Del Rey. You'll likely need the whole day to adequately explore these three lovely beach towns. But don't worry, it can easily be done in style on a beach cruiser.
Santa Monica is a big attraction because of its diversity and beauty. It features both abundant nightlife, European-style cafes, and even a Ferris wheel on top of the wooden Santa Monica pier. And in easy walking distance from the pier is the Third Street Promenade. According to Visit California, this is a must-see area. The walking-only promenade offers stores and restaurants with lots of LA-style pretenses complete with many VIPs walking its streets. And if you're into shopping, this is the place to be. It's very LA-cool, but not over-the-top.
Of course, the sprawling beach waves that splash onto the shore of Santa Monica are one of its notable attractions as well. Hop on the 22-mile bike path that will cruise you right by Shutters by the Beach Hotel. This bungalow-style hotel maintains its charm despite being packed with all the must-have modern amenities and class. It's pricey but worth the investment for its oceanfront location. Also of interest is the super trendy Montana Avenue. This avenue features pricey boutiques and often boasts a hot-spot-of-the-moment restaurant or bar. But according to Visit California, this beachy town hasn't lost its old-school charm. And that's why we love it.
Flex your muscles in Venice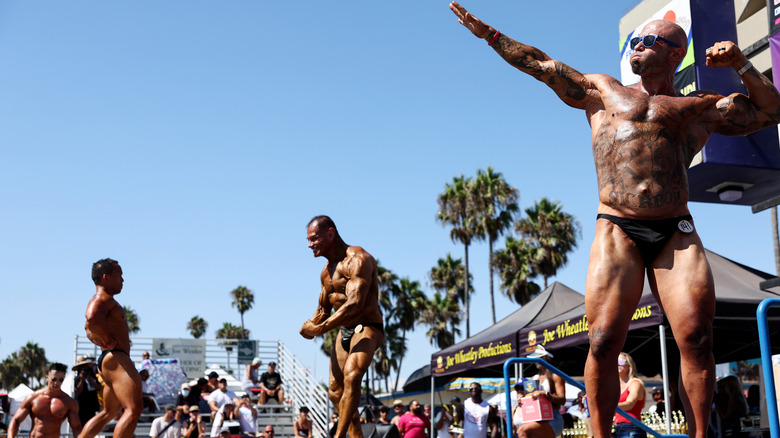 Neighboring Santa Monica is the soulful Venice. Complete with picturesque canals and cool spots, this part of LA is the quintessential definition of eclectic. It's partially high-end but maintains a mostly cool and mellow presence. It's a hybrid neighborhood with both the wealthy and unconcerned-about-wealth living within blocks of one another.
According to Common, the Venice pier is an ideal spot to take in a profound SoCal sunset. One memorable way to spend the morning is by biking from Santa Monica to Venice Beach along the busy boardwalk. This is how to truly get the flavor of the area. Venice boasts many partial outdoor vending stores along its boardwalk that sell sunglasses, postcards and Los Angeles-related memorabilia.
Expect to see tons of unique people doing their thing on this one-of-a-kind boardwalk. Afterall, this is where Muscle Beach became famous and true to its name, super muscular people will be found pounding the pavement and lifting incredibly impressive weights in this outdoor gym. Right outside the gym await tarot card readers, henna artists, wood workers, singers, dancers, and people who braid hair dotted along the boardwalk. The smell of marijuana will hang heavily in the air as you peruse a bevy of cool boutiques, barber shops, tattoo parlors, and, of course designer cannabis stores.
Make a splash in Marina del Rey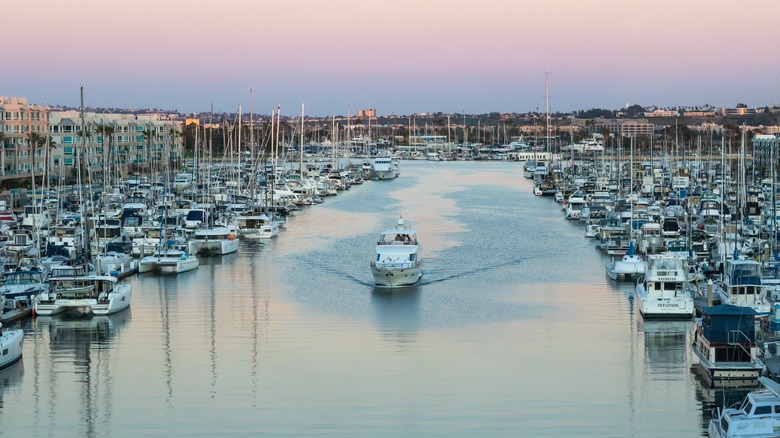 Right next to Venice awaits the lovely Marina del Rey. This is a more family-oriented neighborhood in LA but still neighbors the crazier Venice Beach. So, there's always plenty of overflow to observe! It is situated on a huge man-made harbor packed with gorgeous sailboats and yachts. This is the ideal spot to end a day of bustling around. It's a coastal community with beaches and bike paths with plenty of hotels and culinary choices. The slower pace and more relaxed vibe may entice you to try out your downward dog while doing stand-up paddle boarding (combined with yoga) known as YOGAqua.
And after a bit of exercise, consider taking a dinner cruise on a City Experiences cruise. Enjoy a meal from the comfort of a yacht as you cruise through the Pacific Ocean to the sound of sea lions barking. Or, end your day by sailing on a chartered private yacht run by Mariner Sailing Charters. If you're more comfortable on land, head over to the Cast & Plow restaurant inside the beautiful Ritz-Carlton Marina del Rey. Call it a night after a day of fun and sunshine!
Go star-gazing in Malibu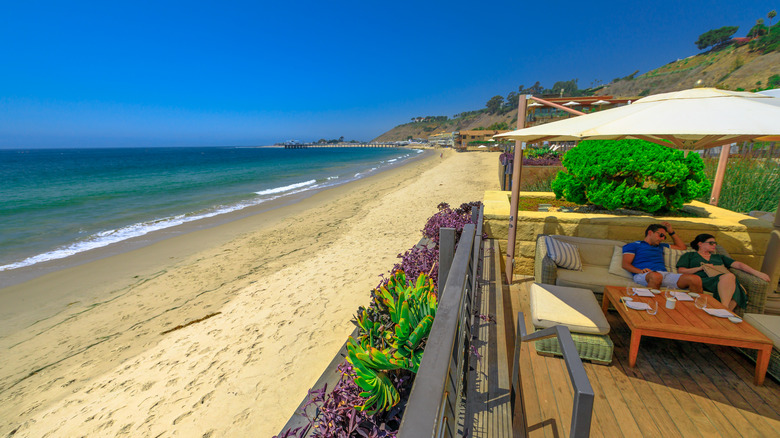 Oh the billionaires of Malibu just west of the city of Los Angeles. Hidden in between cliffs and miles of unspoiled beauty, many movie stars call this elite area home-sweet-home for obvious reasons. It boasts stretches of glorious beaches, many of which are so difficult to reach that they are virtually private (although nobody will admit to this), along with abundant crests filled with gorgeous nature. Although Malibu has been glorified in movies and through the tabloids, it is still a relatively small town.
The celeb-action awaits along the Pacific Coast Highway, where popular stand-out hot spots such as Nobu have a regular tribe of paparazzi snapping the Hollywood royalty who frequent this spot. Zuma beach is a popular destination for tourists and locals alike. Spend half a morning playing in the sand and then shimmy over to sushi at Nobu where you can pretend you're not really looking for celebs. Also worth visiting is the Malibu Pier which is in the middle of the cute town. From here, you can book a bevy of activities such as paddle boarding, surfing, or whale watching. Many people cruise the area just to gawk at the surfers who ride the killer waves at First Point.
Strut around downtown Los Angeles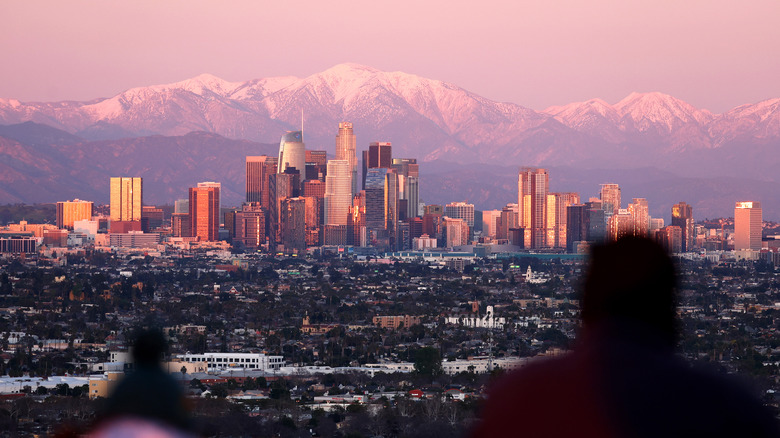 Backed by the San Gabriel Mountains, Downtown Los Angeles really is quite a sight. Smog permitting, that is. After all, this section of the City of Angels has been greatly revamped over the last 15 years and enjoys a diverse range of activities including museums, events, major league sports, dining, and budget shopping. This is the perfect way to end your third day. According to Visit California, DTLA hosts the Staples Center (now known as Crypto.com Arena) and Microsoft Theater L.A. LIVE, which houses incredible sports teams, including the wildly popular Los Angeles Lakers and Los Angeles Clippers. It also doubles as a premiere entertainment venue. There are many restaurants to choose from in the hip L.A. LIVE and cool things like Michael Jackson's infamous glove at the Grammy Museum.
Also notable and worth visiting if you're an art-lover are the Museum of Contemporary Art (MOCA) and the ultra-dynamic Walt Disney Concert Hall, where the Los Angeles Philharmonic makes unforgettably spectacular music. Feel like being in more of another popular hipster-scene? Then don't miss the city views from the top of the ultra-swanky and must-be-seen-here Standard Hotel Downtown Los Angeles. The Standard DTLA hosts a huge lineup of must-attend happenings throughout the year.
Love finding a good shopping deal? Then be sure to head to the LA Fashion District. According to Fashion District, The Santee Alley is LA's best open-air shopping experience.It features some great bargains from over 150 retailers including clothing, perfume, toys, and shoes throughout its bustling corridor.