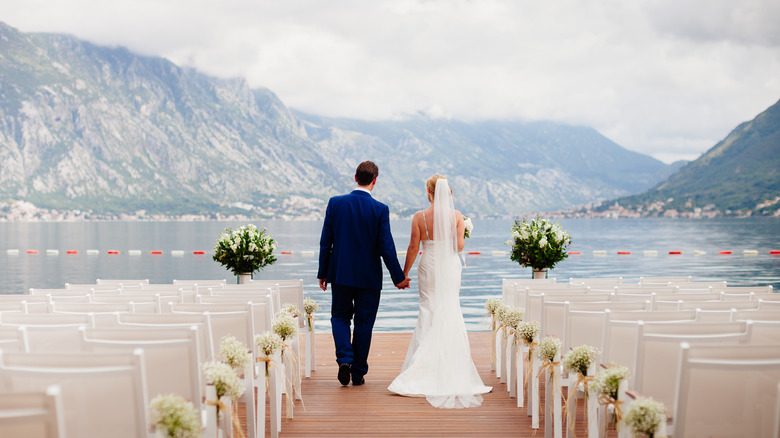 Deciding on a venue for your wedding can be one the most difficult experiences when planning one of the best days of your life. Do you want the event to be held indoors or outdoors? How big does the space have to be? What do you want the scenery to be like? According to The Knot, their survey found that banquet halls and ballrooms, farms, historic homes, country clubs, and hotels were some of the top venues engaged couples chose to hold their weddings.
However, if you're looking to create a little excitement for you and your guests, we suggest considering a destination wedding. According to the Washington Post, normally 25% of betrothed couples opt in for a destination wedding, and about 40% of U.S. couples choose to celebrate their weddings internationally. With a destination wedding, your options for a venue are seemingly endless, and we'll explain why it's something you may want to consider.
The top benefits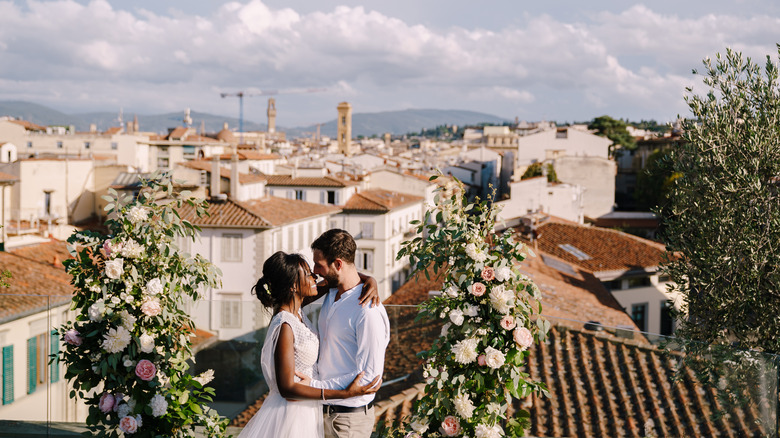 According to Brides, there are many benefits to holding a destination wedding, such as the stunning and memorable photos you'll be taking! Not only will your guests enjoy the amazing views surrounding them, but your photographer will be able to take beautiful photos as you tie the knot in front of the ocean, the Eiffel Tower, or whatever you choose. Additionally, destination weddings are also a good idea for couples who prefer to have a smaller guest list and a more socially interactive experience.
Although destination weddings seem like a costly endeavor, Brides note it can actually be a way to save money. It's suggested to find the best deals by speaking to local vendors who may have in-season options for you to peruse through. Another way to save costs is by using your destination wedding as a way to visit a place you and your fiancé have never been to before. You can kill two birds with one stone by holding your wedding ceremony one day, and exploring the area with your partner and friends the next.
Less stress is always good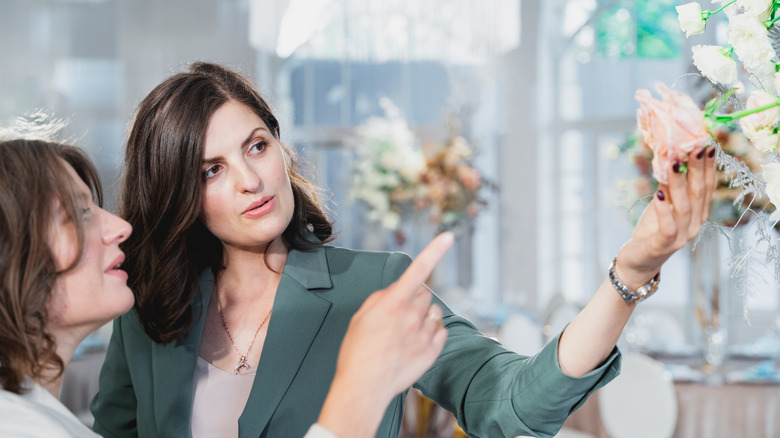 It's also good to know that booking a destination wedding isn't necessarily harder than planning with a local venue. According to In Search of Sarah, planning a destination wedding can be less stressful if you choose a resort with wedding coordinators who are ready to work with you. They typically have a planner that is filled out by the couple, and then they use the information they've gathered to create the wedding of their dreams. There's usually also a wedding package included, making the whole experience feel relaxing and luxurious.
Minus the affordability and relaxation of a destination wedding, it's an incredibly unique experience you can create for yourself and your guests. Don't know how to start? In Search of Sarah advises to first speak with a travel agent who has a background in destination weddings, and provide them with information on your budget and list of necessities. They'll help point you in the right direction to choose the best place to meet all of your needs.