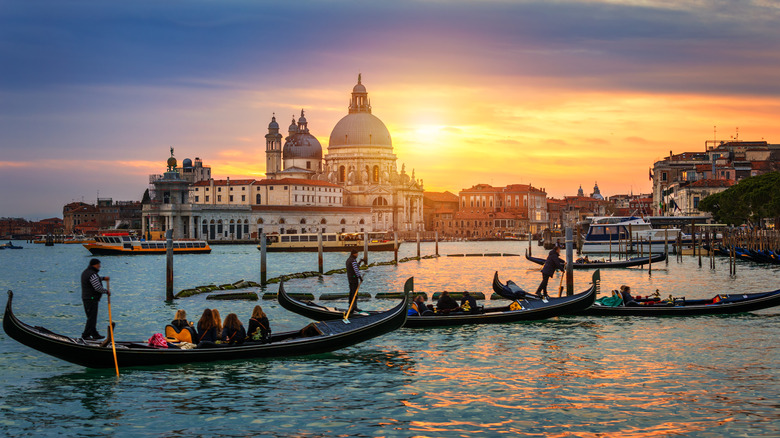 The Grand Canal of Venice has to be one of the most captivating, and picturesque scenes found within the "City of Canals." It goes without saying: It is the beating heart of Venice. Filled with barges, boats, and the ever-so-famous and much-adored gondolas traversing its waterway, onlookers are provided with captivating and breathtaking views of the iconic landmark of Basilica di Santa Maria della Salute towering prominently upon the canal's horizon.
If you've never been to Venice, Italy, or if you have and have yet to partake traveling in one of the many, artisan-handcrafted gondola vessels that disperse and intertwine across the canals of Venezia like stars across the night sky: You are missing out on one of life's most romantic experiences while visiting this magical floating city. With 150 canals making up Venice's ancient landscape — connecting buildings, bridges, and pedestrian streets through its waterway network — traveling by water is your only option when making your way through the city, and here's why taking a gondola ride should be one of the top things to do on your bucket list.
The centuries-old way to discover Venice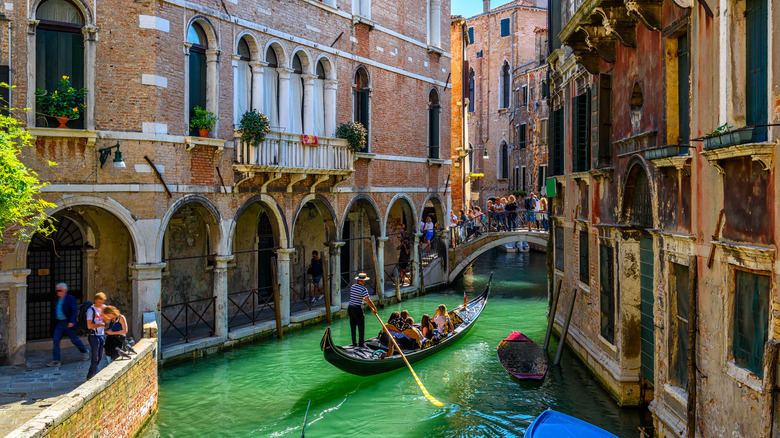 The history of Venice's gondolas dates back to the 11th century: Thousands making their way through the city's canals — as told by Rick Steves — they were a staple for transporting goods and people through the waterways of the capital of Northern Italy. Fast forward to the 21st century, and the sheer amount of gondolas that once networked throughout Venice has decreased dramatically, now hundreds appearing across the canals: Their present use mainly for transporting tourists.
And, according to Visit Venezia, traveling through "La Serenissima" by gondola provides individuals with an unforgettable experience that goes far beyond the romantic perspective: It reveals Venice in a truly artistic and authentic way — connecting individuals deeply to its history, its way of life, and undying beauty — while sitting within the hand-carved, master craftsmanship of this incredible water vessel that has defied centuries of hardship, wars, and plagues, being beautifully serenaded by an authentic, Italian Gondolier as you float along the calm waters.
The how-to's of taking a gondola ride in Venice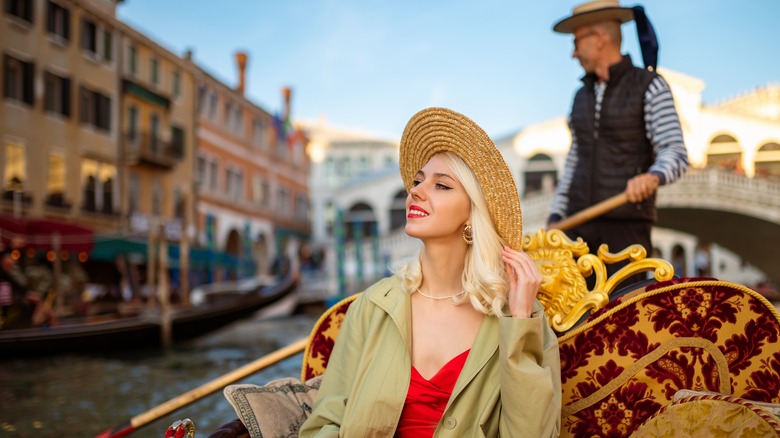 With a host of gondola tour companies ready to take you on the journey of a lifetime through their inspiring city, gondola rides can be taken individually, or with other individuals to save on costs. While tour prices may seem steep, keep in mind, pricing is equivalent to traveling by rental car daily via motorways and streets. Since the canals and lagoons of Venice are the "roads" to all the sites throughout the city, tourists are paying a fair price to connect from point A to point B.
Depending on the season you travel to Venice, booking a gondola in advance will cost significantly less than paying upon arrival, according to Venice-etc. Booking online will also provide you with immediate boarding onto the vessel when you arrive, helping you to avoid the long lines once you arrive. And, to see the best of Venice in all its illuminating lights and shadows while you're visiting the "Queen of the Adriatic," opt for taking a gondola tour both during the day, at sunset, and at night while you're visiting. Venice is waiting for you.