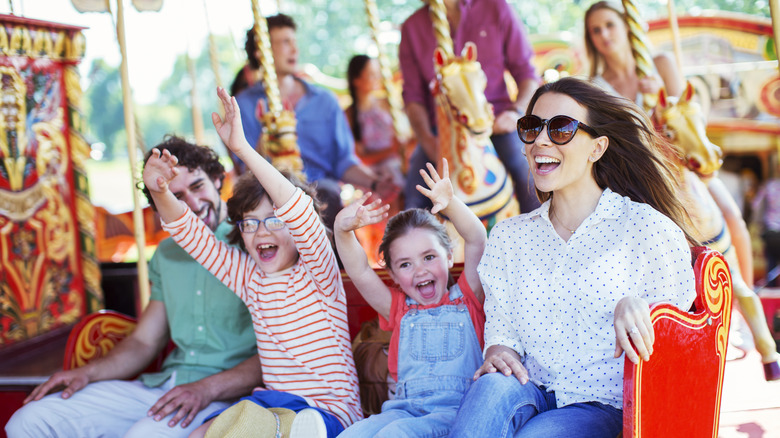 Millions of people from all over the world go to theme parks at least once a year. In fact, over the course of a year a park like Magic Kingdom at Walt Disney World is known to have more than 20 million guests, according to data from 2019 (via Statista). Magic Kingdom sets the bar in guest attendance as the world's most visited park (per the Los Angeles Times). And all those folks means a lot of daypacks packed over the course of a year. Even though bringing a bag means you can't waltz through security at some parks without additional screening, it's a temporary schedule delay that's well worth it.
While every park has a different rulebook for what guests can or can't bring into the park, there are some things you can safely pack away for the best day ever — no matter what park you're going to. By planning ahead you can save lots of money and time. Packing the ideal daypack is a skill many theme park goers have been perfecting for years. So whether you plan on hitting up the world's fastest roller coaster at Abu Dhabi's Ferrari World, the highest coaster at Six Flags Great Adventure Park, or something in between, read on to learn how to pack the ultimate theme park day backpack.
Bring a comfortable bag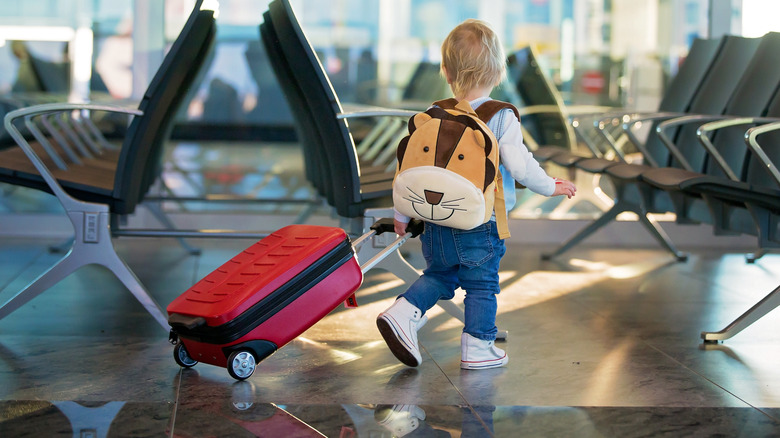 Folks can sometimes get caught up in the Instagrammable moments of a theme park day and forget to bring a bag that isn't a pain to carry around all day. Not only should you plan on bringing a backpack or bag you can comfortably wear all day, but consider making it your personal carry-on item to keep your packing space down, recommends Family Travel Magazine. Opting for a backpack or sling bag ensures that you can be hands-free during your park day, though it can be tempting to overpack since you have so much space. If your bag gets too heavy or cumbersome, keep in mind most theme parks have lockers you can rent to offload some of that gear (or the merch you picked up).
Should you have multiple folks across your party who can divvy up the load, you could always go for a fanny pack now that they're in style again. Though some folks refer to them as waist bags (probably to sound less silly), these little bags are a great way to keep your back free from the dreaded midday backpack sweat stains.
HGTV recommends a multipurpose Fjallraven tote for a long theme park day because it's roomy while also being versatile since it can be worn like a backpack or carried like a tote. Whatever you do, remember to waterproof or treat your bag ahead of time to avoid it getting ruined by inclement weather.
Don't forget that water bottle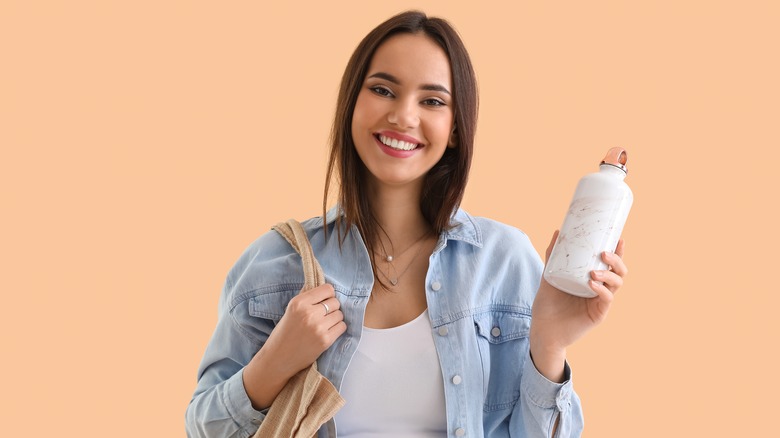 Unless you want to pay upwards of $4 for a bottle of water or go through way too many free water cups, you'll want to bring a refillable water bottle. Especially if you opt for an insulated bottle, you'll be feeling refreshed all day without breaking the bank. Some parks like the Disney Parks will happily give you cups of ice water at certain food kiosks, so be sure to check with the park ahead of time to see if that is an additional option outside of water fountains. Even the park experts at planDisney recommend bringing a refillable water bottle along on a park day.
"The Florida heat can be intense and so our bottles of water are an essential part of keeping my family hydrated, especially my little Mouseketeers!" writes planDisney panelist Crystal B. Disney policy dictates that guests can bring bottles, cups or mugs into the park so long as they aren't glass.
Whereas a park like Universal Orlando allows water bottles but also has a rule about how much water you're allowed to bring into the park with you — a maximum of 2 liters. So save yourself the headache later (literally) and bring your favorite bottle along.
Cooling towels are your friend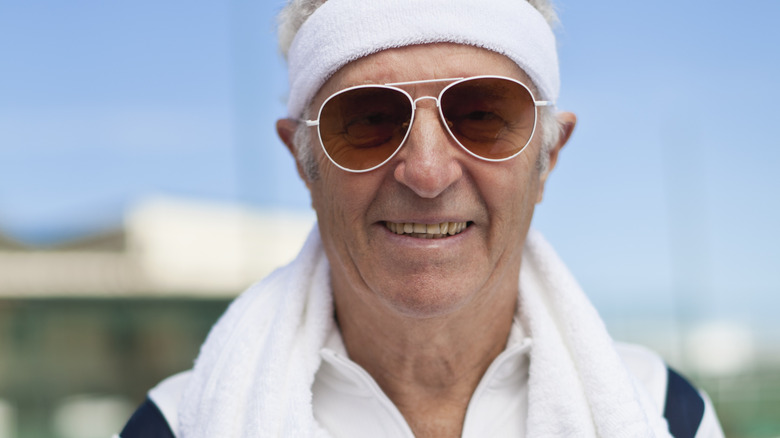 At first glance, cooling towels might just seem like a gimmicky buy, but once you use one for a long, hot park day you'll never go back without one. They work almost like magic. Once you get them damp they can immediately cool you down which Preethi Gopinath, textiles professor at Parsons School of Design, told NBC is because of microfibers. Gopinath told the outlet that the towels' moisture-wicking technology makes wearers feel cooler because the moisture is evaporating from the fabric at a higher rate.
Pack the cooling towel dry in your backpack. When you're ready to use it, just get it wet, wring it and put it around your neck for up to three hours of comfort (per People). If the towel no longer feels like it's cooling you, you can always rewet it and start the process over again. Leftover ice from water cups is an especially refreshing way to use the towels as well if you wrap the fabric around the ice. Just be sure to wash out and dry the towel after you use it because they get really stinky, especially after a long, hot day.
Keep your sunscreen within reach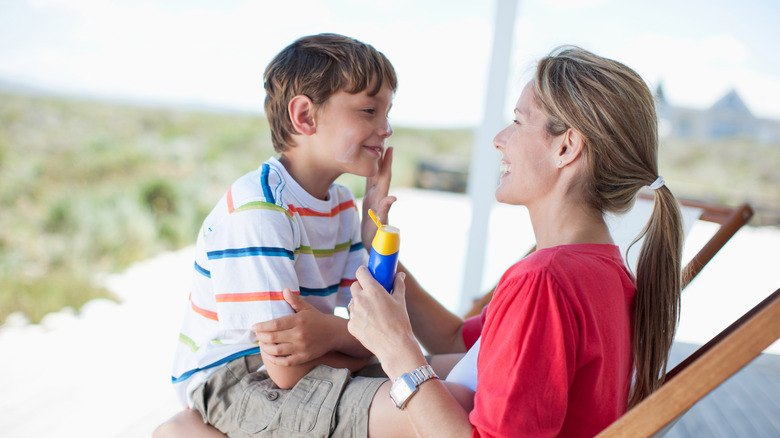 No matter what theme park you're heading to, you're going to want sunscreen. Sunscreen is a vital part of spending the day outside, especially if you're standing for long periods of time in the bright sun — yes, we're talking about you, Florida! Theme park experts like the folks at Trips to Discover suggest opting for spray-on sunscreen to avoid the messiness of lotion-style sunscreen on the go. Just don't forget to reapply throughout the day. Keep your sunscreen at or near the top of your bag for easy access. Some aloe vera might be an excellent idea too in case you get a little too much sun at midday. That way you won't be suffering the rest of the park day in itchy discomfort.
With one in three Americans getting sunburned at least once a year, it's important to remember your sun protection in any form (per the U.S. Department of Health and Human Services). UV protective hats, sunglasses, and clothing can also help prevent sun damage or overexposure. You can always clip a hat to your backpack just in case the sun gets overwhelming throughout the day too for a bonus piece of protection.
Be prepared and bring that poncho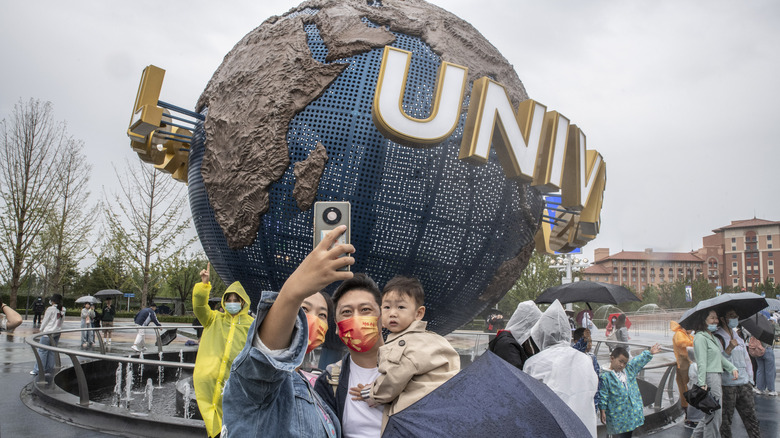 Especially if you're headed to a theme park in a locale that is known for midday downpours, you're going to want to bring your poncho. A poncho is much easier to walk through a crowded theme park with — and it can be easily folded up or rolled and placed inside a backpack. Bringing your own poncho will save you money, because theme park ponchos can be expensive. And be warned: If it's raining cats and dogs, there is a strong chance the shops at the parks could run out of ponchos.
Getting stuck buying a poncho during a Disney World downpour is so egregious, for example, that All Ears called it the thing friends don't let their friends do while visiting Walt Disney World. According to the outlet the theme park inflation on ponchos is so high that you could get a five pack of ponchos on Amazon for half the cost of a single one at Disney. Or grab some on your way to the parks to save the money and hassle later on (per Magical Family Travel Guide).
Charge your portable battery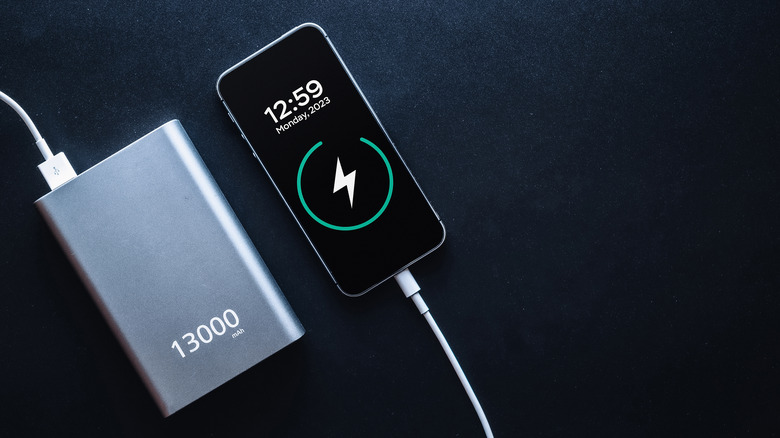 Theme park wifi? It's not the best. And when your phone is competing with everyone else's phones trying to stay on top of the park's app, you may be draining your battery faster than on a normal day. Depending on the kind of battery or portable charger you own, they can sometimes be as small as a standard lipstick, so they only take up a little room in your bag (E! News). Even if it's just one more thing to pack, you won't regret bringing a portable charger when trying to get through a 12-hour park day. Be sure to have a charging cable too if your battery doesn't have a built-in port.
One option theme park lovers opt for is a portable battery from FuelRod. With FuelRod you can exchange the depleted battery for a fresh one at a variety of locations which includes some theme parks (per Family Travel Magazine). Some theme parks that work with FuelRoad include Universal Studios, Disney, SeaWorld, and Six Flags locations, according to the company's website. If you forget to get one ahead of time, you can purchase FuelRod at the refresh kiosks where you can exchange your dead one.
Bring hand sanitizer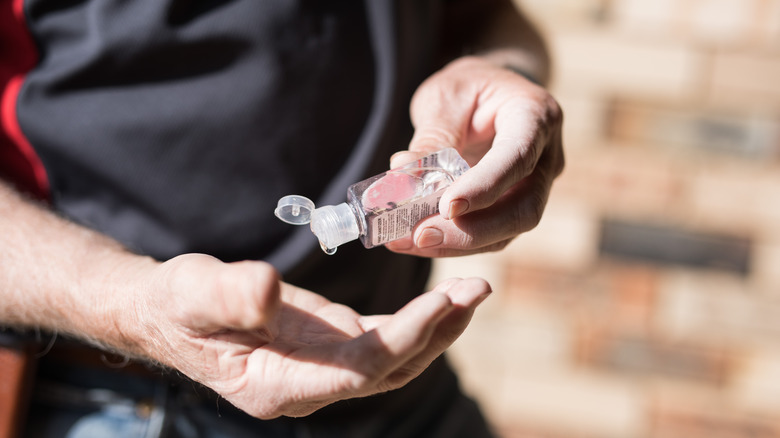 Some parks installed hand sanitizer stations because of the COVID-19 pandemic, though you can't trust that they're being refilled regularly. In fact, some may have disappeared altogether. This is why it's even more important to pack your own hand sanitizer in your backpack. No one wants to eat a snack after touching a lap bar on a roller coaster that 1,000 other people have touched that same day.
You shouldn't rely on the theme park to have sanitizer dispensers or that they'll be refilled when you need them because keeping up with guests is difficult for staff. Between sanitizer running out — and batteries needing to be replaced — on automatic dispensers, it's almost impossible for staff to keep the stations in working order, Kevin McGrath of Creative Serving Inc. told Amusement Today.
Plus, if you bring your own hand sanitizer, you don't have to worry about disliking the smell or texture of it (per Disney Food Blog). With all of the designs, shapes, and scents out there you can even coordinate your hand sanitizer to aesthetically match your favorite theme park bag. Who says you shouldn't have a Minnie Mouse sanitizer to match your cute Minnie Loungefly?
Pack snacks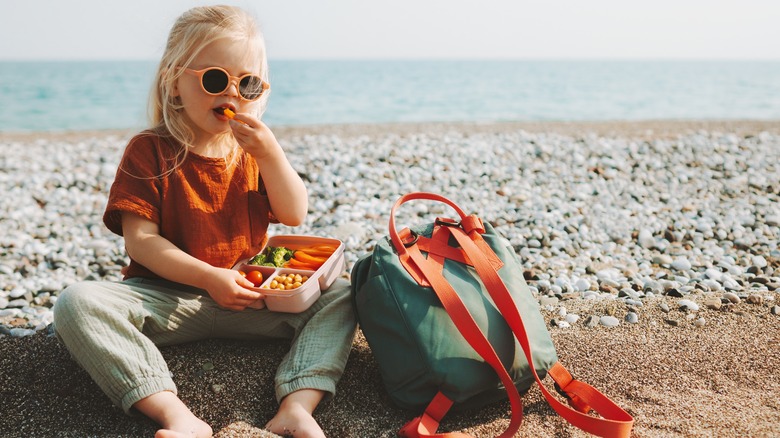 Not all theme parks are going to let you bring snacks. That said, if you're allowed to bring your own food and drinks, it's a good idea to do so. You'll save a lot of money even if you're just filling the gaps with snacks between meals. If your daypack bag isn't a cooler, consider only packing dry or non-refrigerated items. Even if your backpack is a cooler, it can be more weight to lug ice packs around, so keep that in mind while planning out your snack haul. Not to mention how squished cold sandwiches can get after several hours in a backpack.
If you don't normally bring snacks with you, it might be worth it to pack even a little something. Especially in recent years, the cost of food in theme parks has risen. The Los Angeles Times discovered that the cost of Butterbeer at the Wizarding World of Harry Potter at Universal Studios Hollywood has seen a 45% price increase since it opened in 2016. Even regional theme parks like Lake Compounce in Connecticut are seeing heightened concessions prices, notes the New York Post.
Layers in your backpack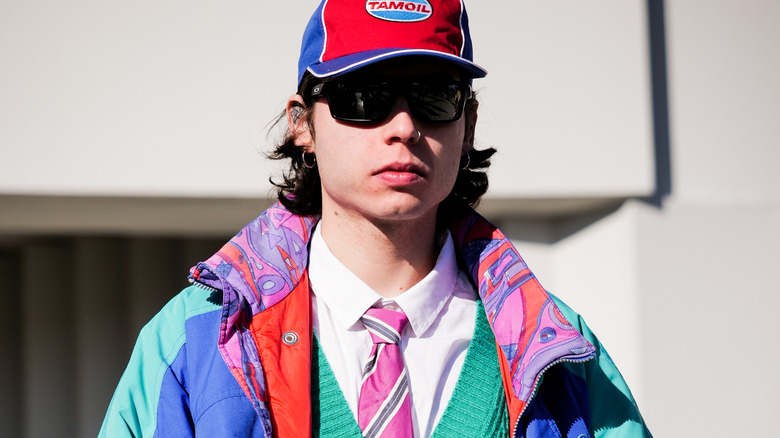 Depending on the time of year, you might be facing significant temperature differences from morning to night. If that's the case, you may want to pack an extra layer to keep yourself cozy later in the day. Your best bet is to fold or roll up your extra shirt or sweater to tuck into the bottom of your bag so it's out of the way, but still there if you need it.
You can always buy something to keep yourself warm at the theme park, but expect high prices for the convenience. Daytime temperatures can be tricky and make you think you won't get chilly when the sun goes down, but don't be fooled, warns Asher Fergusson. Even a thin sweater or long sleeve shirt isn't a lot more to pack for the day.
When planning what to bring for the day, don't forget to check the local windchill which can make a world of difference in temperature (per Undercover Tourist). If you absolutely can't fit your extra layer in your bag but don't want to leave without it, see if you can secure it around the outside of your backpack. It may look a little funny but it's one way to make sure you have it with you and not have to tie it around your waist.
Utilize reusable containers or bags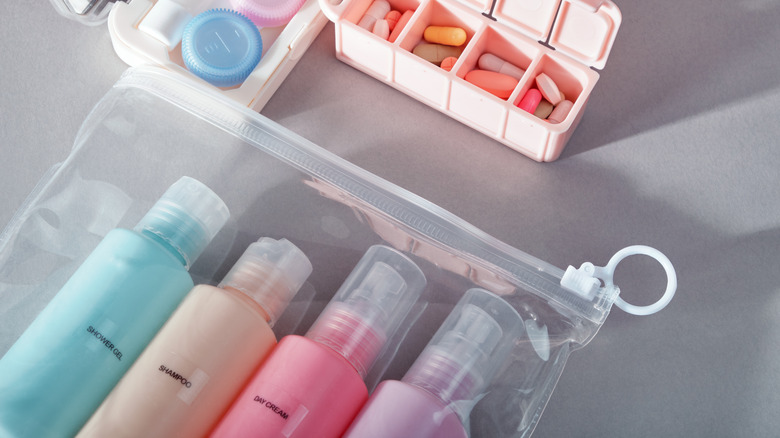 Whether you're packing some extra meds, wet wipes, or other daily essentials, put them in reusable bags or containers. By doing so, you won't be stuffing unnecessary packaging into your bag for the day. Dividing up what you may need into smaller containers is one way you can bring a bit of everything along for the day. Theme park journalist Carlye Wisel for The New York Times put together her perfect park day bag and emphasized putting personal items into smaller carriers.
Even things like makeup, lotion or sunscreen can be put into smaller containers to save space. Grab some reusable squeeze bottles or capsules from a travel toiletry kit — they work wonders for daypack use. Not only are they less likely to leak than the container the items come in, but you can just bring what you need and not your week's worth of sunscreen or hygiene products. Plus, depending on the size of your reusable bag, it could potentially double as a "wet bag" in case you get caught in a rainstorm and don't want to tote a soaking umbrella around.
Stash some first aid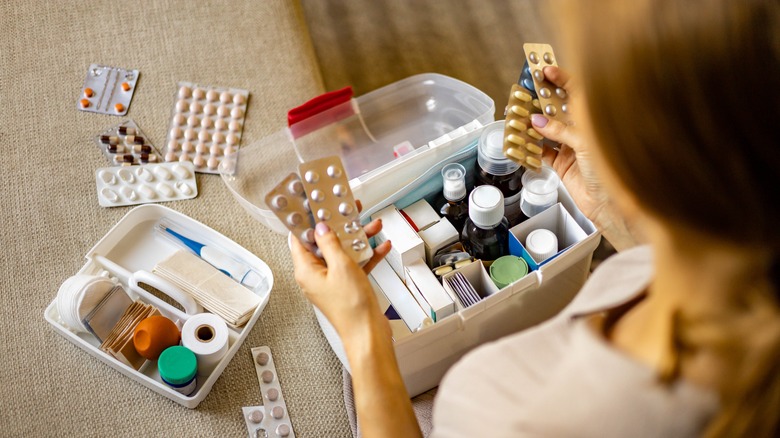 It's always best to have a few first aid items on hand when you head out for a theme park day. Why? Because you never know when you'll need them. If someone gets a blister from all the walking, or running to their favorite ride, for instance — or gets dizzy from the heat — you'll be glad you packed a first aid kit. You can buy a mini first aid kit complete with everything you'll need for a park day, or you can make one yourself. About a Mom suggests packing Neosporin, some pain medication, bandages and blister patches for your mini kit.
When considering what to bring for first aid, Undercover Tourist suggests planning for the most common theme park related ailments. The outlet lists those ailments as dehydration, motion sickness, nausea, bug bites, blisters, falls and chafed skin. Some little items that can be packed away for emergencies can even include electrolyte powders for water, allergy medications, ginger tablets for dizziness or acupressure wristbands to help with motion sickness. If you forget to pack your first aid kit or simply don't have what you need in the moment, you can check in with the theme park's first aid station to see if they can help.