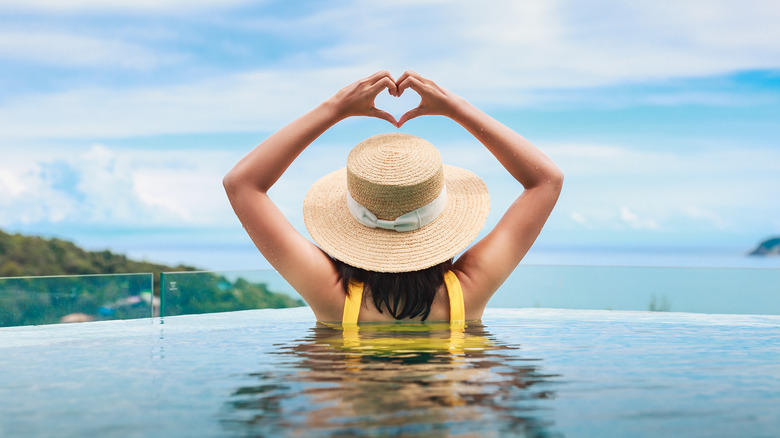 Traveling by yourself can be intimidating at first. But, with practice comes perfection. Often, all you need is the right outlook and a little extra planning for the world to become your oyster. Just ask any solo traveler, and they will tell you that once you have been bitten by the travel bug, it may seem increasingly difficult to let the lack of a travel partner-in-crime or someone else's schedule keep holding you back — and that's because it shouldn't! Not only is there a whole wide world out there to explore, but there are also many benefits that come with solo travel.
From feeling empowered to overjoyed that you finally have the freedom to do only what you want on vacation, traveling alone is something that everyone should experience at least once in their life — if not yearly. So, if this is your first time considering a solo trip, you might want to prepare yourself because this particular type of travel has been known to change people's lives (via Under 30 Experiences). With that said, if you want to master seeing the world on your own and never look back, then here is the ultimate guide for solo travel that will have you flying solo in no time and loving every minute of it.
Why traveling solo is important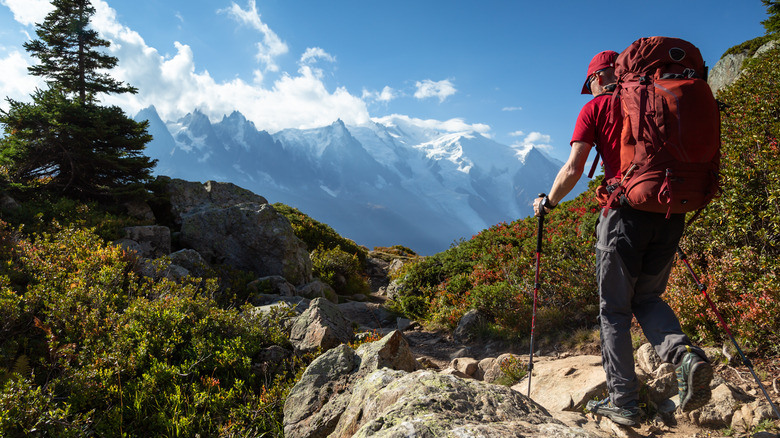 Solo travel provides great opportunities for challenging oneself, getting in touch with the real you, and feeling more confident in your everyday life. But that's not all — adventuring by yourself also opens up a whole world you may have missed out on because no one was willing to travel with you. Whether it was because of scheduling conflicts, different travel styles, financial concerns, or interests that differ, going solo means you no longer have to compromise on any of these things.
Embarking on a solo getaway also allows travelers to meet new people and try new things, all while often being more cost-efficient (per Travel Lemming). When traveling solo, you are more likely to engage with others at the airport, on the plane, and at your destination. Being more open to those around you in foreign or unfamiliar places means you can experience travel in a way you never have before. Plus, travelers who go it alone are more willing to discover new foods, see new sights, and encounter new cultures.
What you need to know about traveling by yourself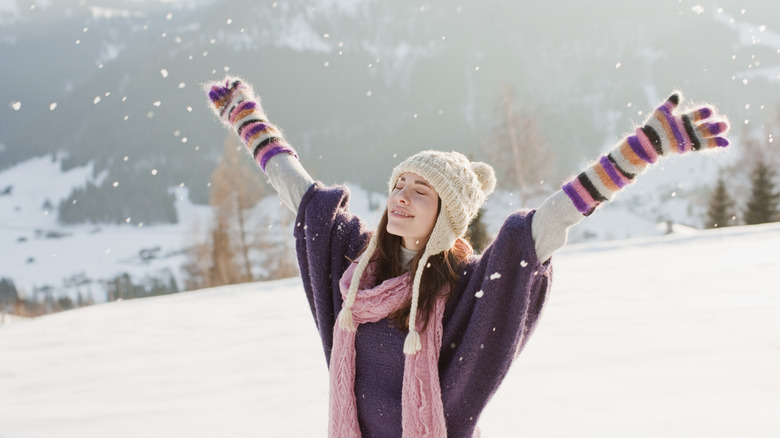 Though traveling alone is truly a liberating experience that you can tailor to your needs, there is simply no getting around the fact that solo travel is not for everyone. Some people thrive in group settings while others shine best on their own, and neither one is a bad thing (via Good Life By Doris). In many respects, solo exploration tends to be a combination of both.
Remember, just because you arrived alone does not mean you have to be alone for the entire trip. There are solo-friendly accommodations with communal amenities that make it easy to make new friends and available group tours (which often have several other solo travelers mixed in). What's more, there are even local attractions or activities that require you to mingle with others. Of course, if this does not sound like your cup of tea, that is perfectly fine. You can opt for more traditional accommodations, schedule private or smaller group tours, and engage in a wealth of activities that are all about you, like booking a peaceful and ultra-pampering spa day for one.
Enroll in the necessary programs, apps, and helpful solo travel services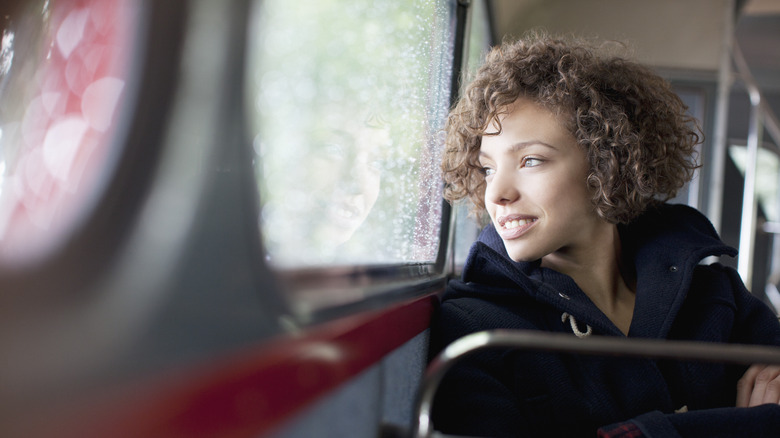 Before you pick a destination and start researching, solo wanderers should enroll in STEP and other programs that keep people apprised of their whereabouts. STEP, or the Smart Traveler Enrollment Program, provides pertinent information about Embassies, your abroad or international destination, and more. STEP also allows others to get in contact with you in the event of an emergency (per STEP). Thus, it is a great tool to have in your solo travel bag of tricks when adventuring in far-off places. Though, you should still look at visa requirements and relevant information independently when you have a particular destination in mind.
Besides STEP, other helpful programs, travel services, and smart travel apps are available for travelers who vacation solo. You can even opt for vacation packages that offer VIP service at the airport if you are concerned about arriving in a foreign country alone. Travello and TripScout are smartphone apps that are also useful when planning a solo getaway, vetting recommendations from other solo travelers, researching potential destinations, and determining a budget (via The Points Guy).
Make a budget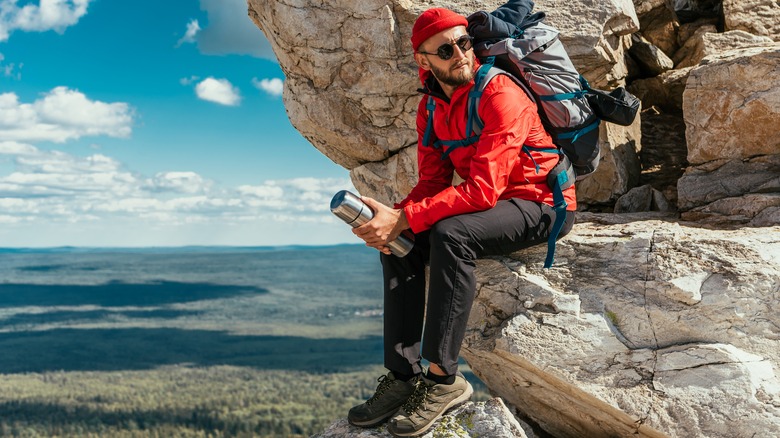 Speaking of a travel budget, when it is just you jet-setting off to parts unknown, it can be very tempting to pull out all the stops, especially with your expenses pretty much cut in half. Of course, if you aren't looking to spend a lot, then making a budget and working within those parameters is better. But, the good news is that having to purchase only one plane ticket and being able to use any saved-up miles or points you may have for just you could drastically lower what you spend. Similarly, staying in hostels and even opting for packages geared towards solo wanderers are often more affordable than booking for two. Travelers can also save money by choosing solo travel-friendly group tours and little to no-cost activities.
What's more, with apps like TripScout, you can filter locations, activities, interests, and accommodations with your desired budget in mind (per The Points Guy). Frugal adventurers can also utilize other money-saving travel tips such as packing light, negotiating better rates, and considering local shared accommodations. Even once you arrive at your chosen destination, you can save yourself money by using public transit and opting for local-approved dining establishments (as opposed to eating in tourist traps).
Do your research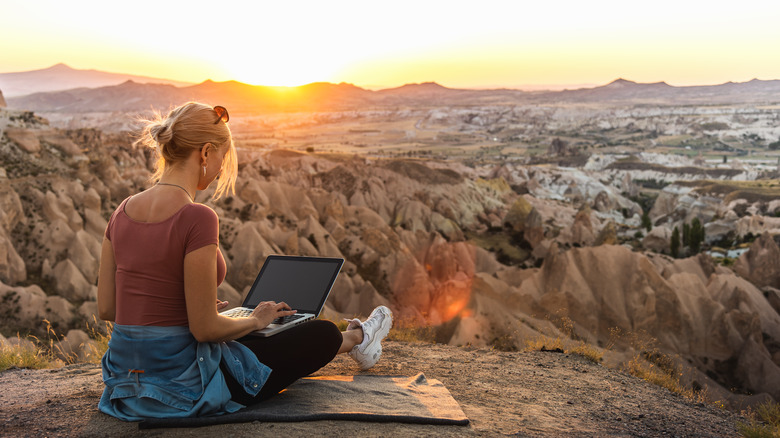 There are plenty of destinations that are perfect for wanderlusters traveling solo, all you have to do is look. Typically, a general cursory online search will give you a good idea of where solo travelers go (per Wakeful Travel). But you shouldn't stop there. It is highly recommended that you take it a step further and ask the important questions.
Sure, from the outside, a place may seem perfect for solo wanderers. But you need to consider what kind of solo gallivanting you are looking for — do you want a beachy, relaxing getaway, or do you prefer an action-packed escape? Other things to think about include what type of traveler you are. Obviously, there are more than a few places that are ideal for solo travelers. But does that mean those destinations are also good for female solo explorers, an older party of one, non-white solo jet-setters, thrifty solo globetrotters, or LGBTQ travelers? These kinds of questions matter, so don't be afraid to dig a little deeper and go beyond all the "X best destination for solo travelers" listicles.
Plan ahead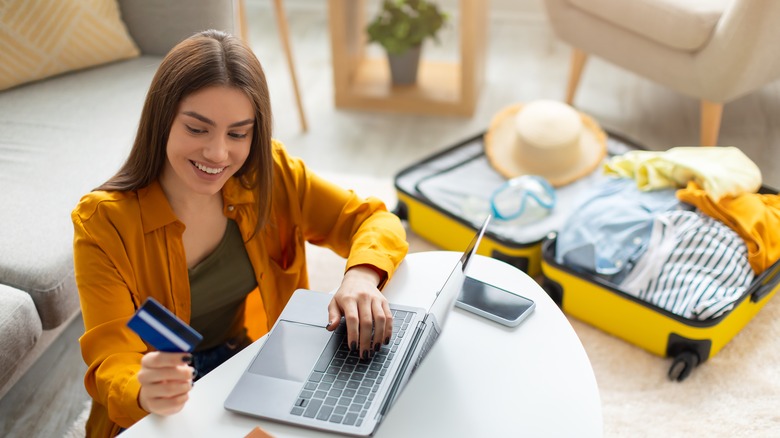 Once you have settled on a location for your solo adventure, the standard trip-planning portion of the program comes into play. Other crucial things, such as how much time you can take off, what you want to do (or not do) while visiting your selected destination, and where you would like to stay, must be considered before booking. Even what your potential day-to-day may look like should be planned ahead of time (via Bolt Blog).
Logistical items like whether you want to buy cheaper travel insurance or splurge on expensive but more comprehensive insurance (to be prepared for any unexpected issues) also need to be factored into the equation. Additionally, if you have chosen an international getaway, then you will need to plan for how you will spend abroad (exchange money or utilize bank and credit cards with no foreign transaction fees). Basically, any normal concerns that come with a vacation for two or more will still apply when traveling solo. The big difference here is this may or may not be something you are used to handling in its entirety.
Choose your accommodations wisely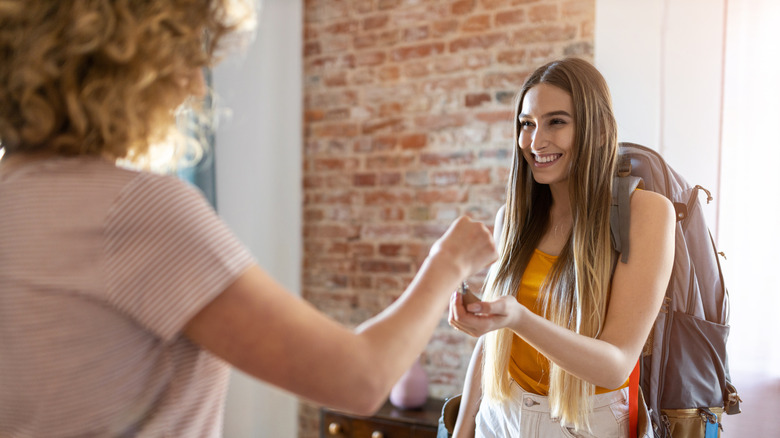 For solo wanders looking to mingle, hostels tend to be the way to go. Though this sounds easy enough, it is important to look at multiple hostels in your chosen destination. Solo adventurers opting for hostels should also look at the previous guest reviews for each place, compare costs, and more. While carefully choosing your accommodations, don't forget to peruse each option's house rules, bathroom rules, sleep hours, and required hostel etiquette before booking.
Of course, there are many other lodging options typically available in solo travel-friendly destinations. Boutique stays, inns, usually every kind of star-rated hotel, and Airbnbs are all possible options to consider for your solo trip. These non-hostel lodgings are often ideal for travelers who are more focused on the destination and not as keen on making new friends. That said, just make sure to avoid accommodations that charge a single supplement fee (per Travelling The World Solo).
Create your ideal itinerary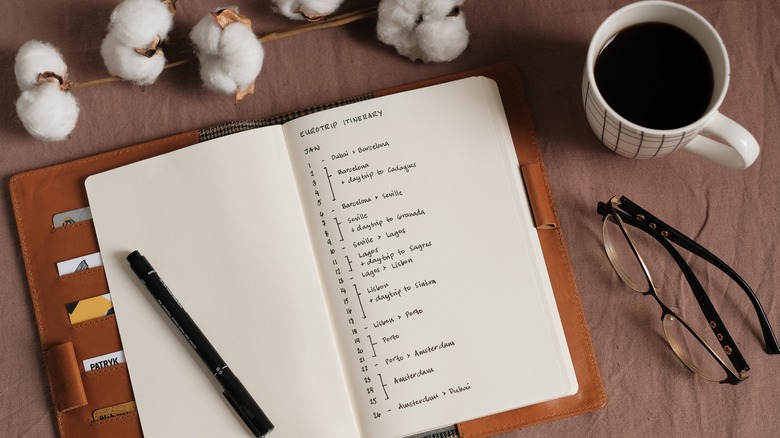 As previously mentioned, one of the perks of solo wandering is deciding what your vacation will look like. Keeping in mind the type of trip you have planned, as your activities or lack thereof can include everything you have ever dreamed of and then some. But before booking all the tours, excursions, day trips, or perfect spa days your heart desires, remember to leave room for some downtime and a little spontaneity.
Alternatively, solo travelers who prefer to play it by ear can still have a wonderful time out in the world. However, it's worth noting that some activities sell out quicker than others, may not be available when you are visiting, or might entail more than you were expecting (but would have easily known about if you had booked ahead). So, if your travel style involves winging it, then just make sure you are prepared for whatever your destination throws at you. Ideally, you want to create some form of an itinerary (sooner rather than later) that works for you while remembering to be smart about any chosen activities, especially if they could infringe on your overall safety (via Media Feed).
Solo travel safety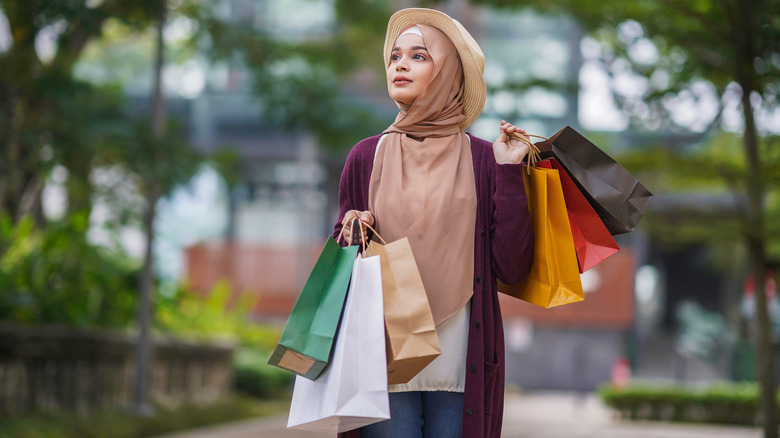 A little extra planning and common sense are required when it comes to matters regarding your safety as a solo traveler. Of course, all solo wanderers need to be mindful of their surroundings, no matter their desired destination — and when setting out on your own adventures, it is important that you do the same. Other standard safety tips for solo travelers, like knowing how you will get to your accommodations and keeping a watchful eye on your passport, belongings, and travel documents, are also crucial.
Likewise, learning basic phrases (if there is a possible language barrier), avoiding dark alleyways, and honing your overall navigational skills are a must. Investing in an anti-theft daypack, an RFID wallet, and a mini travel first-aid kit are all also highly recommended if you don't have them already. Solo travelers should keep their accommodation's business card on them, learn the public transport systems in their destination quickly, and try to blend in whenever possible as well (per Travel Lemming). And once again, don't forget to sign up for the necessary programs, download solo travel-friendly apps, buy travel insurance, and keep someone at home informed of all your planned activities.
What to pack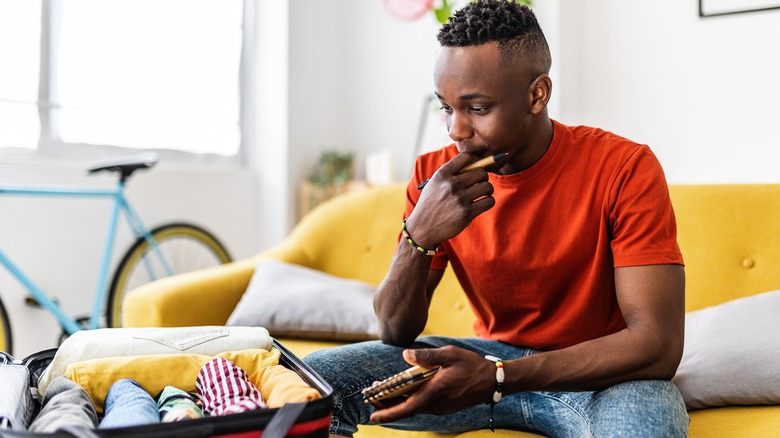 Here, the standard packing tips and hacks definitely come in handy. Besides mixing and matching clothing that can be layered, rolling clothes, and utilizing travel organizers (space-saver bags, packing cubes, and convenient cases for electronics), solo explorers should aim to pack light. In order to pack light, curate a limited yet versatile wardrobe and try to jet off solo with just a carry-on bag and one personal item (via Explore).
If you do opt for only cabin luggage, make your solo adventure as carefree as possible by using a lightweight backpack as your carry-on bag. The right travel accessories, including a SIM card (if applicable), passport cases, smartwatches, an iPad or tablet, a travel lock (portable safe), and portable chargers, are also highly recommended. Items that will help you stay dry, protected from the elements, and properly prepared in case of emergency all fall under the category of essentials and should have a home amongst your belongings when traveling alone as well (via Under 30 Experiences).
Must-have solo travel items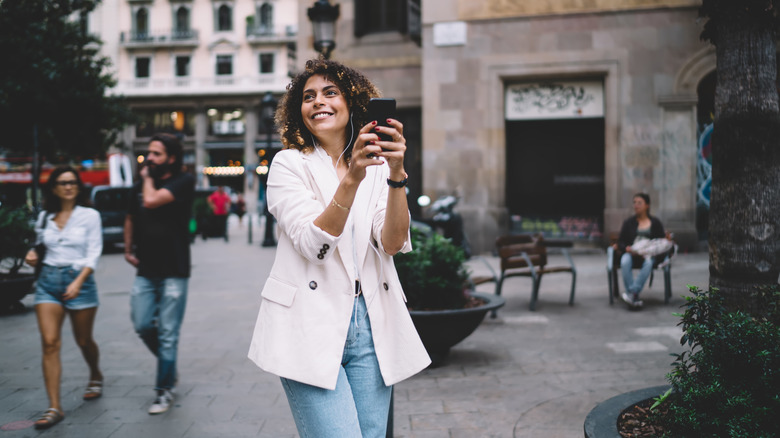 In addition to the essentials, other travel items such as headphones, a selfie stick, a luggage scale, and a collapsible water bottle are must-haves for solo travelers. A small tote bag, wet wipes, mini carabiners, a waterproof phone case, and a doorstop are also great to have with you (per May Cause Wanderlust). Any other handy accessories, like a hanging toiletry bag, which definitely works well for those shared hostel bathrooms, are nice to have too.
Solo explorers should also pack must-have items with their destination in mind. So if you are off to cold-weather places, then make sure you have a jacket and the appropriate layers to stay warm. Similarly, for beach getaways and less chilly climates, a quick-dry towel, beach shoes, and a mini handheld fan are your friends. And if outdoorsy activities are planned, remember to throw any must-have gear in your bag or make the necessary arrangements so you can have those things waiting for you at your intended destination.
Travel hacks for traveling alone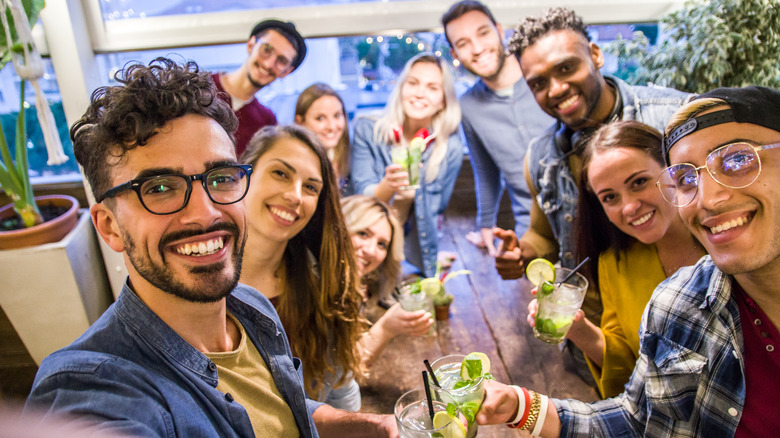 Once on your solo adventure, there are several hacks you can utilize to ensure that your trip goes off without a hitch. When out and about in international locations, the little things like downloading offline maps to your smartphone, emailing travel documents to yourself, and charging (and recharging) all your tech before heading anywhere often save the day. Solo travelers should also take other proactive steps, including taking screenshots of their reservations and bookings and snapping a photo of their passport or ID just in case (via Globo Treks).
Moreover, when traveling alone, it is important to trust your instincts, which is a travel hack that simply makes sense. If you feel uncomfortable or uneasy about anything, don't question it, just leave. Staying safe while in a hostel or any other accommodation is a top priority, so do whatever it takes to have that peace of mind. We suggest chatting with the locals and staff wherever you stay, you never know who you might meet or who could help you later along your journey.
Crucial things to remember while seeing the world as a party of one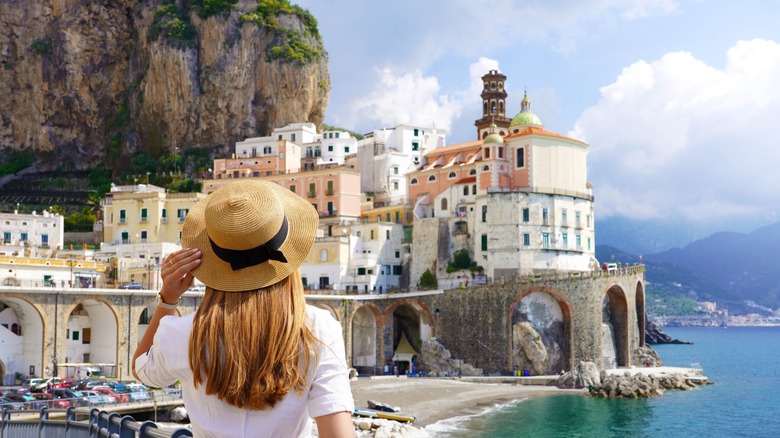 No vacation is without its share of expected challenges. When solo galavanting, for instance, it is easy to feel lonely now and then (per Vacantology). But the truth is you are really not alone in the big scheme of things. Solo travelers can reach out to friends, use WiFi to chat with family, mingle with the staff at their accommodations, or make new friends with other solo explorers that have similar interests when these moments strike.
Yet another common challenge many travelers initially face when out and about solo is experiencing their destination alone. Specifically, when eating alone or going out at night as a party of one, it can be all too easy to feel uneasy or like you shouldn't do these things alone. But with time and being properly prepared, hurdles such as these can be overcome.
Likewise, if you've been waiting to go somewhere forever but simply cannot imagine enjoying your trip alone, there is an easy fix for this one too. Book that dream getaway once you've gotten your feet wet with a few solo trips (via Forbes). Remember, life wasn't meant to be lived in one place for too long, and with the right planning and necessary precautions, there is no reason you have to stay put.