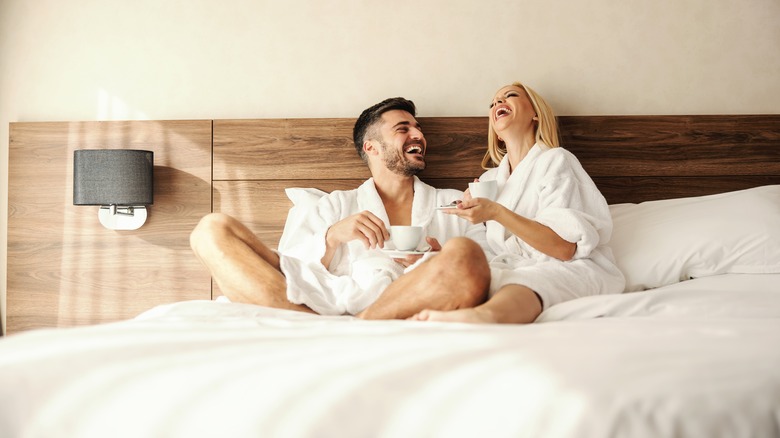 While Valentine's Day may induce romantic thoughts and gestures of love for some once a year, who says the other 364 days can't be special also? A beautiful, romantic dinner out, a night at the theater or even booking a romantic hotel getaway in a room that exudes love, passion, and seduction, adds spontaneous allure and excitement to anyone's relationship outside of one of the retail industry's most popular holidays for spending money. And these 20 dreamy hotels from around the world, with their intimate boudoir settings, are our favorite picks for that perfect, romantic getaway year-round.
Haute Couture Eiffel Suite, Hôtel Plaza Athénée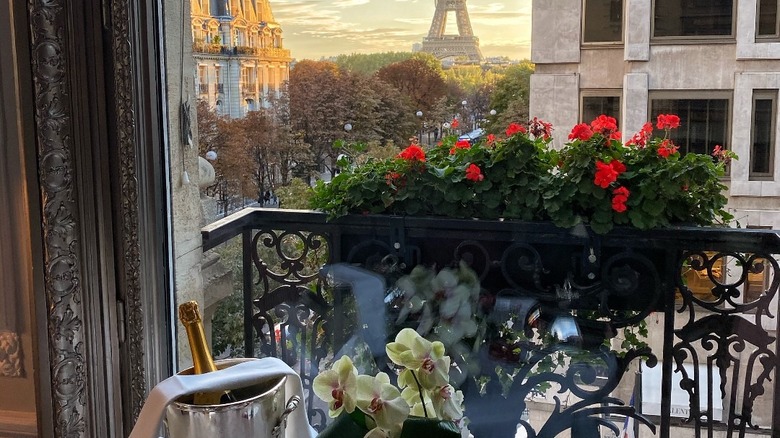 Nothing embodies love more than the bedazzling city of Paris in France. And, why not indulge in romance at the iconic hotel known for its thousands of red geraniums draping down its facade: The Hôtel Plaza Athénée. Be prepared to be wrapped in Parisian luxury while staying in the Haute Couture Suite. With its stunning views of the Eiffel Tower from dusk to dawn, and breakfast or champagne enjoyed beyond palatial doors that open to your private balcony, this accommodation is romantic luxury at its best.
Meadow Cottage, Twin Farms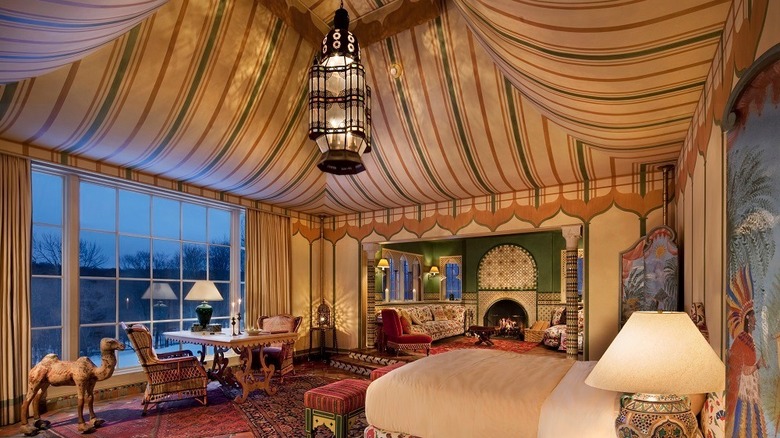 Ever dream of being spoiled with riches and opulence? Twin Farms in Barnard, Vermont boasts an exotic take on romantic accommodations within Meadow Cottage. While the exterior looks like a rustic cottage, once inside, travelers will feel as though they've stepped into "One Thousand and One Arabian Nights," thanks to the Moroccan-themed fittings, fixtures, and windows, harem-style canopy ceiling, a stunning fireplace framed in mosaic tile, Persian rugs against terracotta tiled floors, and opulent, rich colors throughout its space. The double-soaking bathtub affords captivating views of the secluded woodland from its panoramic window setting.
Imperial Suite, Villa Cora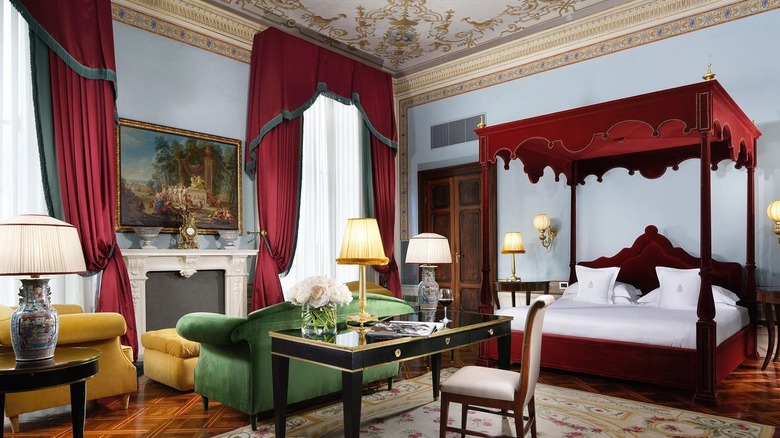 Florence is one of the most romantic cities in Italy, and the prestigious Villa Cora boasts numerous suites that reflect it beautifully. Their stunning Imperial Suite exudes romance in every sense of the word and affords guests two stunning bedrooms with Italianate décor, and two bathrooms decorated in Carrara marble. Lush red velvet material drapes the four-poster bed in the first bedroom, and a second bedroom with another four-poster bed is decorated in blue. Panoramic views of the stunning city of Firenze and Boboli Gardens from the suite's private balcony will leave you breathless.
Deluxe Private Garden Suite, Auberge du Soleil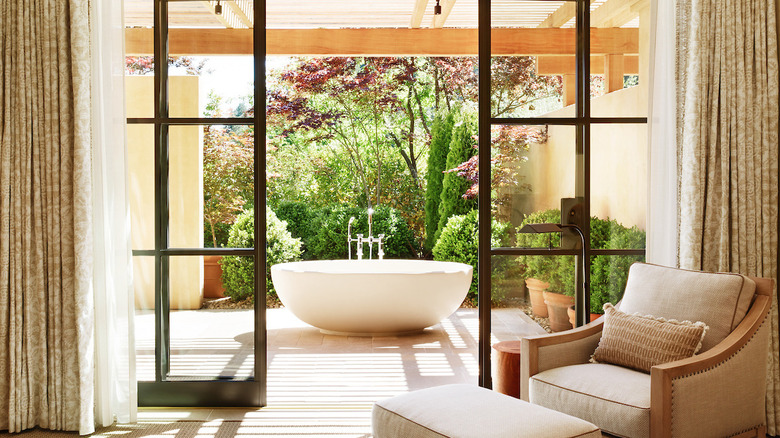 For the wine connoisseurs and nature lovers, what could be more romantic than spending time in Napa Valley, California? The stunning Auberge du Soleil affords a host of breathtaking accommodations but if you love privacy and that exotic garden vibe, the Deluxe Private Garden Suite is for you. Elegant, secluded, and, with two double-soaking tubs and walk-in rain showers both inside and outside the accommodation, you may spend more time bathing rather than sleeping (if you know what we mean)!
The Turret, The Witchery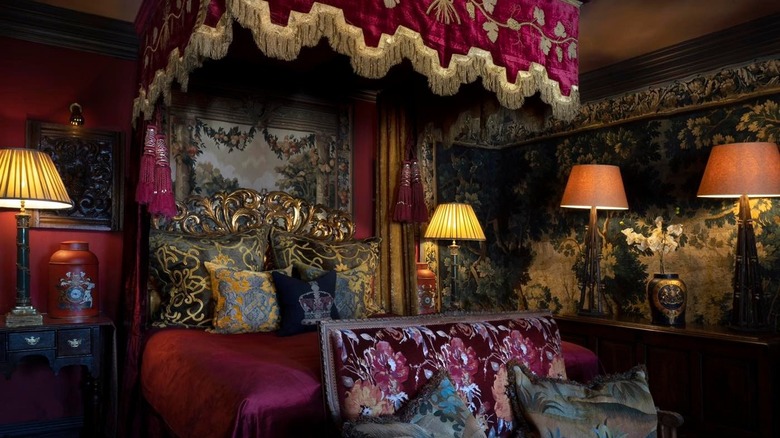 If you really want to splurge on a romantic getaway, make your way to Edinburgh, Scotland, and feast your eyes upon The Witchery next to Edinburgh Castle. Their opulent, period suites will make you feel like royalty. Every suite in The Witchery is stupendous, however, The Turret is not only stunning, but it's also quite secluded. Positioned on the third floor, with views overlooking the city of Edinburgh, and more, the interior of this lavish boudoir, filled with rich tapestries, and romantic décor King Henry VIII would kill for, will bewitch you.
Northern Ocean House, Post Ranch Inn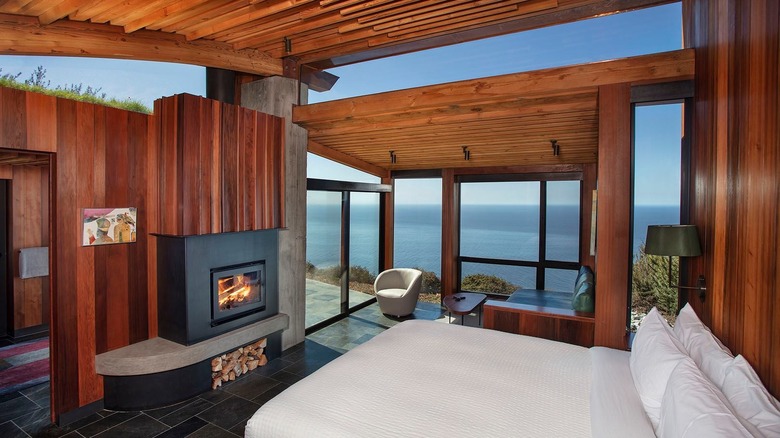 This was a tough choice because every accommodation at Post Ranch Inn in Big Sur, California is remarkable. However, nothing beats the sounds of the Pacific Ocean waves crashing against the rocks, with views to die for from ceiling-to-floor glass windows. And, the Northern Ocean House is that place. Rich, earthy tones, stunning woodwork, stone textiles, and panoramic windows wrapped up in a free-standing accommodation suspended on the cliffs of Big Sur are breathtaking. And that private outdoor tub overlooking the ocean and dazzling sunsets are sure to top the charts in romantic getaways.
Aqua Villa, Azulik Resort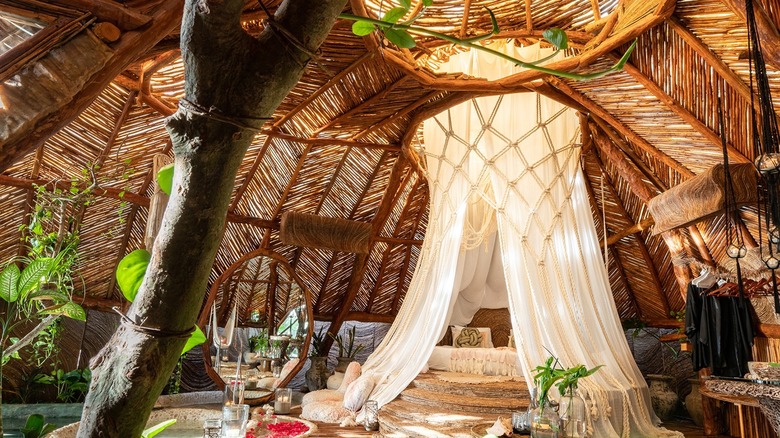 Trust us when we say, this must be the most unique accommodation resort on the planet. Located in Tulum, Mexico, the Azulik Resort is sustainable tourism at its best thanks to its natural-made villas that harmonize with the environment, overlooking the Caribbean Sea. And nothing is more romantic than spending the night under the stars in a villa dedicated to water: Aqua Villa. From its breathtaking spherical furnishings to the natural wood weaved magically together to form its textiles and the dwelling itself, this is truly a special place to spend time away in the name of romance.
Treehouses, Blackberry Mountain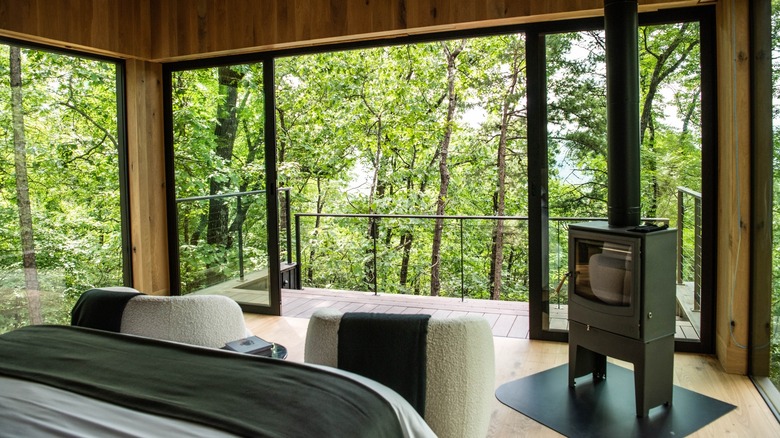 If you want a secluded, romantic getaway, opt for an accommodation in the Blackberry Mountain woodlands of Tennessee. The Treehouses are the perfect, intimate setting for lovers who want to escape it all. Surrounded by beautiful forest, you won't feel like a kid in this treehouse. Natural textiles and furnishings, a wood-burning stove, floor-to-ceiling, panoramic windows with views of lush greenery, and a deck for that private toast of vino, makes this the perfect setting to celebrate in romantic style.
La Corte Bella, Borgo Egnazia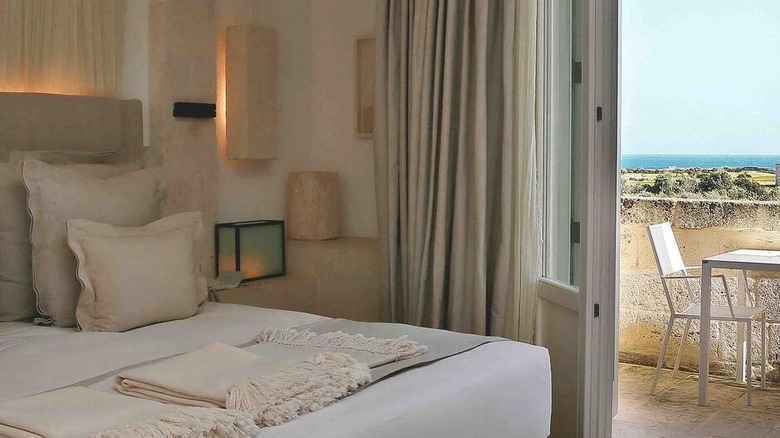 The beautiful region of Puglia, Italy is known for its trulli-style houses (an ancient limestone technique with a conical roof), and white and cream stone dwellings that exude simplicity and elegance. And, Borgo Egnazia captures the essence of Puglia with its authentic, Mediterranean resort, and the natural textiles that make up its welcoming suites. Their suite, La Corte Bella, exudes warmth and romance. Its cream-colored, organic, stone surroundings, delicate light fixtures, and dreamy, super-king-sized bed with views of the magical Adriatic Sea from its doorstep are both inviting and captivating.
Deluxe One Bedroom Villa, Ubud Valley Boutique Resort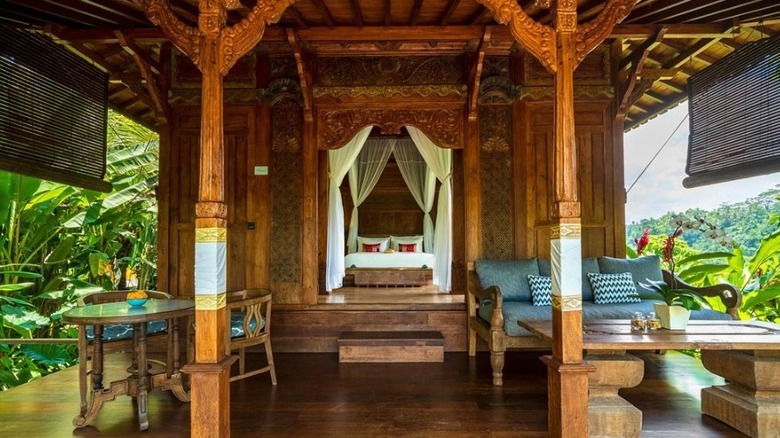 Remember that scene in "Eat, Pray, Love" where Liz (Julia Roberts) visits Ketut in Bali while listening to his sage advice on her love life amongst the tropical foliage of his Joglo Wooden House? Well, the Ubud Valley Boutique Resort and its Deluxe One-Bedroom Villa will most certainly remind you — and it practically screams romance. Surrounded by lush, tropical plants, impeccable woodwork, and floor-to-ceiling sliding glass doors that surround this wooden house, the alluring bed is made-up for lovers who value their privacy and nature.
Room 6, The Inn at Little Washington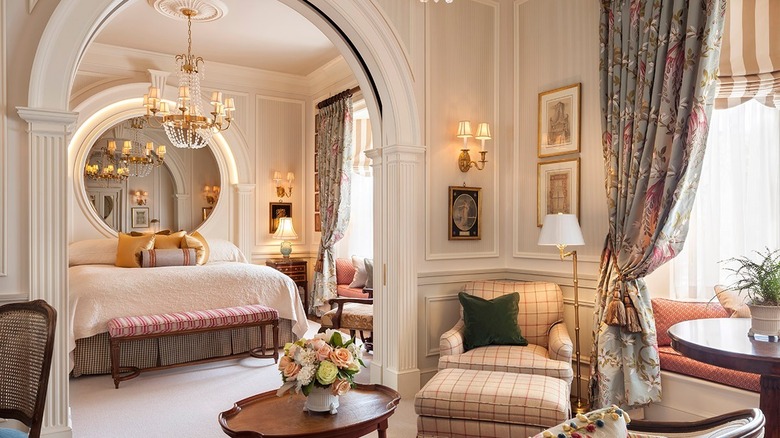 There are accommodations, and then there is The Inn at Little Washington in Washington, Virginia. Most of the rooms are assigned dedicated numbers followed by names of famous celebrities, chefs, writers, and more. However, Room 6 has yet to be named as it's new, and it is so stunning, with such a romantic look about it, that it deserves its place on this list. Both stylish and elegant, the king-size bed boasts a large, stunning, round mirror as its headboard with a luxurious chandelier above it. Don't say we didn't warn you!
Bird's Nest Pool Villas, Keemala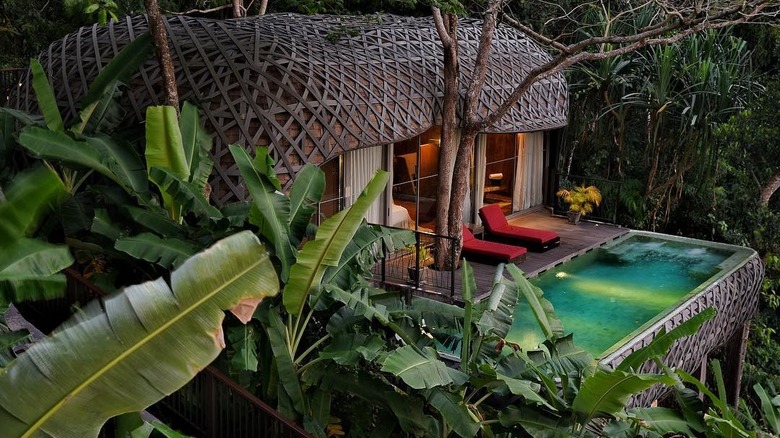 We've covered treehouse accommodations and a villa dedicated to water, so how would you like to have a romantic getaway in your very own lover's nest? Better, yet, the Bird's Nest Pool Villa at the Keemala Resort in Phuket, Thailand. This is quite a unique accommodation set in the enchanting village of Kamala overlooking the Andaman Sea. Surrounded by lush, tropical foliage, this accommodation boasts a stunning super-king-sized bed canopied by luxurious, chiffon material, a monsoon rain shower, and a freestanding clawfoot tub that overlooks your private pool, terrace, and Kamala Bay.
Jasmine Cottage, San Ysidro Ranch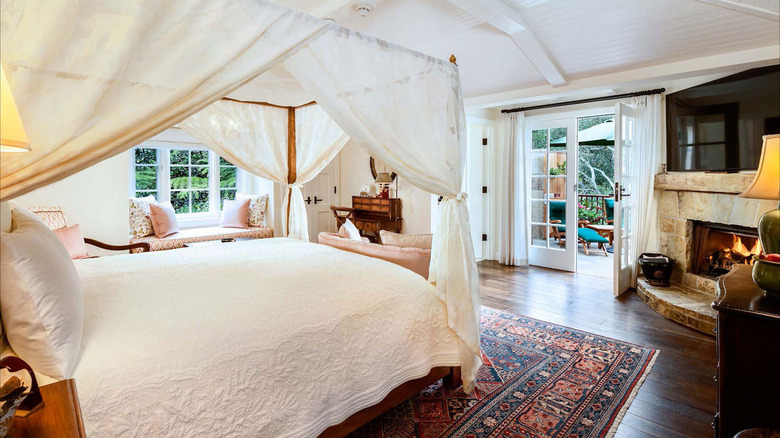 You may very well feel as though you've stepped through scenes of "Casablanca" when you stay at Jasmine Cottage on the San Ysidro Ranch in Santa Barbara, California. This room exudes romance with its warm and inviting finishings, four-poster, king-size, canopy bed, grand stone fireplace, and French doors leading out onto a gorgeous outdoor deck area with views of the pristine, landscaped garden. An outdoor, sunken jacuzzi and intimate rain shower are ready for guests to use when they're not enjoying their plush surroundings inside.
Kennedy Suite, Ashford Castle Hotel & Country Estate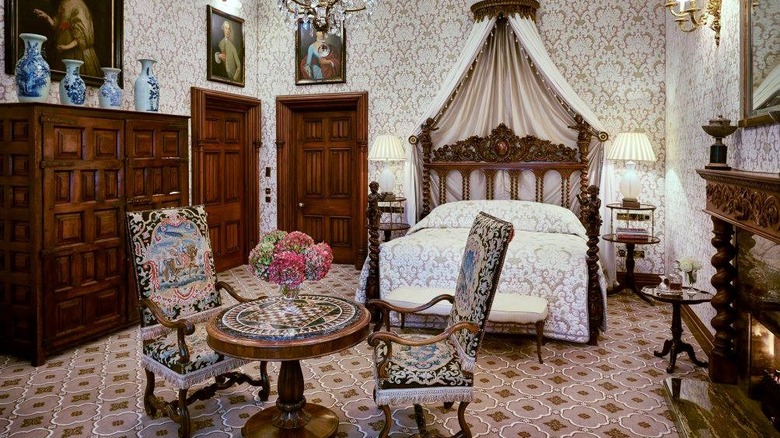 Perhaps you're looking to whisk your loved one off to a romantic castle on the Emerald Isle for that perfect, romantic getaway. Look no further, because the historical and stunning Ashford Castle in County Galway, Ireland comes highly recommended. And, of all their accommodations, the Kennedy Suite is truly an exceptional work of art with its inviting 19th-century bed framed in exquisite walnut carvings, lavish period furnishings, intoxicating marble bathtub (get those candles lit!), and dramatic views of the lake, Lough Corrib.
The Duchess Suite, Glenmere Mansion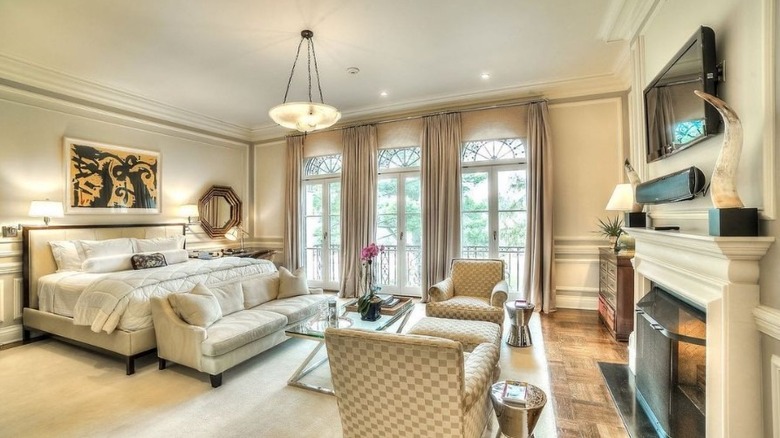 This award-winning, romantic hideaway in Chester, New York exudes posh elegance the moment you pull into the drive of Glenmere Mansion. With several accommodations available, The Duchess Suite, with its roaring fireplace, double-soaking, porcelain tub, and opulent finishings will make you feel as though you're royalty, as you gaze upon the romantic Juliette balcony from your king-size, luxury bed sipping champagne and eating fine chocolates. And, to reach the two-bedroom suite, guests make their way up the grand, stone staircase of this once, replicated Tuscan villa in upstate New York.
Ernest Hemingway Presidential Suite, The Gritti Palace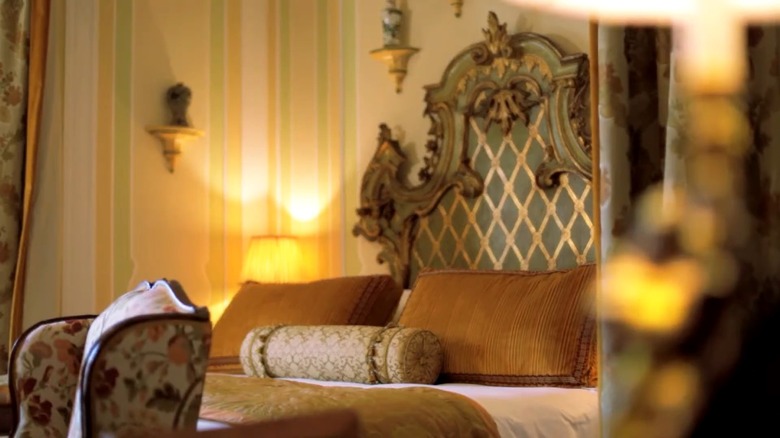 What could be more romantic than jetting off to Venice, Italy, admiring gondoliers singing Italian songs while rowing their exquisitely handcrafted gondolas down the beautiful Grand Canal, while viewing them through the panoramic windows of the Ernest Hemingway Presidential Suite at The Gritti Palace? This is no ordinary accommodation. It is quite honestly, one of the most prestigious, elegant, and alluring in all of Venice that exudes opulence, regality, and romance in every sense. Be prepared to splurge for this once-in-a-lifetime experience while staying in Venice, but we promise, you won't leave disappointed.
Premier Room, The Wickaninnish Inn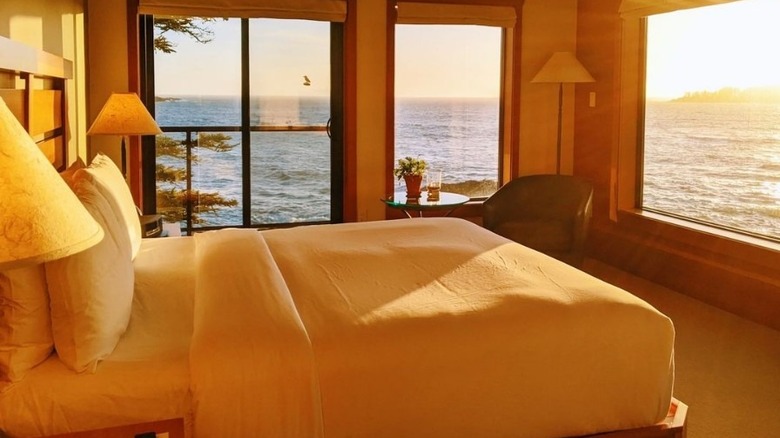 Stay in the Premier Room at The Wickaninnish Inn in Tofino, Canada, and enjoy epic views of jagged cliffs, and crashing waves from your King-size bed while you feel suspended above the Pacific Ocean. Panoramic windows wrap around to reveal the wild Canadian coastline. A roaring fire in the beautiful marble-trimmed fireplace sets the romantic mood, while you enjoy a hot bath in the two-person tub and sip champagne. Simplistic, yet stunning. This is an accommodation that removes you from the chaos of life.
Rainbow Suite, Ladera Resort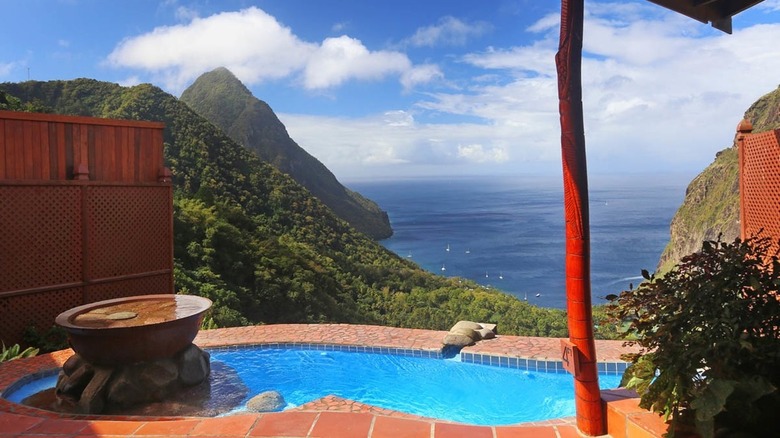 There is nothing more inviting than the tropical climate of St. Lucia and its breathtaking scenery, making this accommodation even more spectacular. The Rainbow Suite at Ladera Resort is the perfect intimate setting for a romantic getaway away from it all. The four-poster bed draped in natural organza, the mosaic-tiled bathroom, and the inviting, heated plunge pool that seems to hang precariously off the edge of the cliff with jaw-dropping views of the Pitons and the Caribbean Sea are paradise on earth.
Waterfront Bungalows, Bungalows Key Largo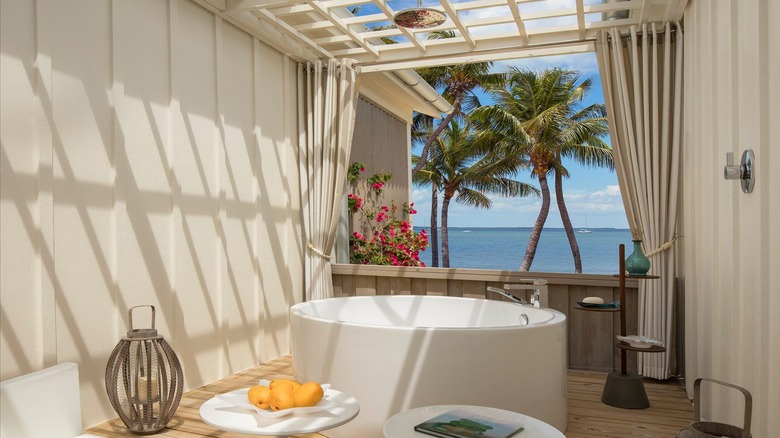 Nothing says romantic like feeling the sand between your toes, while basking under the warmth of the tropical, South Florida sun! And at Bungalows Key Largo, their Waterfront Bungalows bring luxury and that seductive island vibe to your romantic getaway. Pristine white sand and turquoise-green water are at your accommodation doorstep. Inviting textiles, a massive, outdoor soaking tub, and a private veranda with Adirondack chairs encourage guests to sit under the stars at night and bask in their love-filled surroundings.
Sky Suite, Kagga Kamma Nature Reserve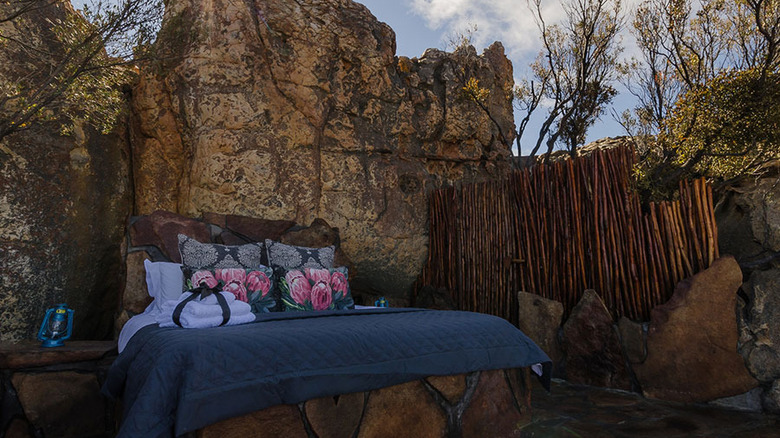 If you're that adventurous couple, who loves being outdoors in nature, then staying at the Kagga Kamma Nature Reserve in the Sky Suite brings romance to a whole new level. One of two open-air suites located in South Africa, it boasts eco-friendly accommodations while creating both a luxurious and natural environment for its guests. And, what could be more romantic than lying in bed and watching the sunrise from your outdoor bed, or sitting in the hot tub stargazing and viewing the Milky Way sans a ceiling blocking your view?