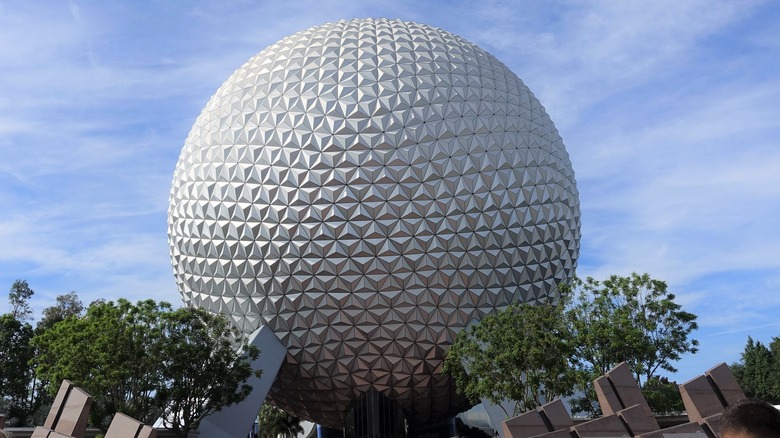 There's no mistaking you're at EPCOT when you see the iconic geodesic dome that houses the Spaceship Earth ride. The centerpiece of EPCOT took 26 months to build and it's 180-feet-tall, via DisneyLists. EPCOT, which stands for Experimental Prototype Community of Tomorrow, developed from an elaborate vision of Walt Disney for an ideal city with a focus on cutting-edge technology and urban design and with homages to famous parts of the world, per Business Insider. While the city never came to be, the theme park, which opened in 1982, does still focus on innovation and global culture.
Spanning 300 acres, EPCOT is split into four regions. (Remember to make your reservations in advance for any Disney park.) Head through the main entrance with the Spaceship Earth dome and you're in World Celebration. To the right of World Celebration is World Nature and to the left is World Discovery, and from both of those, you can get to the World Showcase with its multitude of dining options, shops, and attractions, featuring pavilions for different countries around a lagoon. If you go right, you'll hit Canada first. If you go left, Mexico is first. But which way should you go? There's really no wrong answer, but it all depends on why and when you're there.
Heading clockwise gets you quickly to rides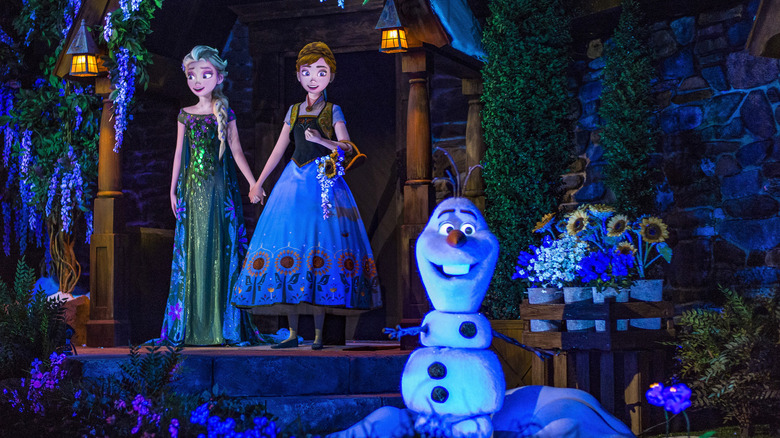 Head to the left if you want quicker access to more rides. You might already be headed clockwise if you went on the new Guardians of the Galaxy: Cosmic Rewind or Test Track. Then at the start of the World Showcase loop heading left, the Mexico pavilion has the chill boat ride Gran Fiesta Tour Starring The Three Caballeros. Next to Mexico is Norway, which has the Frozen Ever After ride. And, according to Mouse Hacking, if you've got Frozen fans in your group, you'll want to head to that ride early in the morning to help avoid a long wait.
Beyond the rides, there's another reason to veer left and go to the Mexico pavilion first. It has one of the best margaritas in the parks. The famous frozen La Cava Avocado margarita from La Cava del Tequila in the Mexico pavilion is made with fresh avocado along with Tromba Blanco tequila, melon liqueur, and a hibiscus salt rim. It's a must-get, especially if you're planning to "drink around the world" while at EPCOT.
There is, however, a potential downfall of going clockwise around the World Showcase. Going left is, according to DVC Shop, the most popular way to go, so if you want to potentially counter the crowds, go right.
Going counterclockwise can mean lots of food options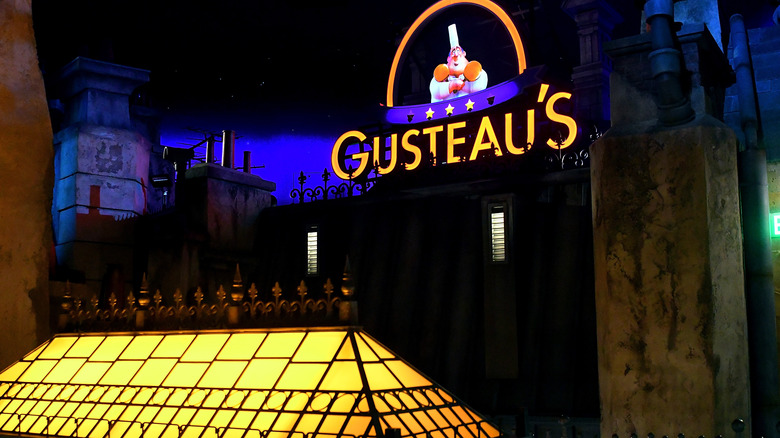 Potentially encountering fewer people is not the only reason to go counterclockwise around the World Showcase. If you're there during the EPCOT International Food & Wine Festival and you're hungry, head right because there are more food booths around the Canada pavilion. The festival started in 1996 and ran for just one month, but now runs from July to November, via AllEars. Here are some of the treats awaiting you: the Canada booth has the wildly popular cheddar cheese and bacon soup and wild mushroom filet mignon with truffle butter sauce, per the Disney Food Blog. The Hawaii booth has kalua pork sliders (Disney Tourist Blog). And the Australia booth has treats like grilled shrimp and roasted lamb chop, according to WDW Magazine. And vegetarians will be stoked with Earth Eats, which features the Impossible Foods brand, via Disney Food Blog.
Even if you're not at EPCOT during the Food & Wine Festival, heading to the right first means you can stop by Refreshment Port with its year-round menu that includes poutine along with seasonal specialties. It also puts you closer to France which has Remy's Ratatouille Adventure, and with Genie+ (here's the difference between FastPass and Genie+), you can skip the line for the fun 4D ride.