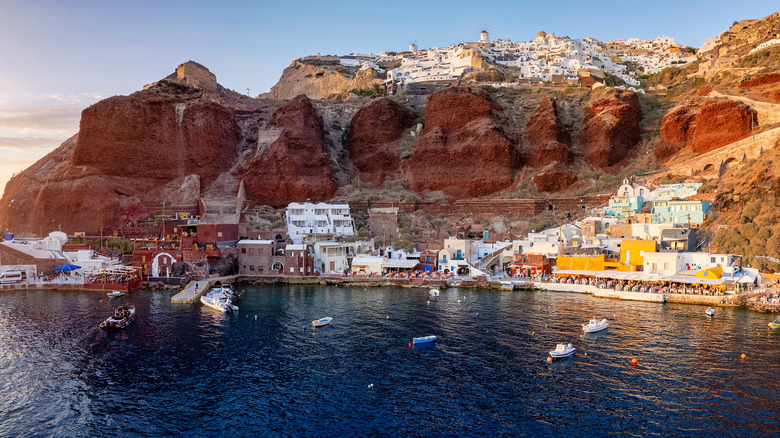 It's not enough that Greece beckons nearly 30 million visitors to its mainland and islands annually (per Tornos News) thanks to its astonishing beauty, ancient history, world-renowned mythology, fantastic food, and gorgeous sunsets. Combine all that with the fact that it also has some of the most stunning beaches around, while still retaining its old-world charm and character, and the country of Hellas has to be one of the most perfect must-visit destinations in Europe.
Greece is also a favorite destination place for those with an adventurous side. From deep sea scuba diving to jet skiing, and cliff jumping, there's no shortage of activities for those who love to live on the edge. And, while Greek islands such as Santorini have become heavily populated tourist destinations — particularly for the amazing sunsets that can be seen from villages such as Oía — why not ditch the crowd jostling for the overhyped sunset pictures, and really dig deep into that adventurous heart of yours to kick up the adrenaline a notch? It's time to go cliff diving in Santorini's Amoudi Bay!
Stairway to heaven: No, to Amoudi Bay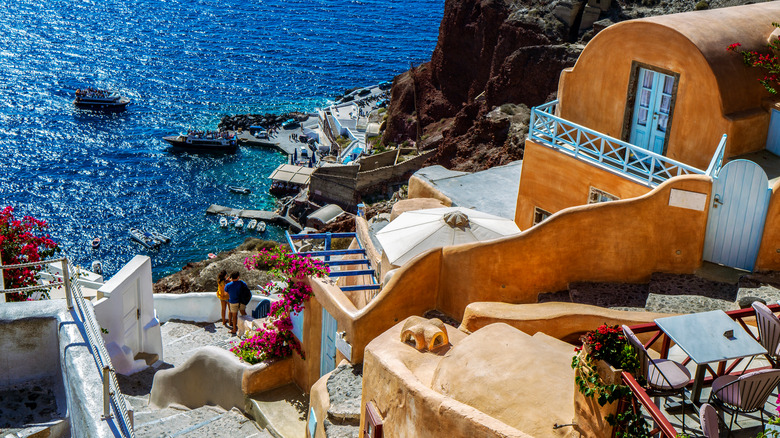 If you do happen to be one of the millions of tourists on the island of Santorini in Greece watching the jaw-dropping sunset from varying viewpoints in the village of Oía, and you feel the need for speed in your life, then make your way down to Amoudi Bay for a refreshing swim in the Aegean Sea, and some fun. This small, seaside harbor sits below the sheer dropping, a volcanic caldera that forms around the village of Oía in Santorini, and is accessible by cautiously walking down its approximate 280 steep, yet wide stone steps (per Santorini More.com). Or, if you really want to feel like a native Hellenas, take a donkey down its steep decline, but be prepared for some heart-stopping moments along the way.
Once at the base of the stairs, visitors will follow a dirt path around the jutting cliffs, walk through the seaside promenade of restaurants and shops, and follow another narrow, unsteady, dirt path lined with large stones and boulders along its route. A massive, mysterious volcanic island becomes visible as it protrudes out of the Aegean Sea just off the unusual, rocky surface known as Amoudi Beach (via Kalimera Greece). The crystal blue-green, warm Mediterranean waters await visitors after their long hike down to the bay seeking a refreshing swim before making their way to the magical Islet of Saint Nicolas for their cliff diving adventure.
Saint Nicolas the Ferryman and its church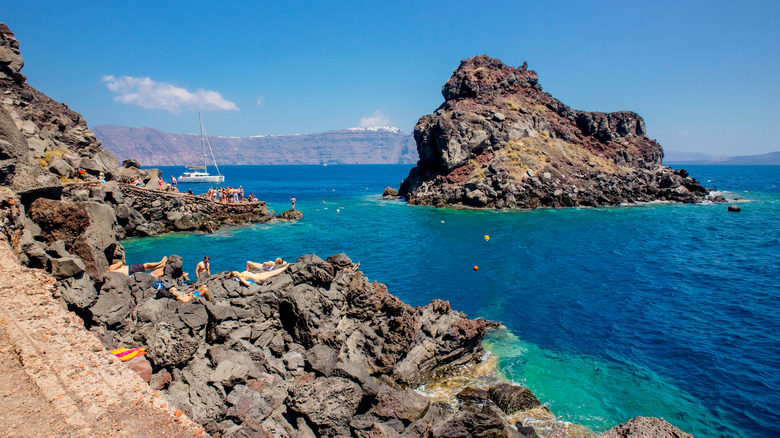 Remnants of a former volcano, Agios Nikolaos o Peramataris (Saint Nicolas the Ferryman) — the volcanic islet that is within swimming distance of Amoudi Beach — is a peculiar-looking rock formation that beckons swimmers to its rugged and rough surface to experience the adventure of a lifetime: cliff diving. As peculiar as the surface of the Islet of Saint Nicolas is, before swimmers attempt the act of diving off its jagged rocks, they come face-to-face with the tiny, white-washed church of Saint Nicolas the Ferryman that is carved deep into the rocky formation (per Exploring Greece).
Perhaps its prominent and mysterious position is to offer visitors a chance to ponder (or pray) before risking life and limb as they plunge off the craggy cliffs into the deep Mediterranean waters below. Whatever reason it is for its being there, this petite Greek church's location atop the cliff jumping edge this island is famous for, is definitely a sign for adventurers to think twice before leaping.
And, for those with a verve for life, playing spectator to cliff divers from below while swimming in the Aegean Sea can be equally exciting (per Alex Getting Lost), but far less adventurous. Whatever part you play, this vantage point gives visitors an amazing view of the village of Oía and all its glorious surroundings.