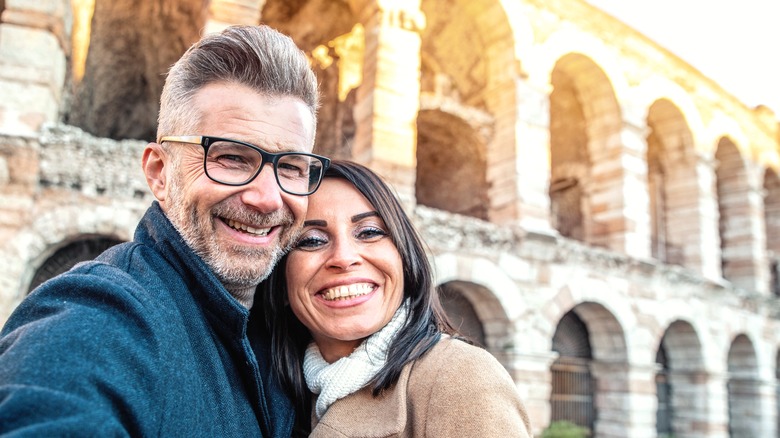 Summer is not the only time travelers can enjoy Europe and all that it has to offer. Winter European getaways are filled with adventures, outdoor recreation, rich history, delicious cuisines, and much more. Everything from airfare to accommodations sees a significant reduction in price during winter. Even activities cost a little less, and popular attractions become less crowded. So, there is definitely some incentive to plan a whirlwind European vacation during the colder months.
Travelers planning to explore multiple countries and cities should expect variations in overall temperature regardless of the season — the truth is there will never be a perfect time, at least weather-wise, to gallivant across Europe. But that doesn't mean you should forgo the many perks that come with winter travel or miss out on the amazing and countless points of interest in Europe. That said, as you gear up for your action-packed cold-weather escape abroad, your first order of business is to start packing with the colder weather in mind.
Europe winter information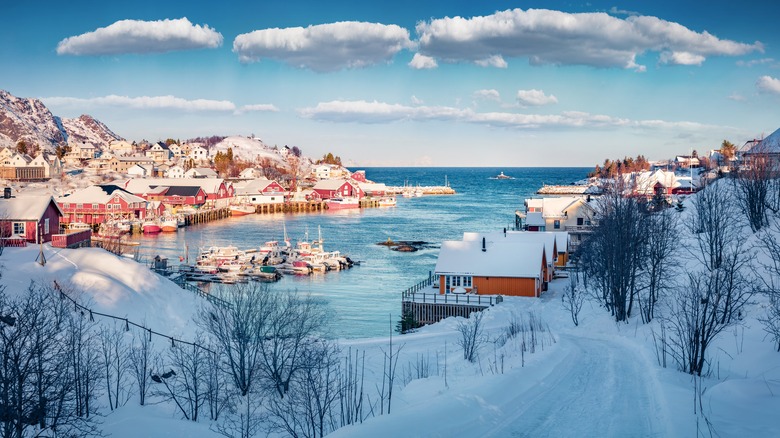 The winter season typically runs from December to February in Europe, and as briefly mentioned, the vast majority of destinations here vary in temperature. For instance, in areas with mild winters, travelers can expect temps ranging from 45 to 50 degrees Fahrenheit. However, certain regions in Finland, Austria, the UK, and France that experience cold, snowy winters usually see temperatures ranging from 20 to 45 degrees Fahrenheit.
Similarly, vacation destinations in Iceland, Switzerland, Norway, the Czech Republic, and Germany tend to stay rather cool for most of the year. Still, these above-mentioned European countries are extra cold in the wintertime. So if you have plans to check out Prague, the Northern Lights, any of the winter wonderland Christmas markets, or the Swiss Alps, then it is highly recommended that you pack accordingly. On the other hand, parts of Spain, Portugal, Greece, Italy, and Croatia (to name a few popular spots) actually have winter temps that start in the mid-50s and hover in the mid to high 60s as the season progresses.
Packing accessories you won't regret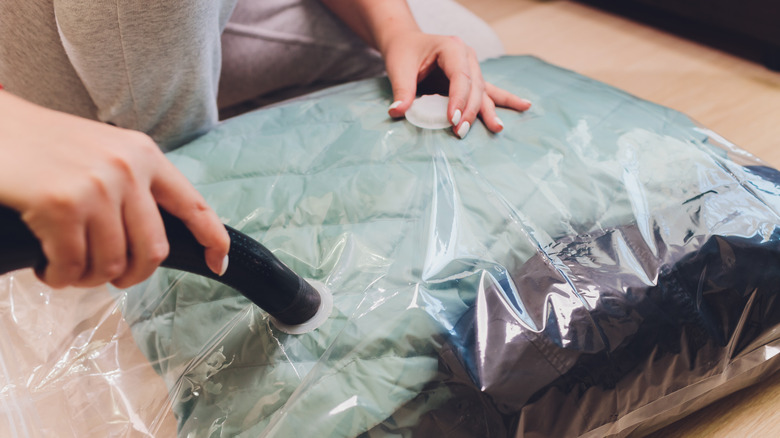 Having the right accessories for any trip is often a game-changer. So after cultivating a detailed winter packing list, don't forget to use the right organizers or essentials. Travel packing accessories like packing cubes, garment folders, a hanging toiletry kit, clear ziplock bags (big and small), and space-saving bags make it easier for travelers to pack light and stay organized at the same time.
Of course, even the best packing accessories will fall short if you don't have the right travel bag. So it is important to make sure you use a durable, hardshell suitcase and waterproof, anti-theft daypack. On a winter getaway, your luggage should withstand the colder elements, be lightweight (not bursting at the seams), and be in it for the long haul. Here, utilizing the necessary accompaniments and the proper luggage makes being prepared for anything, especially changes in weather, on any trip, regardless of length, less difficult.
Standard packing tips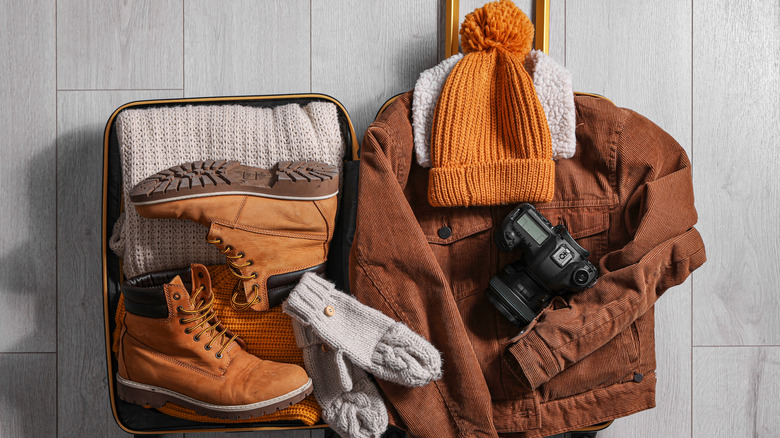 Packing for a European getaway, no matter the season isn't too different than when packing for other domestic destinations. That said, needing clear plastic bags (for liquids), packing a foldable tote (for shopping), and properly weighing your bags (airlines that operate in Europe have strict weight requirements) might be news to you — and that's okay because now you know. Other standard tips like rolling your clothes before placing them in packing cubes or space-saving bags and packing heavy items at the bottom of your suitcase first should also be utilized here.
Similarly, only packing items you know you will wear at least twice and having some form of laundry detergent handy (pod, bar, pen, or individual sheets) will save you from overpacking. Travelers should also ensure they have a dirty clothes bag for soiled belongings and transporting items they need to wash — you can save yourself some money and space here by using a vacuum seal bag. And speaking of what to wear and therefore pack for your winter Europe trip, versatile, breathable, and easy-to-layer items that can effortlessly be transformed into a capsule wardrobe are definitely what you need.
The importance of a winter capsule wardrobe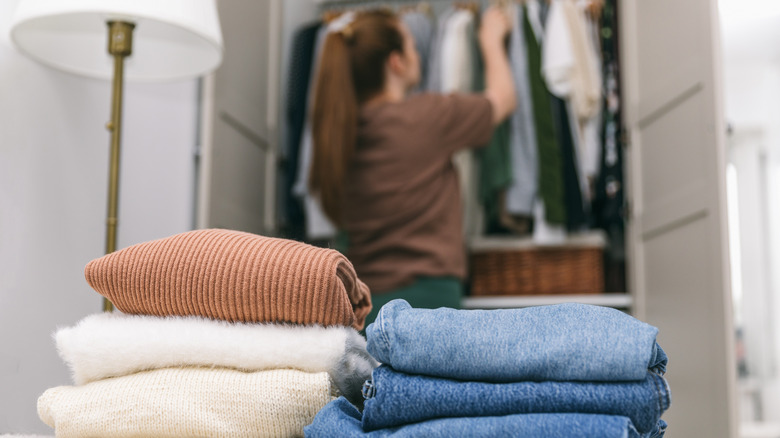 Whether you are hoping only to have carry-on luggage or want to keep your suitcases as light and easy to maneuver as possible, opting for a neutral-colored capsule wardrobe is a must when jetting off to Europe. In its simplest form, a capsule wardrobe is 17 or more items of clothing that complement one another and offer you multiple options for outfits (per The Belle Voyage). A winter capsule wardrobe, then, is a collection of three warm tops, one to two sweaters, several pairs of pants (snow, lightweight, jeans, and thermal), one to two coats, three pairs of boots, and possibly one or two dressy outfits (a dress and skirt, or two nice pairs of pants).
At first, creating the perfect winter capsule wardrobe may seem tricky since winter clothes can be heavy, bulky, and anything but easy to pack. But with a clear plan or even a template, you can whip your Europe wintery wardrobe together in no time at all. You will quickly see how you can do more with less by starting with the main must-have pieces, followed by a few accessories that can turn your 17 or so clothing pieces into more than two weeks' worth of ensembles.
Why layering is your friend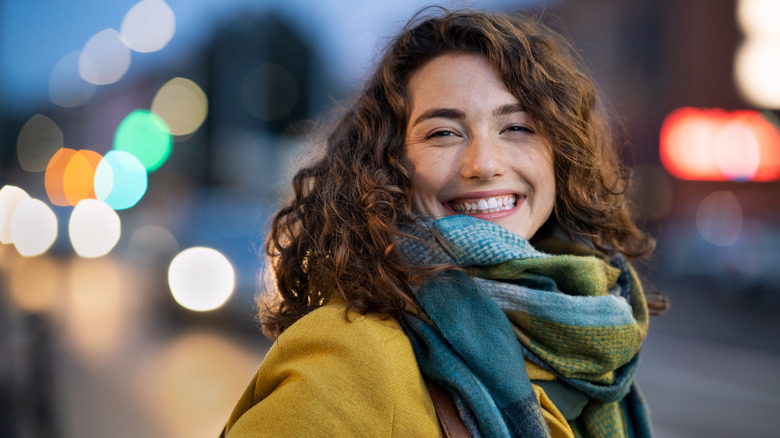 Your winter capsule wardrobe should also make layering up a breeze. Since you likely have plans to visit more than one area of Europe, you need to be able to adjust your attire accordingly. Layering is your friend here because you don't have to really pack for multiple climates. In milder weather, a warm yet breathable top can work fine with jeans, a light scarf, and a peacoat. And that same top can be worn over a thermal shirt (or a base layer) paired with snow pants and your heavier winter coat for colder destinations or outdoor recreation.
Speaking of a base layer, when vacationing in cold-weather climates, it is vital that you keep warm, especially during winter sports activities. Thus, a good base, mid, and outer layer are necessary. Typically your base layer will consist of thermal wear (wool, synthetic, cotton, or silk) or long underwear, and your middle layer will likely be a warm shirt with pants. Finally, your outer layer should include a coat, footwear (boots with wool socks), and other cold-weather accessories like gloves, scarves, hats, and more.
Versatile winter outerwear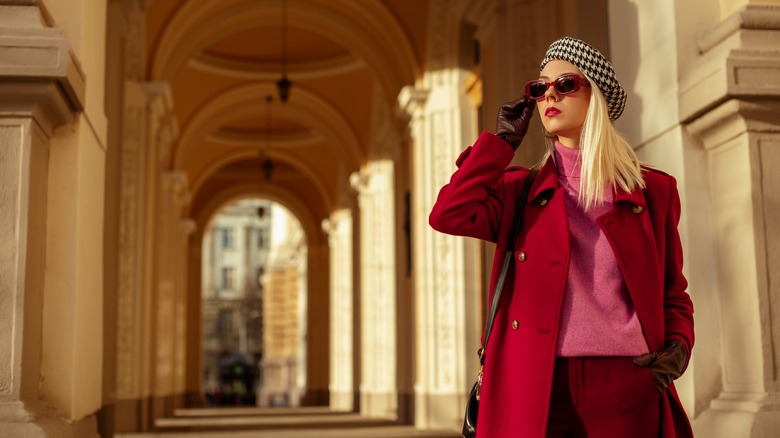 A heavy winter coat is another must-have for winter European getaways when you are skiing, are in colder areas, or engaging in some other kind of outdoor activity. If you are staying in big cities with cool climates, then a light waterproof jacket, a peacoat, or a puffy insulated coat that you can easily layer up underneath is recommended. That said, there is no harm in bringing both. You can wear your bulky winter coat on the plane and pack your lighter jacket in your luggage.
In addition to these two pieces of outerwear, travelers should consider bringing an additional layer, such as a windproof outer fleece, a jean jacket, or a blazer. These semi-light layers can easily be paired with a sweater for extra warmth or worn with a long-sleeve top in mild winter temps. Plus, the nice thing is that no matter how you style your add-on layer or outerwear, having at least one more option will help prepare you for whatever kind of winter weather awaits you at your next destination. Other items like a hoodie, cardigan, zip-up sweater, and packable raincoat are also good to have when trekking through Europe.
Essential winter footwear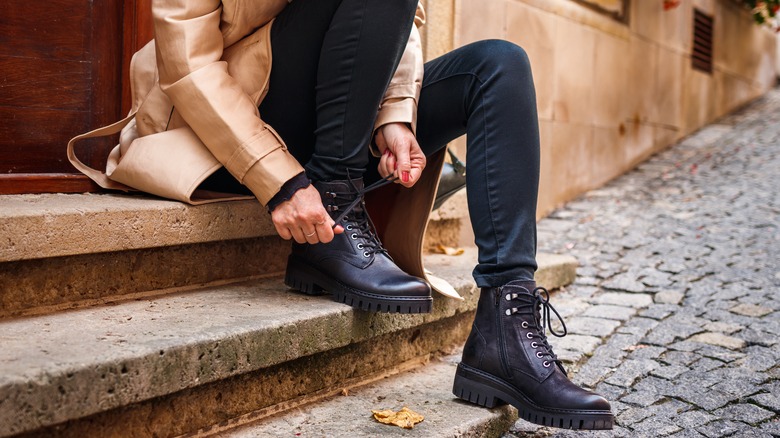 If you are heading off to Europe with winter sports on the agenda, then you will need the necessary footwear for your adventures. But, outside of snow shoes or ski boots, winter wanderers in Europe are generally good to go with a durable pair of waterproof or cold-weather boots as their main pair of shoes (which can either be packed in your checked bag or worn on the plane if you want to keep your bags light). Dressy and comfortable casual boots are also essential if you plan to paint the town red or visit more than a few indoor local attractions in wintery weather.
If you opt to wear your heavier boots on the plane and have extra room in your carry-on or allotted personal item, you may want to consider stowing a pair of tennis shoes or slip-on shoes for milder climates. Alternatively, if you pack your boots, it is highly recommended that you wear these easy-to-remove shoes to the airport for a streamlined security experience. Finally, in terms of socks, packing a total of four to seven pairs is best, including at least two or three pairs of warm socks that don't ride down in your boots when roaming about. Packing Tip: All socks and smaller accessories can be rolled and placed in your packed boots or shoes.
From the waist up musts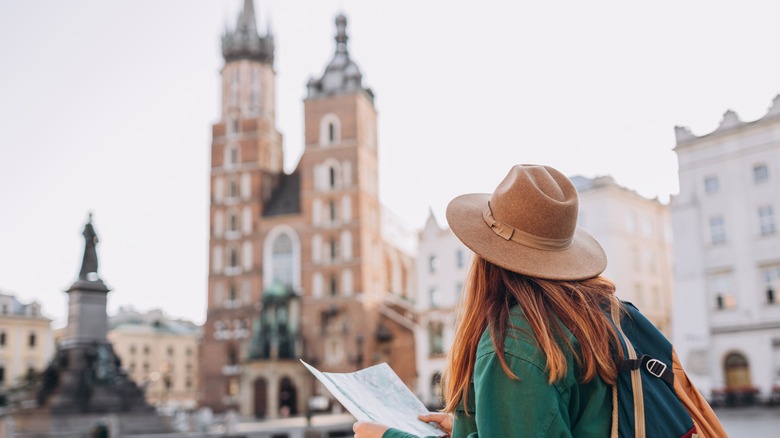 As suggested, breathable, lightweight tops and a few heavier pieces (sweaters, flannels, and long-sleeve shirts) that you can layer should be on your winter packing list for Europe. Clothing items such as thermal tops also come in handy when battling the elements. With the right number of shirts, tops, and long underwear, travelers should have no trouble adapting to the weather in various locations.
Of course, these clothing items don't have to be anything fancy, just the basics. A few long sleeve tops, a lightweight sweater, a heavy sweater, and two thermal tops are really all you need here. Travelers who want to look chic or express their own personal style can do so with added colors and textures from accessories and their cold-weather extras. When selecting pieces to wear from the waist up, remember to grab a cardigan, blazer, and hoodie, as they also come in handy, especially when layering up.
From the waist down basics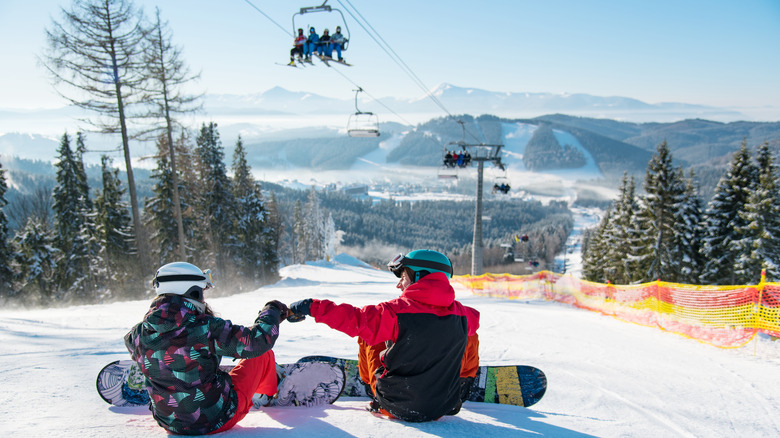 Here, things like leggings, winter pants, thermal wear (if applicable), jeans (one to two pairs), dress pants, and possibly a long skirt or two should keep you warm and dressed from the waist down on your winter European getaway. If you do opt for leggings, make sure a few pairs are fleece-lined for the colder days. Winter and thermal pants will also keep you nice and toasty when you are enjoying the slopes or gazing up at the Northern Lights.
On the other hand, jeans are not necessarily your warmest option, but you can wear one pair on the plane and pack the extra pair in your suitcase. Similarly, heavier dresses, long skirts, or dress pants work better for indoor activities and milder climates. However, all hope of staying tepid is not lost when getting dolled up, as these waist-down basics can actually be layered with thermals or winter tights and your long peacoat.
Under, lounge, and sleepwear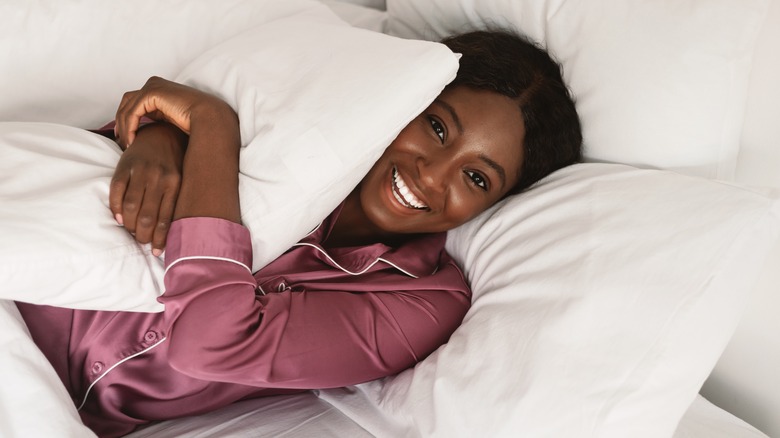 Clothing such as underwear, pajamas, and loungewear are essential items for a wintery European vacation. With the capsule wardrobe approach, you should pack anywhere from six to 10 pairs of underwear, a couple of pairs of long pajamas, and at least one or two loungewear sets. Since you will likely do some laundry during your winter away, you don't need to go overboard with these items.
Here, bralettes, sports, wireless, and t-shirt bras are the most comfortable, space-saving travel options for women. Moreover, underwear that is breathable, moisture-wicking, and quick-drying (which makes laundry a little easier) is definitely a favorite among most travelers. So, before you roll up your everyday boxers, briefs, or panties, you may want to consider these high-tech fabrics instead. Likewise, silk pajamas will keep everybody warm, and cotton-blend loungewear is great to have on hand when you want to take a break from all that adventuring.
Winter travel hacks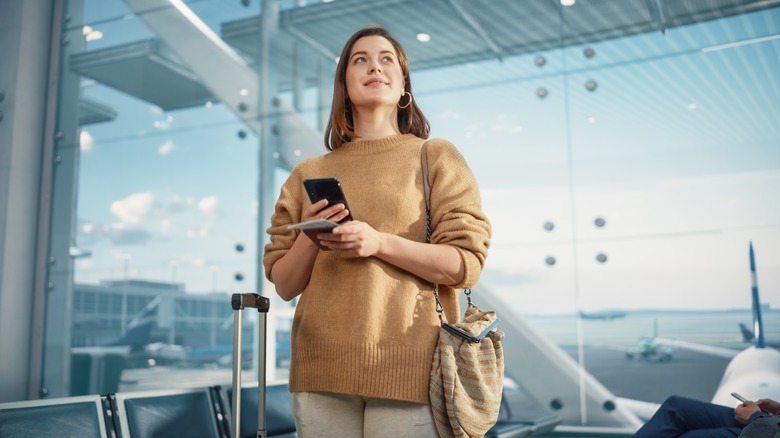 In addition to the winter packing tips, some travel hacks for cold-weather getaways are also quite helpful. For instance, instead of trying to pack those snow shoes, skis, and ski boots, travelers can save themselves the trouble of checking these items and then lugging them through the airport by renting winter gear at their destination. If you must have your specific gear, then consider shipping your winter sports equipment ahead of your trip.
You can also make your European winter getaway less stressful by marking your suitcase with a fragile sticker (so your bags are handled with care), investing in hardshell luggage for snowy or rainy destinations, and wearing bulkier items on the plane. Frequent travelers often use their travel pillows for extra storage as well — it is the perfect place to store things you need immediate access to while en route to far-off places. Lastly, one more way to make your overall travel experience more streamlined is by taking photos of all the outfits you created with your winter capsule wardrobe before packing so you don't waste time figuring out what to wear on vacation.
Cold weather extras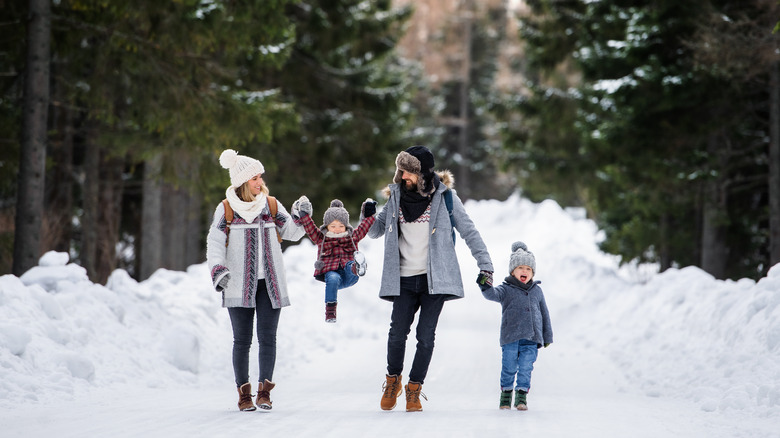 Cold weather extras such as scarfs, gloves, hats, ear muffs, and wool socks may take up a little more space in your luggage, but they are definitely things you want to have on your winter getaway. Other useful items to combat colder weather that are worth packing include leg warmers, hand warmers, balaclavas, heated vests, and an extra pair of gloves (heated, touchscreen, or waterproof). If you have a habit of misplacing things, then having more than one hat or scarf also doesn't hurt either.
Besides these important winter extras, having trip accessories for all weather conditions is just good business. So, things like sunglasses, a mini umbrella, sunscreen, body moisturizer, and chapstick should also find their way into your belongings. Really anything that can help keep you further protected from the elements is worth packing, so don't forget about these items when heading off to Europe.
Toiletries for winter and other miscellaneous items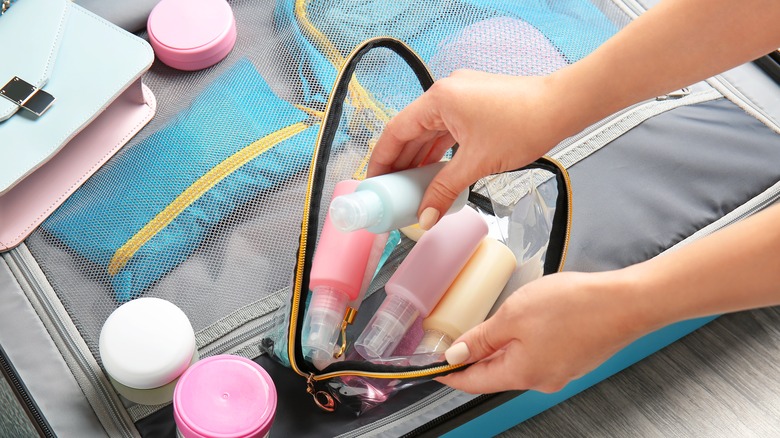 Now that the bulk of your packing is done, it is time to focus on toiletries and other must-have items. Before grabbing your favorite products in travel size, do yourself a favor and look at your toiletry bag. If your bag is bulky, not waterproof, and you cannot hang it up for quick and convenient access to your toiletries, then you should invest in a new bag.
Once you have the right bag, you need to re-assess your products. Frequent travelers often use bar toiletries when possible and limit the number of products they pack — so you should too. No matter where you stay during your trip, you will likely have access to the standard toiletries at your hotel, or you can easily buy the items you need at your destination. So, what goes in that new, sleek, hanging toiletry bag? Bar products, things you may not be able to find in bar form, compact travel makeup, and other miscellaneous goods for hygiene, prescription meds, and anything you absolutely need should take priority here.
Tech, accessories, and travel documents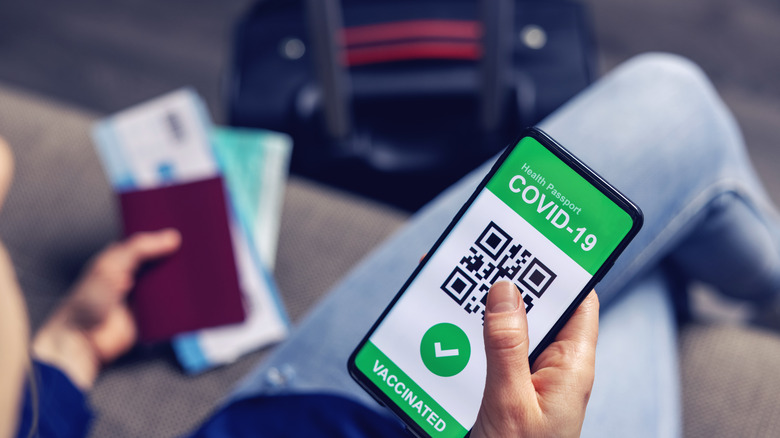 Smartphones, tablets, a camera, SIM cards, AirTags, your laptop, universal adapters, portable chargers, and charging cables all need a home among your belongings. Travelers can stow their tech, preferably in a case for electronics, in their allotted personal items. Likewise, an RFID belt or wallet, luggage locks, travel apps, swimwear, and the reusable tote bag will make your life much easier in Europe, so remember to add these items to your list too.
Last but not least, winter Europe vacationers should also ensure they have all the necessary travel documents (passport, confirmation codes, boarding passes, hotel reservations, and more). All travel information can be stored in a passport case or travel folder and then placed in your allotted personal item for quick and easy access. Savvy wanderers should also take a picture of their travel docs, passport, travel insurance, vaccination card, or negative test results just in case anything gets lost while on their thrilling winter Europe adventure.